By Yeh Tzu-hao
Translated by Wu Hsiao-ting
Photos by Huang Xiao-zhe
They survived the disastrous earthquake that hit central Taiwan on September 21, 1999. Now, 22 years later, they are finally settled in permanent new homes.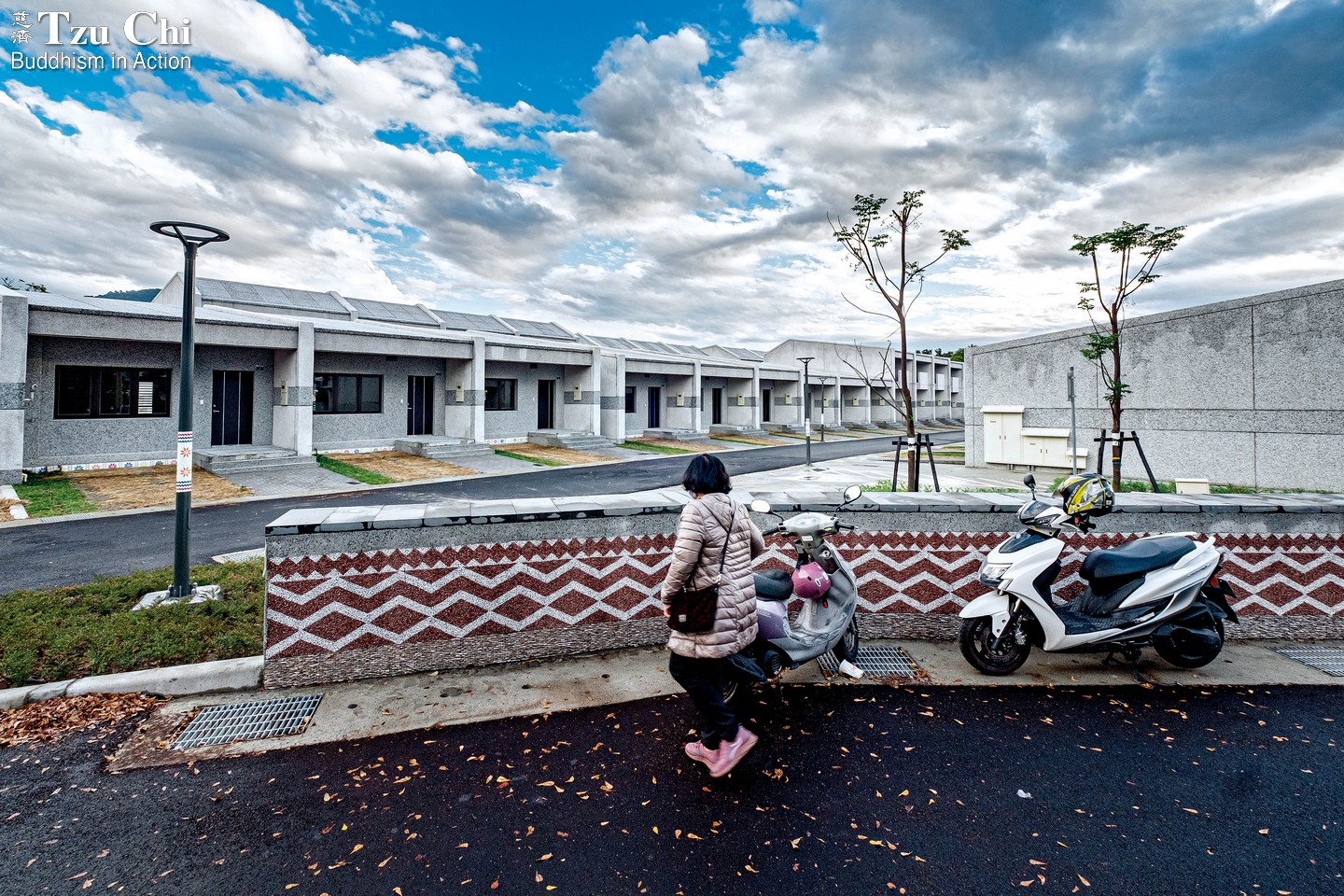 A reconstruction project co-implemented by the Taichung city government and the Tzu Chi Foundation turned Ziqiang New Village in Taichung, central Taiwan, from a community of improvised dwellings inhabited by quake survivors into one of new, sturdy, permanent housing units.
It was March, early spring, the time of year when the weather can often turn on a dime. Taking advantage of a fine day, Yang Zhi-hao (楊志豪) and his family were moving some furniture into their new home in Ziqiang New Village, Taichung, central Taiwan. Yang and his wife gingerly unloaded a bed frame from a small truck and placed it temporarily in an empty lot in front of their new home. An older man sitting in a plastic chair off to one side looked on quietly and with ease, his air that of one who had seen a lot in life and was not easily excited by anything. Even so, he must have been happy about their new homes in Ziqiang New Village. After all, it had been a long wait—22 years to be exact—since an earthquake wrecked their homes on September 21, 1999.
"This is my grandfather," Yang said, pointing to the elderly man. "He's 91, and lives in another housing unit in the village with my uncle."
Yang, 45, is the main breadwinner of his family. He has three children; the oldest, a daughter, is already working. She was just two months old when the September 21 earthquake hit. It's hard to imagine the danger and panic Yang and his wife, in their 20s at the time, had to overcome to keep their baby girl safe on that fateful day. Fortunately, they all survived the unforgettable disaster, a magnitude 7.3 temblor that took more than 2,400 lives. Now, 22 years later, their baby girl has grown into a young woman, taller than her mother. Yang's two other children are already freshmen in university and high school.
"This used to be a public square, surrounded by people's dwellings," said Yang's oldest daughter, as she reminisced about what Ziqiang New Village looked like before it was leveled to make way for the present-day residences. She explained that for as long as she and her two siblings could remember, their village had consisted of makeshift dwellings built of sheet metal and wood. There was also a public square where children could play and where the Harvest Festival, one of the most important festivals for indigenous peoples in Taiwan, could be held. But that was before November 2017, when the old village was torn down and the Yangs had had to move out and rent a place to live pending the reconstruction. Now, with the brand-new homes standing proudly in the village, those shabby, temporary buildings of the past only exist in the villagers' memories.
"I divided our new home into four rooms, each containing a bed," Yang Zhi-hao said, before explaining that they needed to use their space efficiently to accommodate seven people—his family of six and a niece who is living with them for the time being. The new row house assigned to them has two stories with a combined floor space of 93 square meters (1,000 square feet). Divided into four bedrooms, the interior is a bit cramped, but it still beats their makeshift old home hands down. At the very least, they no longer have to worry about heavy rains or typhoons.
Residents need to pay house taxes, land lease fees, and community management fees after moving into their new homes in the village, but even with all that, it's still cheaper than renting a place to live. Plus, they never have to worry about a lease running out. They can live in their new homes for the rest of their lives and pass them on to their posterity.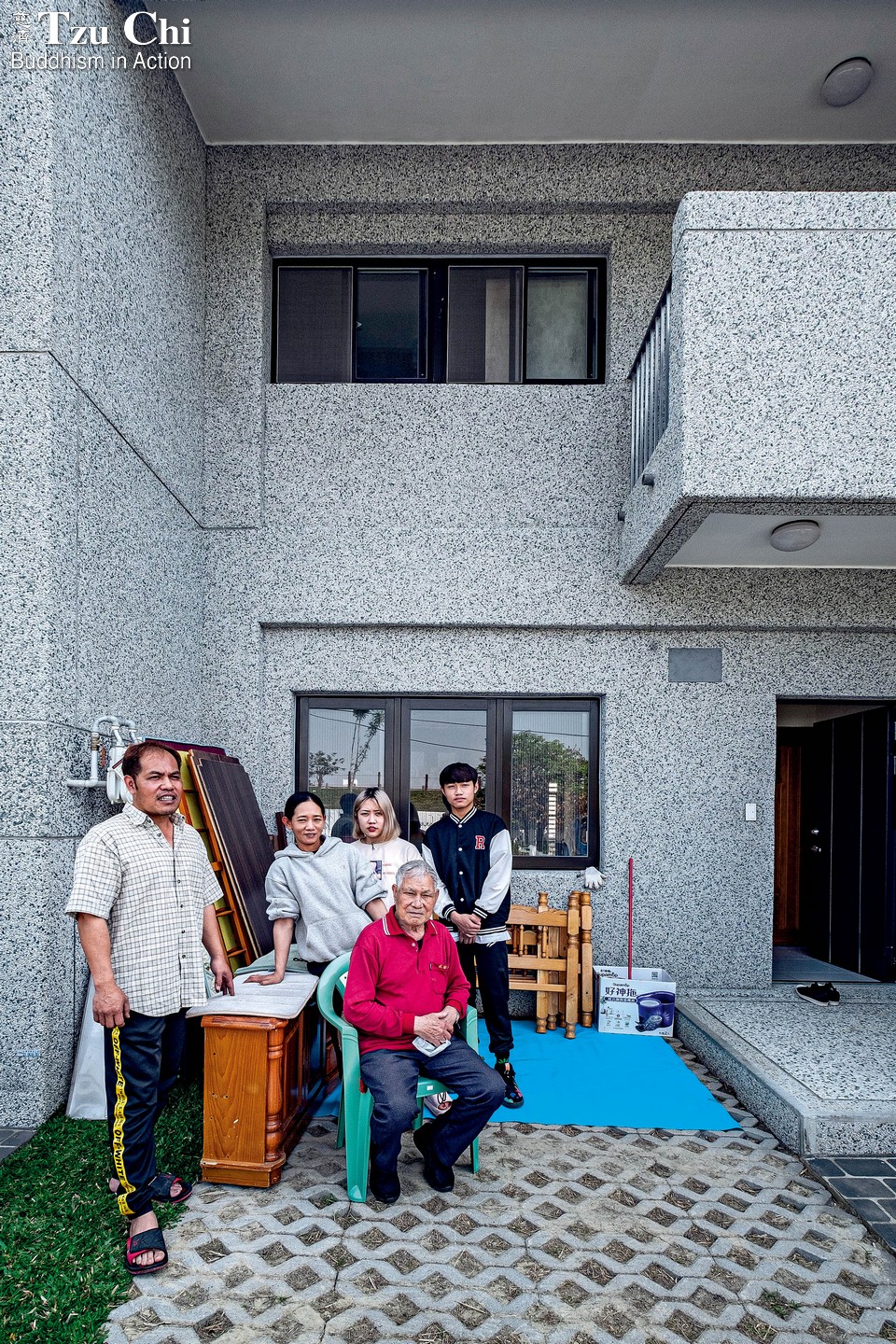 Yang Zhi-hao (left) poses in front of his new home in Ziqiang New Village with family. His 91-year-old grandfather (sitting) lives in another housing unit in the village.
The new village was inaugurated on March 6, 2022. The new one- and two-story housing units have a no-frills, sturdy look. Right next to the community is a park, and a fire station is just a stone's throw away.
Many older residents who had experienced the September 21 earthquake were overwhelmed with emotion when they first saw the comfortable, elegant buildings in the village. Some of them even received the keys to their new homes with trembling hands and with tears in their eyes.
"It's truly incredible," said Zhao Xiu-zhen (趙秀珍), one of the residents. She is a member of the Bunun indigenous people and hails from Kaohsiung, southern Taiwan. "For a while I kept asking myself: 'Is this truly happening?' A lot of hard work was involved for us to finally be able to move into these permanent new homes."
Zhao said that she had moved from Kaohsiung to central Taiwan many years before, after marrying her husband. The two of them worked hard to make money, eventually saving enough to buy a place of their own, only to see it destroyed in the September 21 earthquake.
Powerless to rebuild, the couple took their children and settled in Ziqiang New Village, a village formed after the earthquake. Most residents there were Amis, and though Zhao is a Bunun, she and her family got along well with their neighbors. They cooked and ate together, and even went together to salvage used building materials to put together their homes.
"We visited buildings that had toppled in the quake," Zhao recalled, "and removed still serviceable doors and windows to take home. We needed to work during the day, but we'd use our time after work or our days off to build our homes." As Zhao talked about those difficult days after the tremor, her neighbors, who had been through it all with her, started sharing their memories too. Soon it was noon, and someone in the group reminded the others: "It's time to go to Huatung New Village!"
By that time, the weather had changed from nice and sunny to cloudy and cool. A cold front and rain had been forecast. Even so, 95 families from Ziqiang New Village and Huatung New Village swarmed to the inauguration ceremony held at the latter village to celebrate the completion of their new homes. It was easy to see how important the event was to the families: young and old alike had donned their traditional costumes to celebrate the occasion.
In contrast to the row houses laid out in Ziqiang New Village, the 46 housing units in Huatung New Village, due to its smaller area, were concentrated in two three-story buildings. Like Ziqiang New Village, Huatung New Village also boasts a community center and a plaza.
The families coming for the inauguration ceremony soon packed the event venue. Together with the Tzu Chi volunteers and other guests on-site, the families livened up the venue and imbued it with a bustling sense of festivity and joy.
The birth of Huatung New Village
Lu Shiow-yen (盧秀燕), mayor of Taichung, kicked off the ceremony by giving a short speech and thanking Tzu Chi and Dharma Master Cheng Yen. "The entire construction project, launched in 2011, took more than ten years to complete," she said. "It was the longest construction project the Taichung city government has ever carried out. It went through three mayors and three ministers of the Council of Indigenous Peoples." After the mayor's speech, Lin Pi-yu (林碧玉), vice president of the Tzu Chi Foundation, talked about Master Cheng Yen's care for the residents and the project. "The Master had more than 20 discussions with the architect during the design process. She said we were building more than a place for people to live, but a place for people to put down their roots and pass on from generation to generation."
The new Huatung and Ziqiang villages, a joint effort of the Taichung city government and Tzu Chi, wouldn't have been possible without the combined efforts of government workers, construction teams, and Tzu Chi volunteers. But the residents themselves played a key role too. The project wouldn't have come about if the residents themselves hadn't banded together to recreate tribal communities and worked hard to rebuild their homes on their own in the first place.
Chen Yu-lan (陳玉蘭), nearly 70, is a resident of Huatung New Village. She's a member of the Amis people, a teacher of the Amis language, and a former chairman of an urban indigenous peoples association. She talked about how she came to live in the village and how Huatung New Village came to be.
"Because there weren't many job opportunities in our original hometowns—farming alone couldn't support us—many indigenous people, like me, moved away to seek better opportunities in big cities like Taipei." That's how she, hailing from Yuli, Hualien County, eastern Taiwan, ended up as a sales clerk in a department store in Taipei after graduating from high school. Later, she moved with her non-indigenous husband and two daughters to Taichung.
In 1997, Chen's younger sister was paralyzed in a traffic accident. The sister's husband, buckling under the pressure of having to care for his disabled wife and their five young children, left home. Chen and her older sister took it upon themselves to support their nieces and nephews. Such a decision, however, sat ill with Chen's husband, who asked for a divorce. The couple parted ways as a result.
The rental Chen and her family lived in was later damaged in the September 21 earthquake, forcing them to shelter in tents. Soon after, they learned that a fellow Amis tribal member, Pan Tian-ming (潘天明), had gathered some Amis people who had also lost their homes in the quake and built temporary homes on a dry riverbed under a bridge in Wufeng, Taichung. Chen and her family moved there.
Officials from the Water Resources Bureau, however, worried about the safety of the group. Should a typhoon or rainstorm hit, the homes would be jeopardized. The bureau asked them to move, so Chen and the others eventually settled at the present site of Huatung New Village, also in Wufeng. Many of the villagers worked at construction sites, and they'd bring back materials that had been used to construct formwork to build walls for their homes. They also scavenged doors, windows, or furniture that had been discarded from buildings which had become too dangerous to inhabit after the earthquake.
Just like that, a month after the temblor, a new community built completely by these Amis people sprang up in the village of Jifeng, Wufeng. Because most of the residents came from Hualien and Taitung, the community was named "Huatung New Village."
The homes there were built of used metal sheets and wooden planks. There was no running water or electricity in the village, so residents had to buy water to drink and rely on rented power generators for electricity. Their lives were full of inconveniences. However, because almost all the residents were Amis and shared an indigenous language, a cultural background, and living experiences, they were able to recreate a community akin to those in their hometowns. It was also easier to live according to their customs and traditions.
"Before that, many of my tribespeople could only gather together once a year, for our annual joint Harvest Festival," said Chen. "Though everything was makeshift at Huatung New Village, we were together, day in and day out. A sense of cohesion grew stronger and stronger among us. It was as if we were back in our old tribal settlements."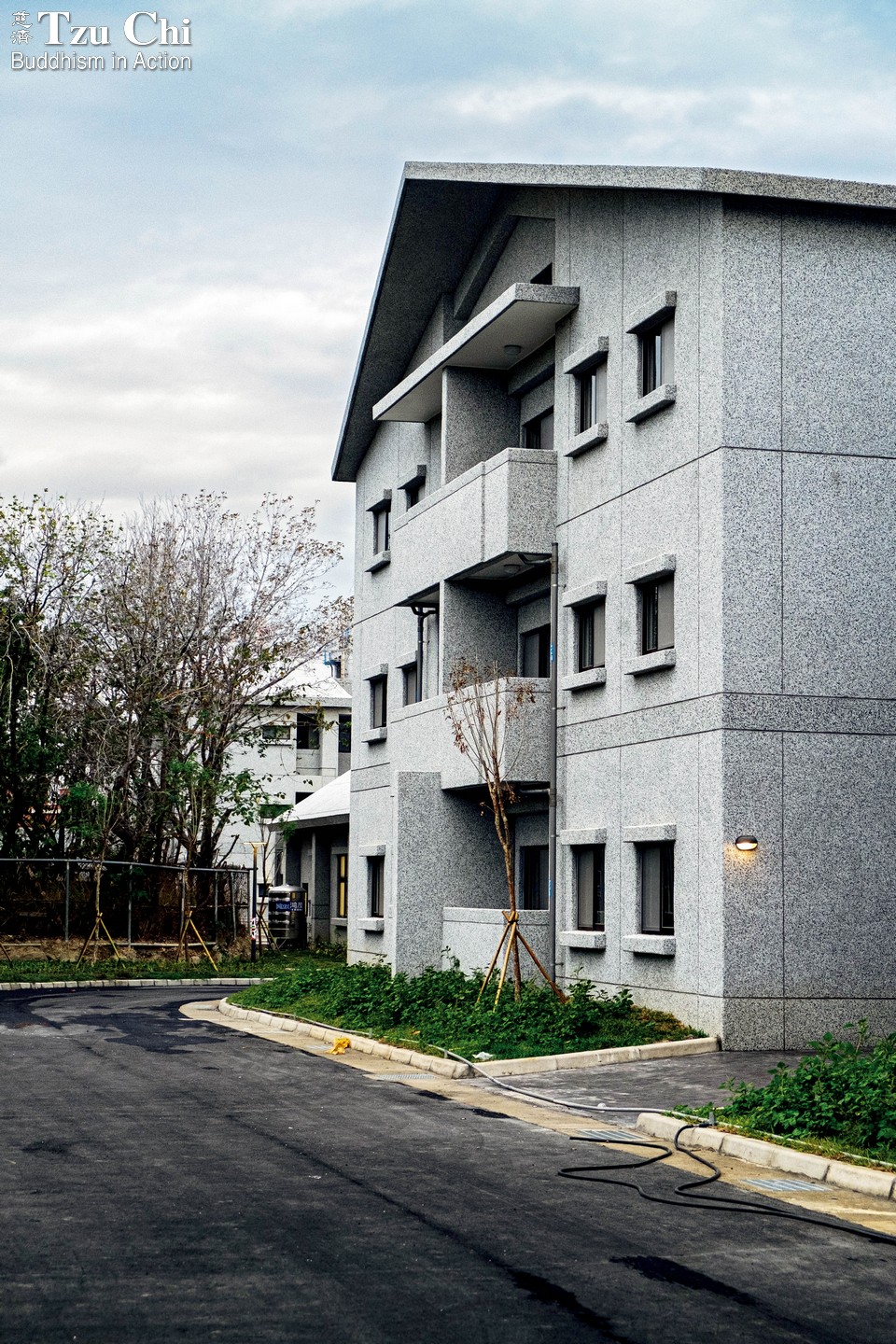 The new housing units in Huatung New Village are contained in two three-story buildings with elevators and accessible facilities.
Paving the way for permanent homes
Soon after its completion, Huatung New Village began to draw attention from charity organizations, including Tzu Chi. Tzu Chi volunteers, after visiting the village, suggested to residents that they build temporary prefabricated houses for them so they could live more comfortably. Surprisingly, the villagers declined their offer. First, they didn't know how much longer they could continue living there. Second, though their homes were crude, they had put in a lot of effort to build them—they didn't want to take them apart so soon. In the end, Tzu Chi only built an activity center for the village, using prefabricated components.
The activity center, the village's only structure built with brand-new materials, provided a good public space for the residents to use. "We started a nursery school there," Chen explained. "Also, at our invitation, college students tutored our older children there. We provided care for our community's elderly people at the center too." To this day, Chen is thankful to Tzu Chi for building the activity center for them.
The makeshift dwellings of the residents, however, were not a lasting solution to their housing needs. The Taichung city government, and even the residents themselves, knew that well. The living arrangement was infeasible on a long-term basis, for both legal and humane considerations.
Both Huatung New Village and Ziqiang New Village were located on government land belonging to the National Property Administration—it was actually illegal for the villagers to build there. But because the September 21 earthquake was such an unexpected, massive disaster, the government allowed quake survivors to build there. The government even later installed running water and electricity for the two villages and provided the households there with temporary doorplate numbers. They did their best to help the villagers' lives return to normal. But all this was at best a stopgap measure.
The residents, who had ended up together because of the temblor and built up their communities from scratch, came to regard one another as family and the communities as their home. However, the houses they had cobbled together were, in the end, too flimsy to last. With every typhoon, the men in the villages had to secure their dwellings with ropes to prevent their sheet metal roofs from being blown away. The expression, "When it rained outside, it rained inside too," described many households. And as the children in the village grew older, their improvised homes and communities became a source of embarrassment for them.
To preserve what was good and improve what wasn't, the best solution was to help the villagers of the two communities build permanent homes on-site. However, when Jason Hu (胡自強), a former mayor of Taichung, started a project in 2011 to do so, they encountered a problem—the National Property Administration couldn't provide the two pieces of land for the Taichung city government to use for free. To solve the problem, the city government eventually decided to budget money, starting in 2014, to help the residents rent the land from the Administration, thus turning the land from being illegally used to legally rented. It was also agreed upon that after permanent homes were built on the land, the residents themselves would begin paying the rent themselves. Once the land problem was solved, the project moved into the next phase.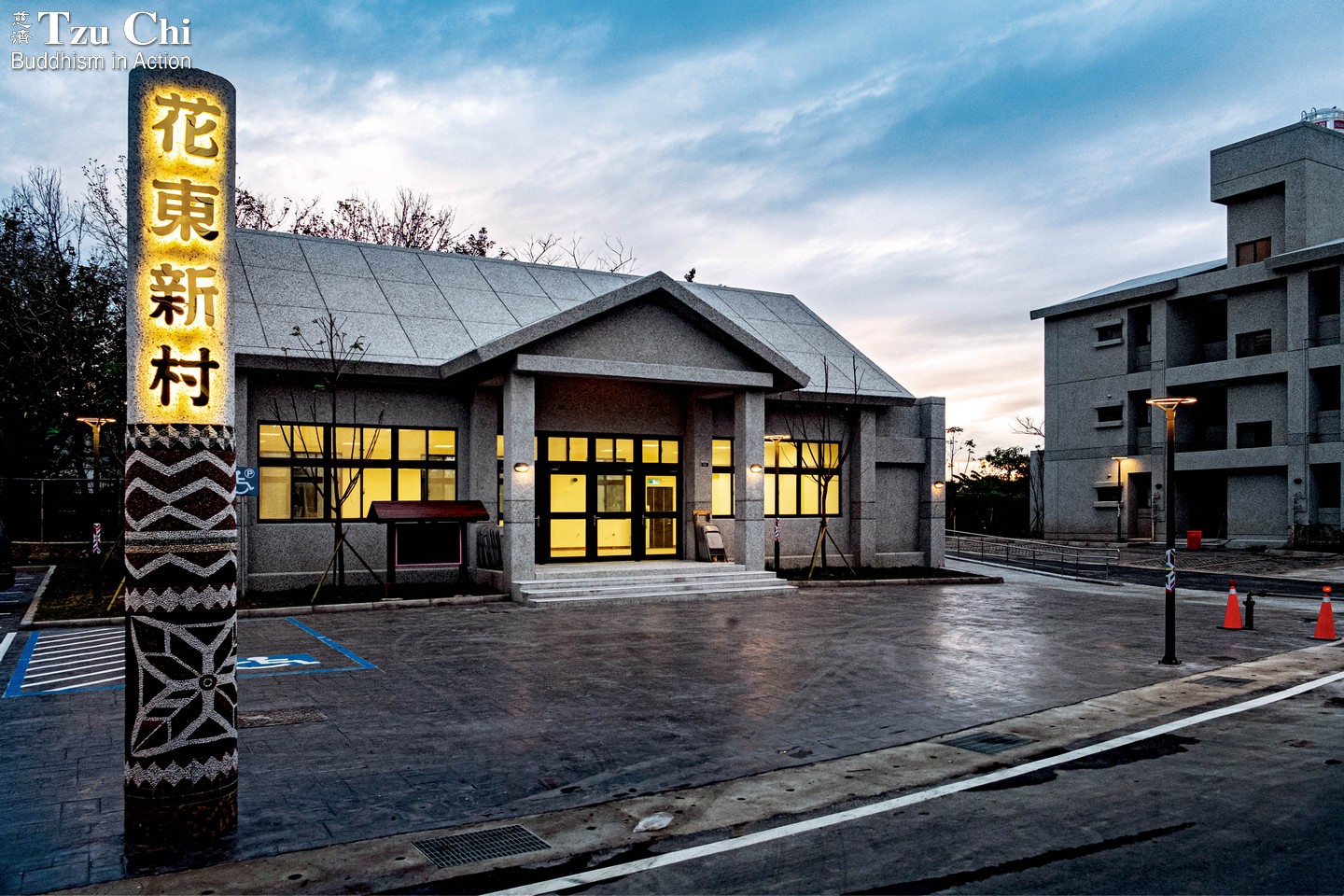 Both villages boast an activity center and a plaza. Pictured here is Huatung New Village.
In 2015, the then Taichung mayor Lin Chia-lung (林佳龍) sought Tzu Chi's help in building permanent homes in the two villages. He also suggested building them as social housing. That's how the foundation became involved in the project.
Lu Fang-chuan (呂芳川), director of the Tzu Chi Department of Charity Mission Development, explained that under former Mayor Lin's proposal, residents of the two villages would be granted the right to use the newly built housing units throughout their lives—with the proviso that they didn't have any housing properties elsewhere. Upon their death, their direct blood relatives were entitled to inherit the units from them, again providing that such descendants didn't have any housing properties in their name. Should villagers die without any relatives qualified for the inheritance, the government would reclaim the housing units to be used for other disadvantaged people.
Ground was broken for the two villages on October 19, 2018. The government first put in the public infrastructure, including water, electricity, and telecommunication lines. The construction of the housing units began in September 2019. Unexpectedly, the COVID-19 pandemic began just a few months later, followed by a shortage of construction workers and building materials.
"Taiwan has experienced a severe shortage of construction workers and building materials over the last couple of years," said Lin Min-chao (林敏朝), director of Tzu Chi's Construction Department. "Even so, the contractors for the villages did their best to overcome all difficulties and came up with buildings of great quality." The director said that great care had been given to everything during the construction process, including the making of door frames, the laying of tiles, the installation of lighting fixtures, and the application of paint. The most special feature was that the roofs were made a structural part of the buildings, with their top surfaces pebble dashed for protection. "A lot of future maintenance work can be saved with roofs like that," Lin said.
Looking at the project that he had helped implement come to fruition, former Mayor Lin Chia-lung was happy and greatly comforted. The buildings look good, solid, and safe, he said, great places to call home. Near the end of the inauguration ceremony, Minister Icyang Parod (夷將·拔路兒) of the Council of Indigenous Peoples announced that the government will provide the best job-placement services for the villagers, offer care for the elderly, and create an environment conducive for children in the villages to learn their indigenous languages.
Meanwhile, hundreds of Tzu Chi volunteers and social workers were getting ready to visit each household to bring them housewarming gifts, including comforters, desk lamps, electric kettles, toothbrushes, and washcloths. There were 12 items in all, containing the best wishes from Tzu Chi.
Home is a harbor, a place to shelter from the elements, a place where tired bodies and heavy hearts can rest. For the villagers, the long wait was finally worth it.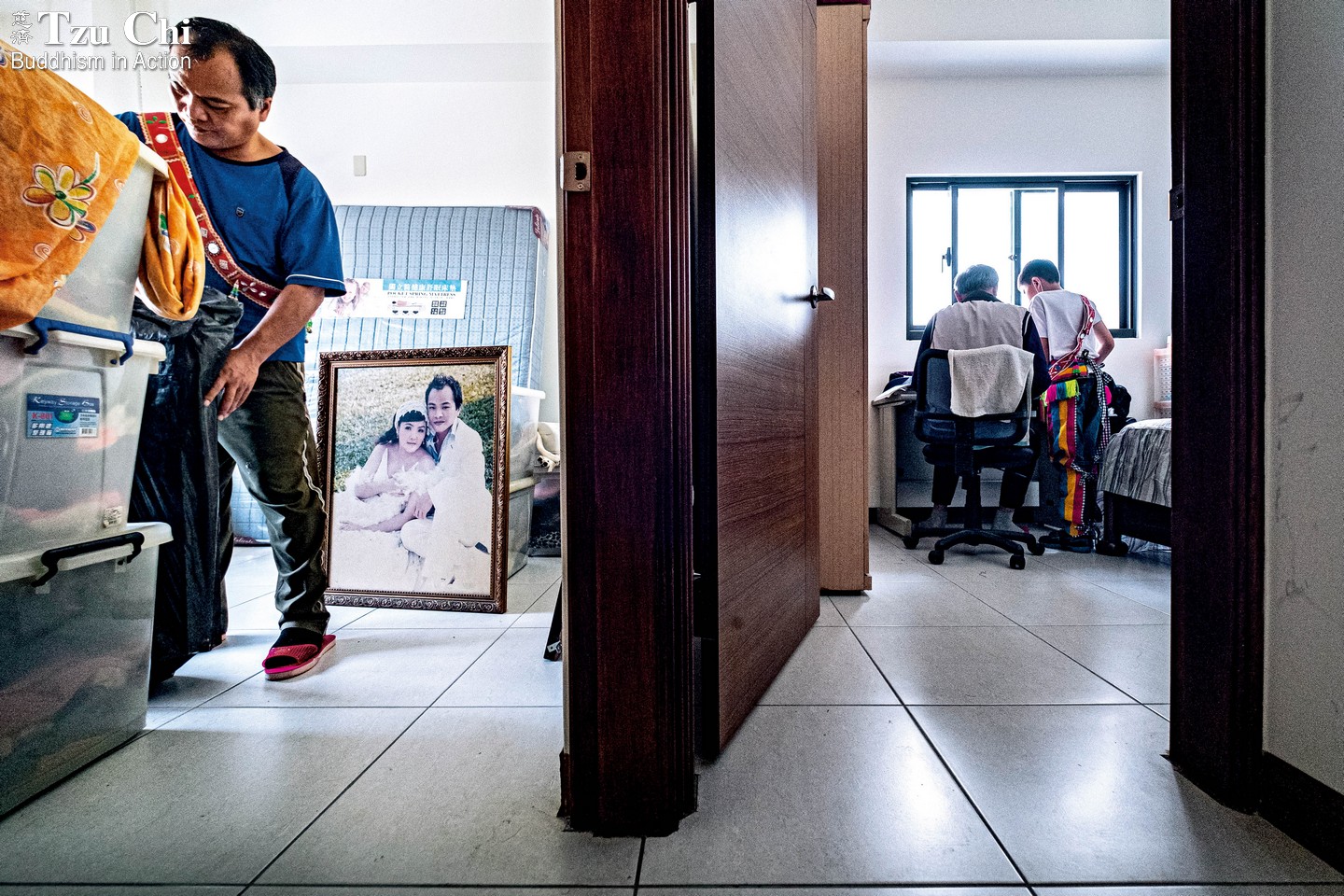 The inside of a household in Huatung New Village on the day of the inauguration ceremony. The boy on the right is in the middle of a lesson learning his indigenous language.