By Yeh Tzu-hao
Translated by Wu Hsiao-ting
Photos by Hsiao Yiu-hwa
The pandemic made takeaways, deliveries, and online shopping more popular in Taiwan. But the resulting rise in single-use containers and packaging is exacting an environmental toll. While Tzu Chi volunteers work hard to recycle, some young people are leading the way in waste reduction.
A Good to Go member returns a cup by scanning the QR code on the cup at a self-service cup rental and return machine in Gongguan, Taipei. One can ask to use Good to Go's container rental services at partner stores, or rent containers at Good to Go's self-service machines through the LINE app.
"I've noticed over the past year a conspicuous increase in paper cups and paper meal boxes," said Tzu Chi volunteer Luo Heng-yuan (羅恒源), of New Taipei City, northern Taiwan. "The number of plastic bags and cardboard boxes has grown too. We have recycled so much. You wouldn't know how bad the problem has become unless you've worked at a recycling station."
The government in Taiwan banned indoor dining and relaxed its restrictions on the use of disposable tableware during the surge of COVID-19 cases in 2021. The measures set back the progress the island had made over the years in cutting back on waste. According to statistics from the Environmental Protection Administration, more than 88,000 tons of paper tableware were used and recycled from January to July 2021. That's an increase of 6.5 percent compared to the same period the previous year. If the paper tableware that was not recycled is also factored in, the amount would be even more staggering.
Pandemic-fueled online shopping and deliveries also contributed to a growth in garbage generation on the island. Taiwan's e-commerce achieved a turnover of 241.2 billion Taiwanese dollars (US$8,353,390,000) in 2020. While online retail represents a huge business opportunity, it also results in a lot of packaging waste. Thirty-five thousand tons of such waste was produced in 2020 alone.
With online shopping and food deliveries booming, many are thinking of how to reduce waste and lower its impact on the environment. Some have gone one step further to tackle the issue—and not just on a personal level.
In a corner of the commercial district in Gongguan, Taipei, people approach something that looks like a vending machine—but they are not there to buy drinks or snacks. They instead are using the machine to borrow or return reusable cups. The self-service cup rental and return machine is a brainchild of the social enterprise "Good to Go." In addition to borrowing or returning cups at such a machine, people can also use the Good to Go rental service at its partner shops. No rental fees or deposits are required.
Good to Go, a drink and food container rental service, was created six years ago by Song Yi-zhen (宋宜臻) and Li Yi-he (李翊禾). More than 150 drink shops and restaurants across seven cities and counties in Taiwan currently use their rental system, as well as an online food ordering and delivery platform.
Shops serving to-go tea drinks are everywhere in Taiwan. While they bring in money for many people, it comes at a cost—two billion discarded drink cups are generated each year on the island. Everyone agrees the number of these single-use items should be reduced, but they might hesitate to use services like Good to Go. After all, can they trust the cleanliness of the containers?
"We employ businesses specializing in washing dishes for schools and corporations to clean our containers," Song Yi-zhen explained, stressing the safety of their product. "All containers are heat-sterilized after being thoroughly washed." In other words, the containers are as good as new after being processed.
Good to Go's cups come in two sizes and are made of food-grade polypropylene. They are more environmentally friendly than one-use paper cups. They are also safer to use: paper cups are lined with a thin layer of plastic to make them water-resistant, and hot beverages can dissolve the plastic lining, which then ends up being consumed.
Song observed that most people who use their cup rental service are those who have time to linger in a commercial or shopping district. They take time to enjoy their drinks as they leisurely stroll and shop, then return their cups before they leave to the Good to Go partner shops where they purchased their beverages. On the other hand, people who are in a hurry to leave generally opt to use paper cups. To make Good to Go's service more popular, it must be easier for people on the go to return their used cups.
Song said that when they first came up with the idea to launch their rental service, they couldn't understand why someone else hadn't thought of it and done it already. They thought the idea would be easy to implement, that all they needed to do was to put clean containers in drink shops for people to use, then collect the used cups to be washed and sterilized before returning them to participating businesses for reuse. Only after they visited stores to propose their service did they realize that the enterprise might be more complicated than they had thought.
There were, for example, problems with efficiency and staff training. "An employee at a drink shop can very quickly use a cup sealing machine to seal a paper cup with a plastic film, turning out many cups in a short time," Song said. "But it takes a longer time to cap a reusable cup." She further explained that if a shop is experiencing a higher turnover rate, training new staff to use reusable cups could be an added cost. First-time customers asking questions about how to use the rental system could also lower a shop's operation efficiency.
Despite all that, many shop owners knew that they too had a responsibility to protect the environment. Therefore, quite a few agreed to give it a try when Song and Li pitched their idea to shop owners in the Zhengxing Street commercial district in Tainan, southern Taiwan.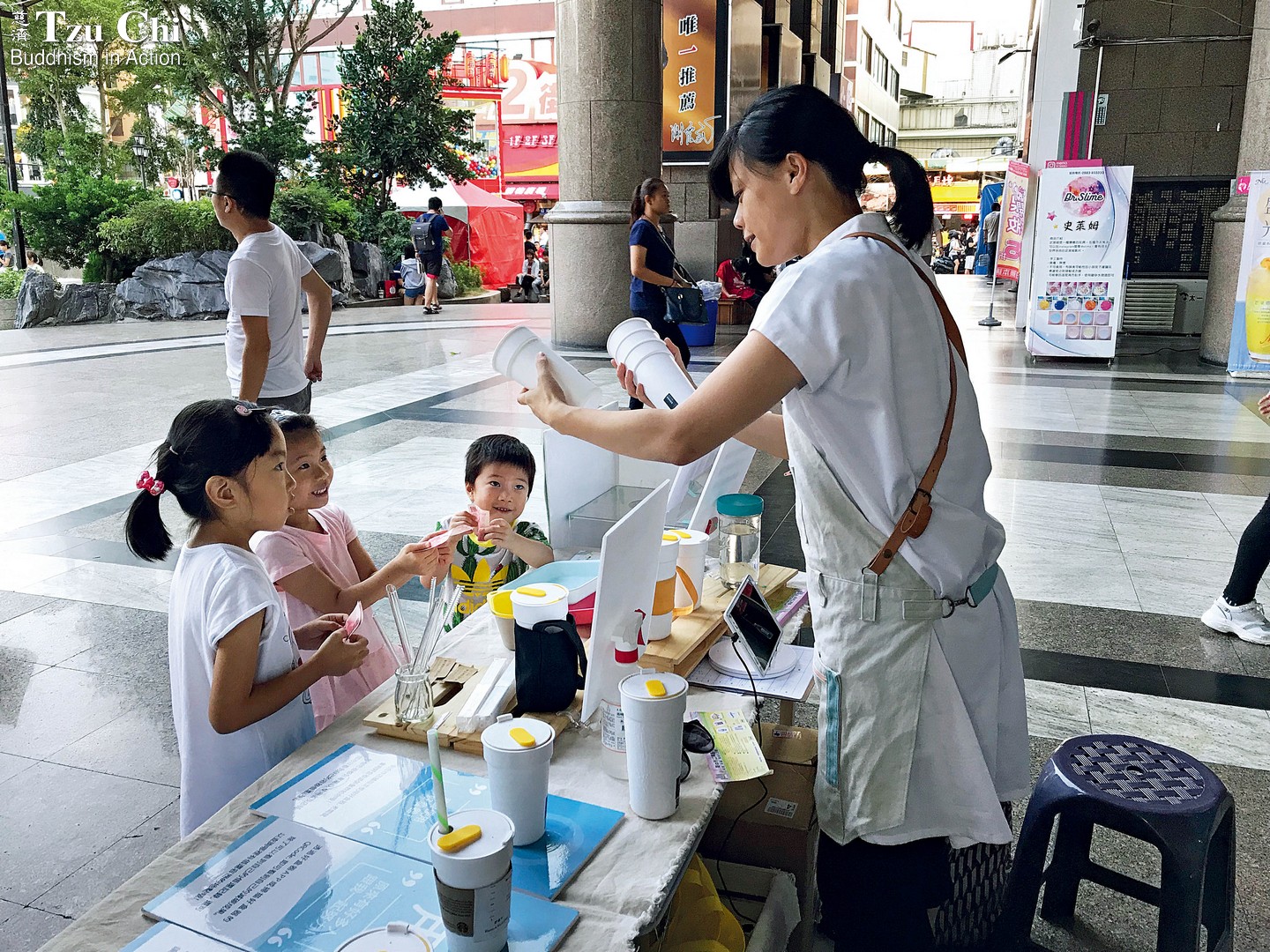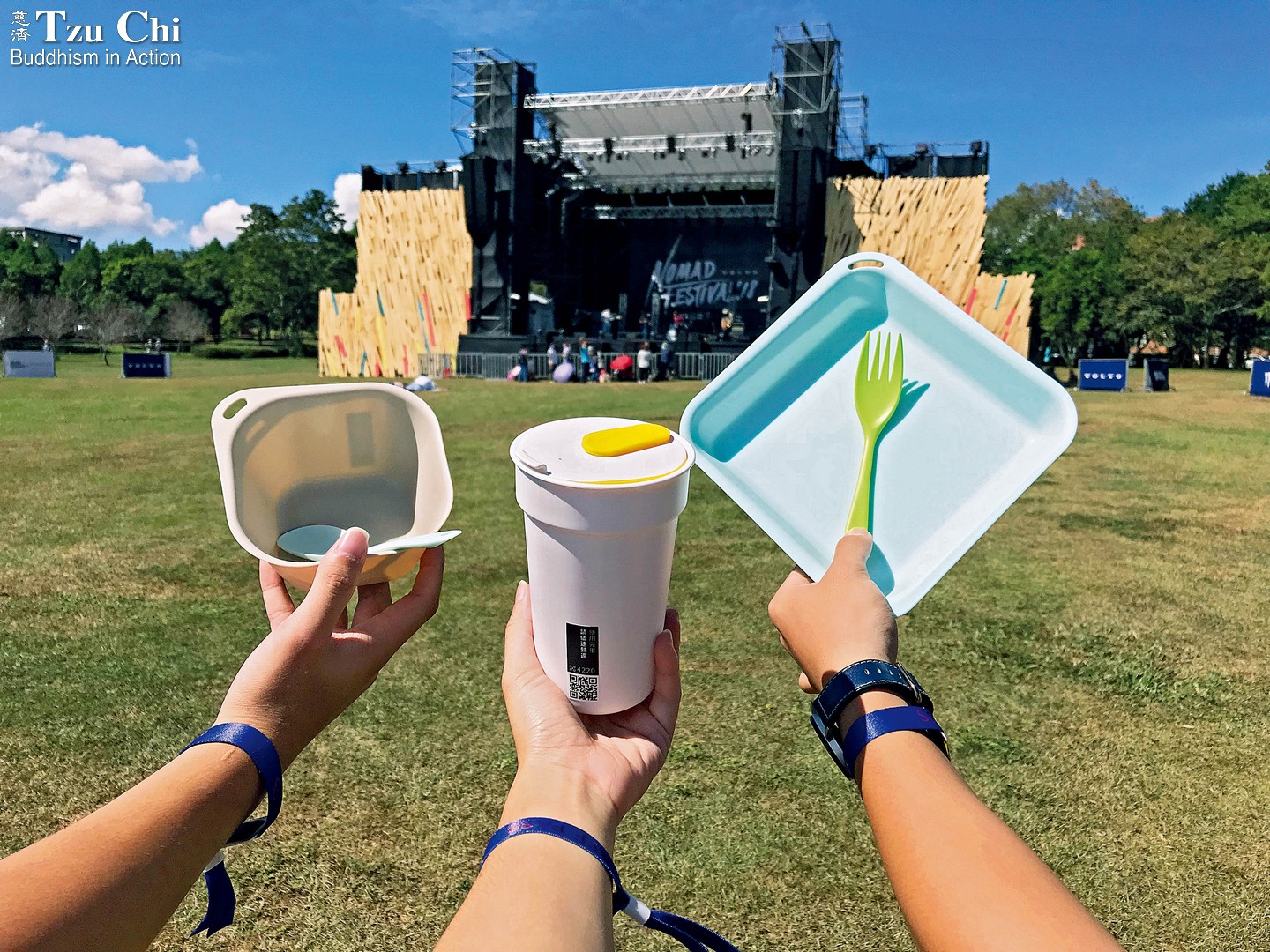 Good to Go co-founder Song Yi-zhen (right, above photo) introduces their reusable cups to children. Good to Go started off by providing transparent glass tumblers before switching to their current polypropylene cups. When holding a large event, renting reusable containers to use (right) can greatly reduce waste. Courtesy of Song Yi-zhen
A public welfare program for the youth
After some trial and error, their cup rental system eventually took off, so Song and Li added meal containers to their service. When a customer orders takeout food from a participating restaurant or via an online food and delivery platform that partners with Good to Go, they can choose to use food containers provided by Good to Go. Afterwards, they simply need to return the containers to the restaurant or a self-service return station.
Most of Good to Go's partner stores and rental and return stations at present are concentrated in Tainan, where the company started. They launched their service in Taipei just last year, in the Gongguan commercial district and the area near Taipei Main Station. They still have a way to go to make their service more prevalent throughout Taiwan. Still, they have already attracted 15,000 people to join their system as members. Since it was founded, Good to Go has enabled shops to use 145,000 fewer one-use containers.
"We're now working to set up a system like YouBike," Song declared. YouBike is a bike-sharing system in Taiwan that allows people to rent a bike at one of the system's rental stations, use it for their journey, and return it to the same or another station after use. "We aim to make it such that wherever and whenever a customer wants to rent or return our containers, they can easily do so."
Looking back at the challenges they have overcome along the way, Song was quick to thank Chen Pei-zhen (陳珮甄), a professional arranged by the Tzu Chi Foundation to mentor the Good to Go team on how to improve their business model. Song said that because they believed they were doing a good thing for society, it was easy for them to charge ahead without thinking too much about the commercial aspect of their service. "We didn't know very well how to do a good thing while managing to survive financially. Our mentor Ms. Chen gave us good advice in that respect."
Yen Po-wen (顏博文), CEO of the Tzu Chi charity mission, cheered on the Good to Go team. "Food delivery services and online shopping have resulted in a remarkable amount of garbage," he said. "It would be great for our environment if packaging is reused or recycled materials are used to make drink or food containers. I hope Good to Go's service will soon be found throughout Taiwan."
Good to Go was one of the teams chosen by Tzu Chi in December 2020 to participate in a sponsorship program for young people with good ideas to make the world a better place. Program participants are provided grants and mentorship to help implement their ideas. Another applicant selected for the program in 2020 was PackAge+.
The rise of online shopping has led to an increase in the use of single-use packaging.
PackAge+ was founded by Ye De-wei (葉德偉) to provide reusable shipping bags and boxes for e-commerce companies and customers to use. "I used to be an online retailer," said Ye, "and I used a lot of cardboard boxes and poly mailers to package my goods for mailing. I often say that founding PackAge+ was like an act of atonement for me."
According to estimates from the Environmental Protection Administration, online shopping in Taiwan accounted for more than 120 million pieces of packaging in 2020. Many e-commerce companies use cardboard boxes for packaging. On the surface, using cardboard boxes seem to be more eco-friendly than plastic packaging such as poly mailers. However, a cardboard box actually generates more carbon dioxide if incinerated after a single use. "The production and incineration of a poly mailer creates 1.2 kilograms [2.6 pounds] of carbon dioxide," Ye explained, "but a cardboard box creates 1.92 kilograms [4.2 pounds]."
Reusable packaging offers a sound solution for the garbage problem created by online shopping, but if a consumer doesn't return the reusable packaging, the supplier is forced to use a new one, defeating the purpose. How could the return rate be increased so that the system can work?
"Many people in Taiwan collect their deliveries at convenience stores," said Ye, "so we set up return stations there to make it easier for people to return their packaging. For example, if you collect a book at such a store, you can unwrap and return the shipping bag on the spot." Taiwan has the world's second highest concentration of chain convenience stores, so setting up return stations there is a good way to raise return rates. In addition to convenience stores, PackAge+ has set up return stations at other venues, such as drink shops, too.
Besides setting up as many return stations as they can to boost return rates, PackAge+ is using other ways to incentivize participation. For example, if customers collect their deliveries at convenience stores and return their shipping bags on the spot, they can get special offers. The same happens when they return their bags to certain participating drink shops.
Ye sold accessories for electronic devices online for five years before founding PackAge+ in 2018. It was that experience that led him to his current career.
When he worked in e-commerce, Ye, like others in the same trade, would generously wrap people's orders in protective materials to prevent them from being damaged during transportation. One time, much to his surprise, he received a complaint from a customer. "That customer said that he had intentionally bought a pair of headphones made from eco-friendly materials," Ye recalled, "but it arrived padded with so much 'garbage' he felt it all but nullified his small effort to do good for the environment."
Ye remembered that to ensure that the headphones arrived in good condition, he had used an extra-large packing box and stuffed the space around the headphones with a lavish amount of bubble wrap. He never expected that the care he took would be taken negatively. However, the episode did get him thinking about the harm he was doing the environment in running his business.
A documentary about climate change further pushed him to ponder this issue. The Earth had been getting warmer and warmer, making it an urgent necessity to cut carbon emissions. "If we do nothing about it now," he thought, "we might be left high and dry ten years from now."
He subsequently came up with the idea of using reusable packaging to reduce waste. He eventually succeeded in persuading some e-commerce businesses to use his reusable shipping bags and boxes. Such bags and boxes cost more than 20 times as much as cardboard boxes. However, they become less expensive than cardboard boxes if used at least 30 times.
When customers place orders on the websites of participating e-commerce companies, they can opt to use reusable packaging offered by PackAge+ for their purchases. If they do, they can get promotional offers, such as shopping coupons. Why let customers choose instead of just forcing them to use reusable packaging? Ye explained that test trials indicated that if customers were allowed no choice, their rates of returning the packaging were as low as ten percent. On the other hand, if people were allowed to choose, the return rates topped 80 percent. "People who consciously choose to use reusable packaging are more likely to make an effort to return it," Ye explained.
During the pandemic, the cleanliness of the reusable shipping bags and boxes was a particular issue of concern. About this, Ye said, "The bags and boxes collected from our return stations are cleaned and sanitized before they are sent out to our partner companies to use again." He added that the cleaning is outsourced to sheltered employment facilities to help disadvantaged people make a living. At this stage, packing materials that have reached their maximum number of times for use or are too damaged to be reused are picked out and recycled to be remade into new packing materials.
By late 2021, PackAge+ had established 479 return stations and rented out 140,000 pieces of reusable packaging to online retailers and customers. That equates to a reduction of 420,000 kilograms (925,940 pounds) of carbon emissions. It's quite a feat.
"Our return rates so far have been 85 percent," Ye observed. "We also have an app that allows people to check where our return stations are. At present, our stations are mostly concentrated in northern Taiwan. We need to work harder to increase the number of our return stations in central and southern Taiwan."
Everyone can do their bit
The best thing anyone can do to lessen the impact that garbage has on the planet is create less trash. Reduce, reuse, and recycle: the three R's are listed in order of priority. Recycling might be good, but the process itself consumes energy and resources.
We may not be able to make such a big difference as the young people profiled in this article, but we can help in smaller ways. We can, for example, support ideas that lead to less pollution in the world, and in turn, to a cleaner and better world. Big or small, we all have the power to help our environment.