Compiled by Tzu Chi Monthly editorial staff
Translated by Wu Hsiao-ting
Tzu Chi volunteers are working to address the needs of the underprivileged in Lumbini, the birthplace of the Buddha. The needy people there suffer from food insecurity, lack of medical care, and limited access to education.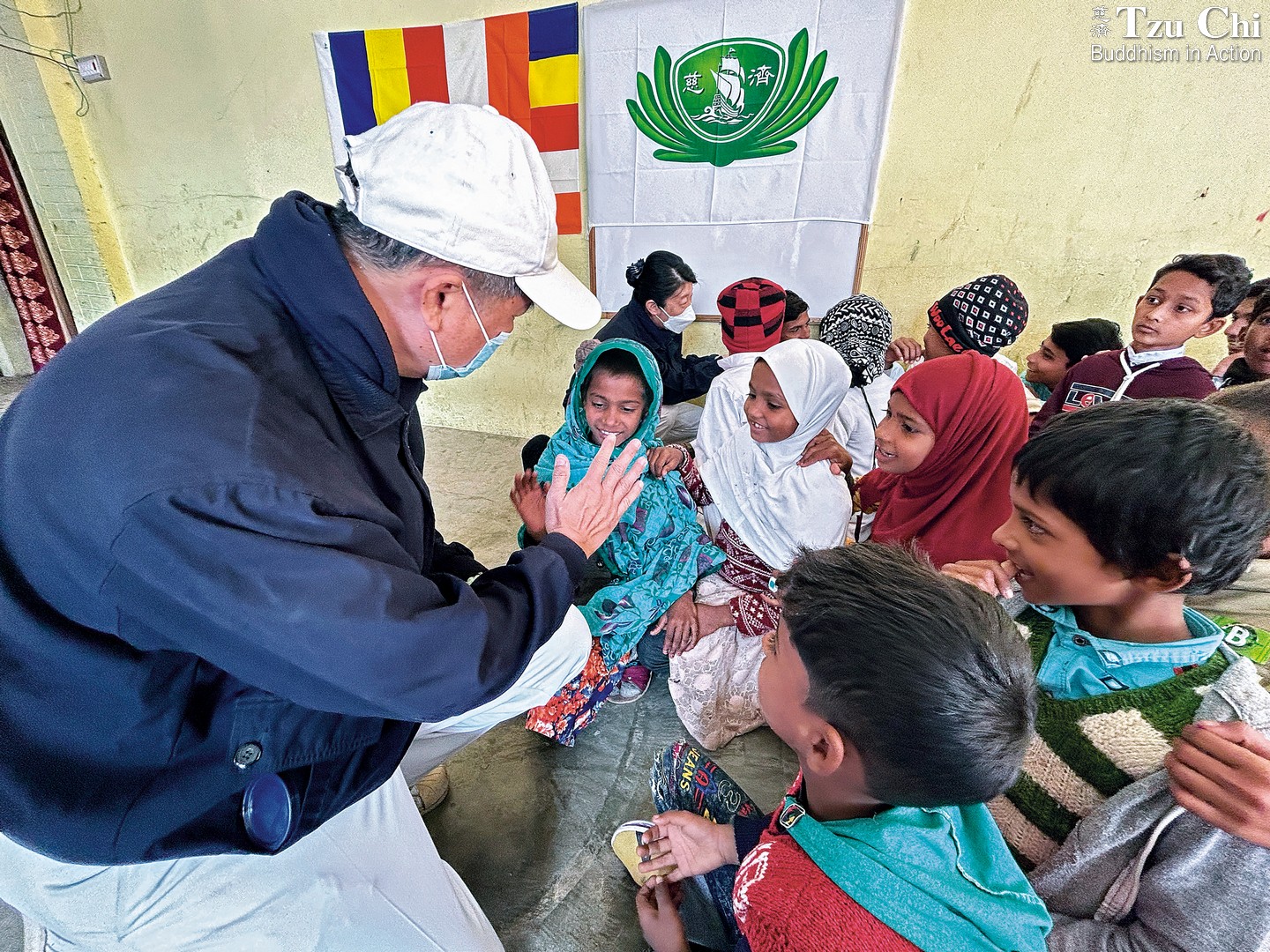 Tzu Chi volunteers interact with children at Jaamiya Faijul Islam School during a visit there to distribute schoolbags, stationery, and other items in December 2022.
Lee Meow Hong
The Tzu Chi Nepal Project Team is made up of volunteers from Singapore and Malaysia. From April 28, 2022, to the eve of the Chinese New Year in 2023, 59 volunteers from the team participated in seven relay cycles, taking turns in Lumbini to carry out charitable work for the Tzu Chi Foundation. Though they were used to hot weather in Southeast Asia, the summer heat in Nepal was hard to bear. The winter was hard too, as they were unaccustomed to cold weather. Despite such challenges, they endured, remaining steadfast and dedicated to their mission.
Volunteers from the team held their first free clinic from November 4 to 6, serving 3,200 patient visits. Thanks to word of mouth, 40 people—including some from India's border with Nepal—were already waiting at the entrance to see the doctors by 7:30 a.m. on the last day. This free clinic introduced many local people to Tzu Chi.
Volunteers from the team completed their first winter distribution on December 3, providing each beneficiary family with ten relief items. They also served attendees lunch and provided them with transportation home. Everyone's face was filled with joyful surprise when they received more than they had expected that day.
The local student withdrawal rate is high. According to one principal of a public school, around two-thirds of students fail to complete elementary school. Of those that make it to secondary school, only one-third finish. When members of the team visited local schools in the winter to discuss ways to support students' education, they noticed many children inadequately dressed for the cold, some even barefoot or wearing slippers. They observed that many students' schoolbags were extremely basic and crude, with some using rice sacks as makeshift substitutes. Some children were showing signs of malnourishment. The schools' efforts to provide lunch had been stymied by insufficient funding, leaving students without enough to eat. Volunteers even saw students using tree leaves as spoons to drink hot milk due to the lack of proper utensils. That prompted them to distribute tableware to help out. For the other needs, they provided sweaters, shoes, schoolbags, dictionaries, and stationery. Such items will enable students to attend classes with more dignity.
While visiting the countryside and homes in Lumbini, the team's members often felt like they had been transported back in time 2,600 years, experiencing the same surroundings as the Buddha. They couldn't help but wonder why the Buddha's birthplace was still so underdeveloped and why so many people were still trapped in poverty. They also questioned the persistence of the unjust caste system in modern times. (Despite being abolished by the Nepalese government, the caste system remains a significant part of Nepali society.)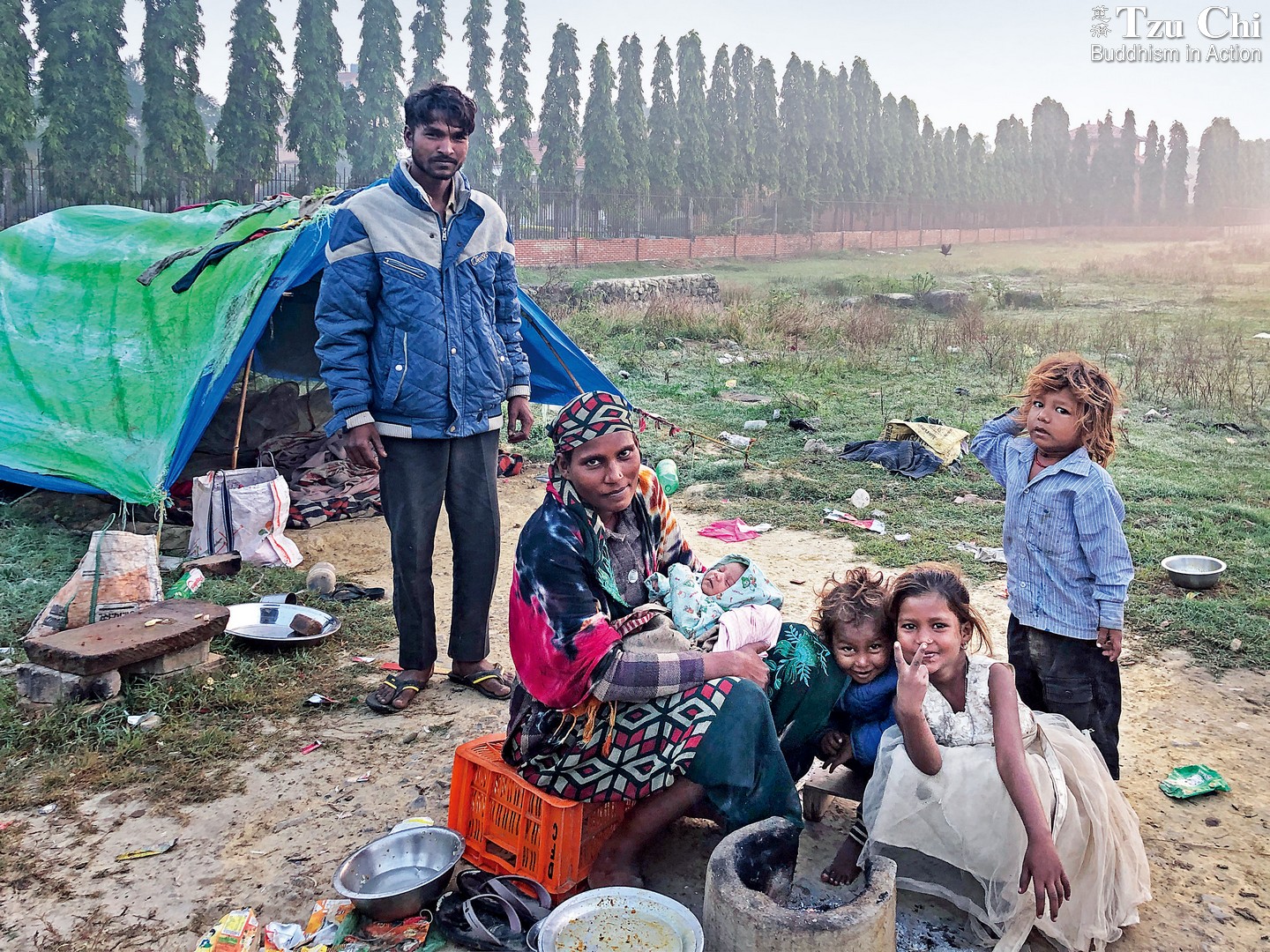 Two families live in tents in an open field near the Tzu Chi office in Lumbini, Nepal. A mother can be seen here holding her newborn baby close to a cooking hearth for warmth. Local Nepalese people have difficulty finding work, and the situation is even more dire for these illegal Indian immigrants, who have been forced to live by begging.
Goh Lam Kia
Seizing the chance to help
On January 25, 2023, the fourth day of the Chinese New Year, Tang Kiat Beng (陳濟連), deputy CEO of Tzu Chi Malaysia, once again led a group of volunteers to Nepal. He recalled that during a visit to Taiwan in September 2018, he had briefed Dharma Master Cheng Yen on a project to help a free clinic in Lumbini convert a building into a dialysis center. The Master had said at the time, "I wonder if I'll live long enough to see Tzu Chi develop in Nepal." Since Tzu Chi couldn't have come into existence without the spirit and teachings of the Buddha, Tang Kiat Beng had told himself back then that he should seize every opportunity to give back to the Buddha's hometown.
When Nepal was facing the worst of the COVID-19 crisis, Tzu Chi headquarters in Taiwan arranged on ten occasions for medical supplies and equipment to be airlifted to the country. The foundation also distributed food to local needy people to help them cope with the economic challenges posed by the pandemic. Nearly 70 percent of the residents in Lumbini benefited from the aid. When the Nepalese border finally reopened in April 2022, Tang Kiat Beng and other Tzu Chi volunteers from Malaysia and Singapore immediately met and entered the country to carry out more Tzu Chi work there.
One of the volunteers was Dr. Ching Chen Hua (莊慮昶), from Kedah, Malaysia, who holds an important post with a government hospital. Despite having only 35 days of annual leave, she spent 49 days in Nepal. Aw Kwai Wan (胡桂雲), another volunteer from Kuala Lumpur, Malaysia, had jumped at the chance to go to Lumbini and volunteered to stay there on a long-term basis. She hoped to help pave the way for volunteers coming after her, making it easier for them to carry out Tzu Chi work in Nepal. Cecelia GC Ong (王慈惟), from Penang, Malaysia, was another dedicated volunteer on the team. "While in Nepal, none of us have to worry about taking care of our family or going to work. Our sole focus is on Tzu Chi work. This allows us to fully focus on the work at hand."
Khoo Kean Yee (邱建義), deputy CEO of Tzu Chi Singapore, and his wife, Li Guo Xiang (李國香), are also part of the Tzu Chi Nepal Project Team. They traveled for the first time from Singapore to Nepal on August 17, 2022, accompanied by fellow team members Goh Lam Kia (吳南凱) and Lim Kim Yan (林金燕). Goh has an engineering background, and Lim is a 70-year-old retired head nurse. Foreign nationals are permitted to stay in Nepal for a maximum of 150 days; Khoo stayed for 142 days before returning to Singapore.
"I received a phone call from Low Swee Seh [劉瑞士], CEO of Tzu Chi Singapore, asking if I was interested in going to Nepal to help Tzu Chi conduct charity work there," Khoo recalled. "I asked him for how long I'd need to stay there, and he said I'd be required to be stationed there for some time. I remember thinking to myself: 'In that case, the first thing to do is to let go of everything.'" He bought a one-way ticket to Nepal, without any return date planned. He believed that he'd be better able to focus on paving the way for Tzu Chi work there if he didn't have an easy way out.
"I closed my business, which I had run for 30 years, within two weeks," Khoo explained. "After that, I told my children that they had grown up and that I didn't have many decades left. They all supported my wish to go to Nepal. Of course, the most important step was seeking my wife's approval."
That step also turned out to be the most difficult one. Khoo brought up the topic of going to Nepal several times with his wife, but she was noncommittal. Because he was the sole breadwinner for his family, it was understandable that she would worry about him leaving. When CEO Low learned about this, he spent half an hour communicating with Khoo's wife, addressing all her concerns. She eventually agreed to let him go. "What surprised me even more was that she wanted to go with me," said Khoo. "She had not been working since we got married and had been taking care of our family and volunteering for Tzu Chi, leading a stable life. It would not be easy for her to stay in Lumbini for an extended period."
Even so, Khoo and his wife proved to be a valuable asset for the team. Tang Kiat Beng explained that they would prepare meals for every member on the team early each morning, and in the evenings they would tidy up the Tzu Chi office, dormitory, and the dining area. This was on top of other work they did to help the needy in Nepal. Tang expressed his deep gratitude for having them.
The living conditions in the local area were primitive and impoverished. The volunteers were so occupied with their care project every day that when they went to bed at night, they were so tired they couldn't even tell whether the insects crawling on them were ants or mosquitoes. But Li Guo Xiang, Khoo's wife, had no complaints. "Although I may not have any skills or much knowledge, I cherish deeply the karmic affinity that allowed me to support my husband in fulfilling his aspirations."
The words "karmic affinity" hold a deep meaning for Khoo. "Our mission in Nepal deeply touched my heart. No one knows what lies ahead, but I believe in seizing our karmic affinity with the Buddha by doing our best to give."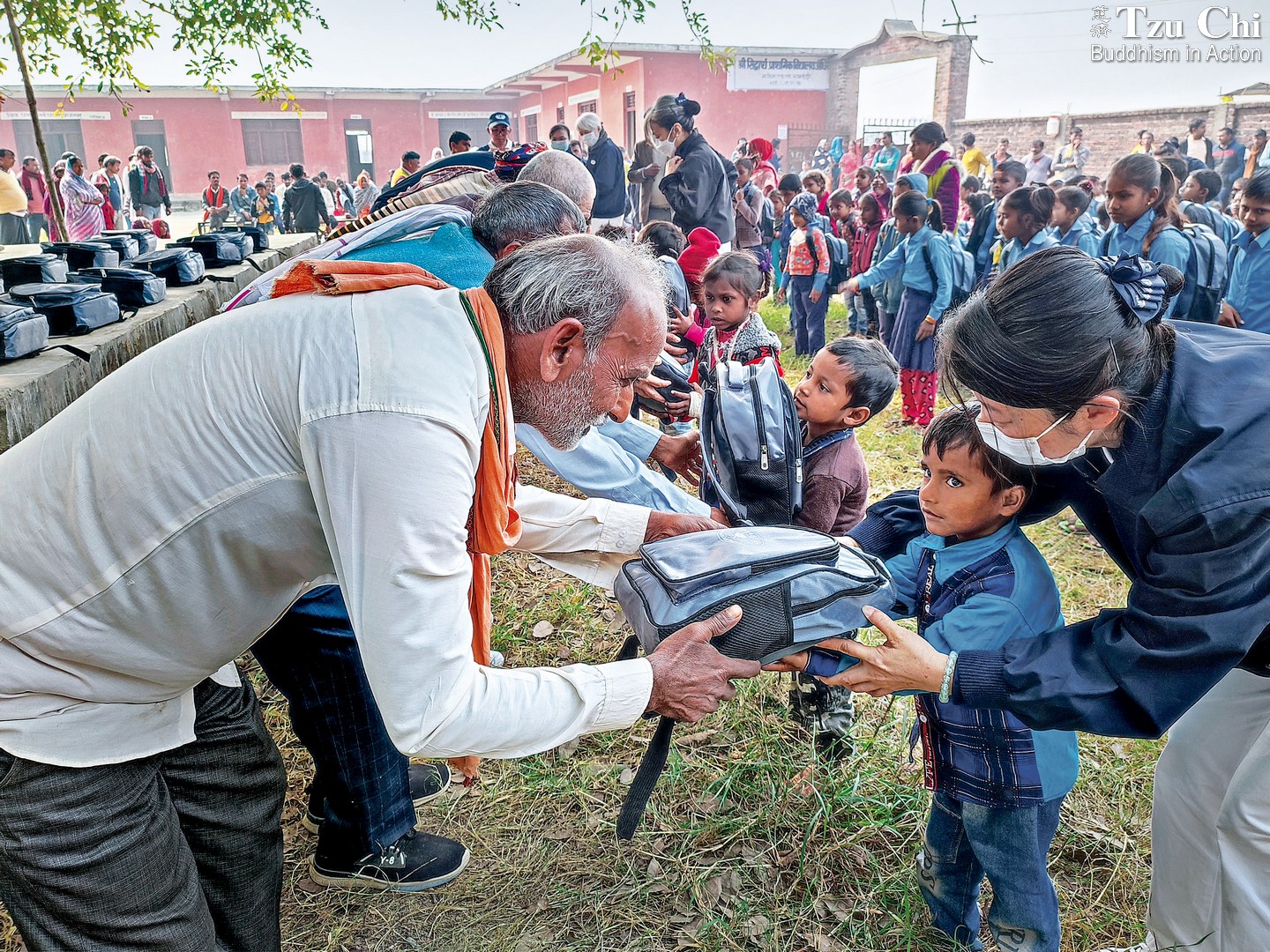 A group of volunteers visited Siddhartha Primary School last winter and distributed schoolbags, stationery, and warm clothing to the students there.

Lee Lay Sim
For Khoo and his fellow volunteer Goh Lam Kia, the biggest challenge of carrying out philanthropic work in Nepal is the language barrier. Members of the Tzu Chi Nepal Project Team speak Mandarin and English, so it is not surprising that they can't communicate directly with the local people. But even Nepalese volunteers from Kathmandu, the capital of Nepal, who can speak Nepali, still face difficulty communicating with residents in Lumbini. This is due to the many dialects in the country. Recruiting local volunteers from Lumbini was therefore crucial to the success of the mission.
To that end, volunteers contacted community organizations and schools and made extensive visits to local communities to better understand the local situation. They informed residents that Tzu Chi's connection with Nepal went back many years. After a devastating flood hit Nepal in 1993, the foundation launched a reconstruction project and built new homes for survivors of the disaster. In 2015, when a massive 7.8-magnitude earthquake rocked Nepal, Tzu Chi once again provided relief and assistance to victims, with volunteers visiting the country in relay teams. In 2019, the foundation helped a free clinic established by the International Buddhist Society in Lumbini convert a building into a dialysis center. This was followed by the construction of a new building for the free clinic. Knowing how much Tzu Chi had done for Nepal and its people, local people in Lumbini were more likely to join the foundation to help out.
Volunteers worked even harder to recruit more people to join Tzu Chi after a Tzu Chi office was set up in Lumbini on August 18, 2022. The first training event for new volunteers took place on December 24. A total of 112 individuals participated in the event, including teachers, medical professionals, students, and entrepreneurs.
From December 16, 2022, to January 24 this year, Tzu Chi held three rounds of distributions for school children in Nepal, benefiting 11,100 impoverished students in 28 schools. Because the volunteers from Singapore and Malaysia returned to their home countries to celebrate Chinese New Year with their families during the third round of distributions, the distribution of sweaters to over 5,000 students at 12 schools was completely carried out by local volunteers.
The items prepared for the three rounds of distributions included schoolbags, sweaters, shoes, as well as a variety of school supplies, such as exercise books, pencils, ballpoint pens, and rulers. A special trip was even made to India to purchase dictionaries so that there would be enough to distribute. The schoolbags were available in three sizes—large, medium, and small. Similarly, the sweaters and shoes had to fit each child's size. Volunteers went the extra mile by visiting each classroom one by one and measuring the size of each student.
Kua Liang Ming (郭糧鳴), a volunteer from Malaysia and the chief coordinator for the distributions, shared that several suppliers joined Tzu Chi's effort to help local schoolchildren at the encouragement of the procurement team. For example, a stationery supplier not only donated books but also provided manpower to assist in several distributions. A producer of pencil cases and a schoolbag supplier contributed by providing scrap fabrics to make lovely pencil cases. Many other kind-hearted local people also lent a helping hand. Thirty Nepalese who spoke local dialects enthusiastically participated in packing and distributing the goods. These like-minded people shared a common purpose and worked together with love and dedication to benefit the schoolchildren.
During the distributions, students joyfully received their schoolbags and other supplies. The heartwarming atmosphere, filled with gratitude, respect, and love, warmed the hearts of all those present. When volunteers revisited the schools a few days after the distributions, they were delighted to see students neatly dressed in their uniforms and adequately clothed for the weather, each wearing a radiant smile. Outside the classrooms stood orderly rows of brand-new black shoes. No student had to attend school barefoot anymore.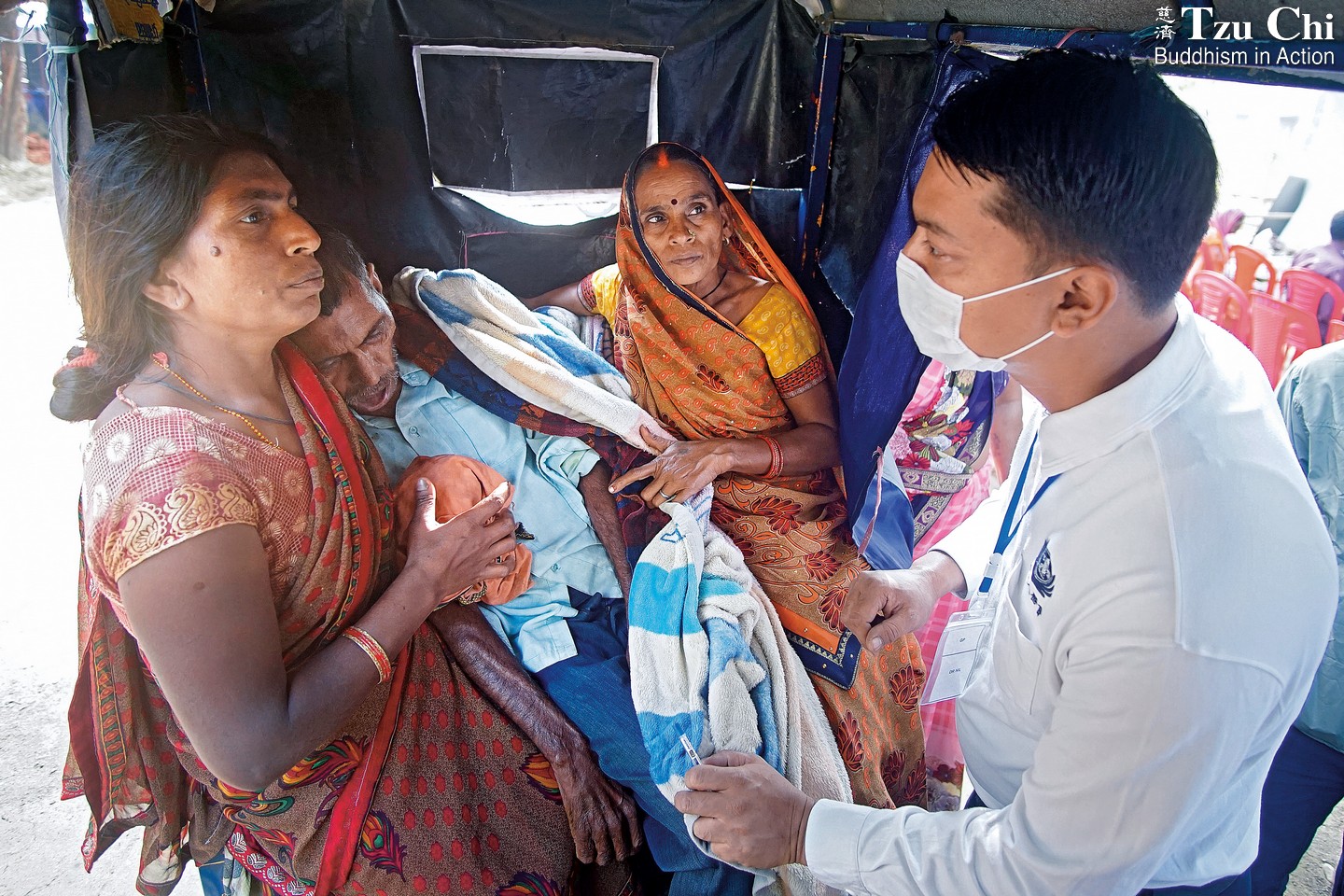 An elderly man is already in critical condition upon arrival at a free clinic event Tzu Chi held in Lumbini in early November 2022.
Unish Khyaju
Altaf Husen Khan, the principal of Siddhartha Primary School, said that the typical student attendance rate during winter had previously averaged only 60 percent. However, with the provision of warm clothing, the attendance rate had improved to 90 percent.
On the afternoon of December 22, volunteers held a parent-child athletic meet at Siddhartha Primary School. Forty-five families participated. Prior to the event, some parents voluntarily removed small stones from the venue and uprooted ankle-deep weeds. After completing their exams on the morning of December 22, some students found that their parents had not yet arrived at the school, so they hurried home after lunch to invite them over.
Despite not having any rehearsal, students, bearing flags, marched in an orderly manner to the beat of music as they entered the venue. They were followed by parents and other students, holding hands. Together they engaged in various games. Principal Altaf Husen Khan remarked that it was unprecedented for parents to be willing to spend half a day accompanying their children at school. "Siddhartha Primary School is no longer the same as before," he said. "Students are happy, teachers are joyful, parents are cheerful, and the school administration is satisfied because Tzu Chi has come."
Before departing from the country, all the volunteers pledged to return and continue their work in Nepal. Their efforts had ranged from helping former students return to school and visiting Tzu Chi care recipients to assisting patients in obtaining medical treatment and helping a school build classrooms. Additionally, they had plans for more work. To the volunteers, their charitable, medical, and educational aid work in the local communities isn't just about repaying the kindness of the Buddha or fulfilling their vow to carry out Dharma Master Cheng Yen's mission as their own—it's also about making a meaningful impact in the lives of those they serve.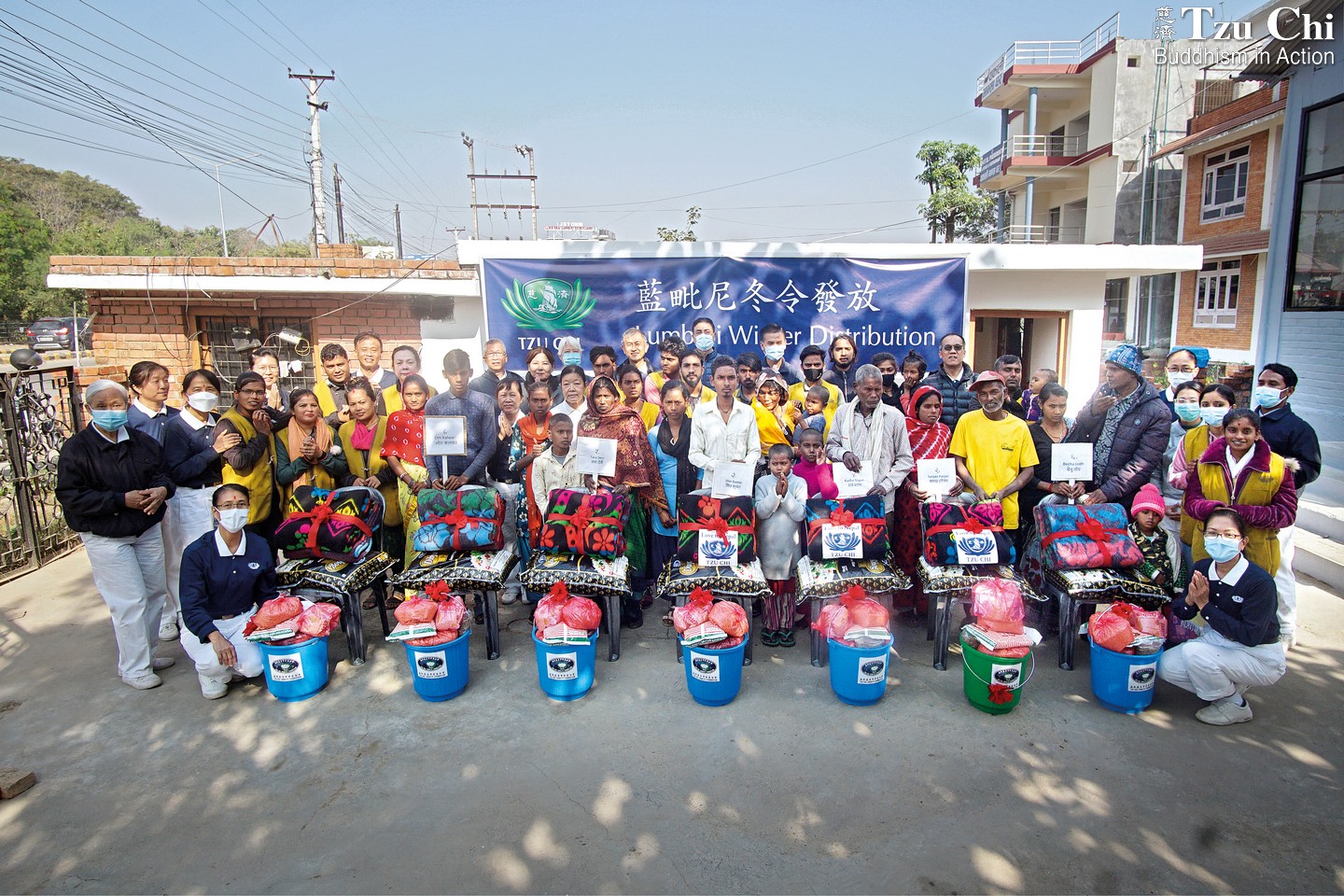 Tzu Chi held its first winter distribution and meal gathering for underprivileged families at its Lumbini office on December 3, 2022.
Unish Khyaju