By Zhang Li-zhu
Translated by Wu Hsiao-ting
Photos by Huang Xiao-zhe
Yang Su is immensely grateful when she wakes up every day. She cherishes each new day as another chance to give of herself and sow seeds of blessings.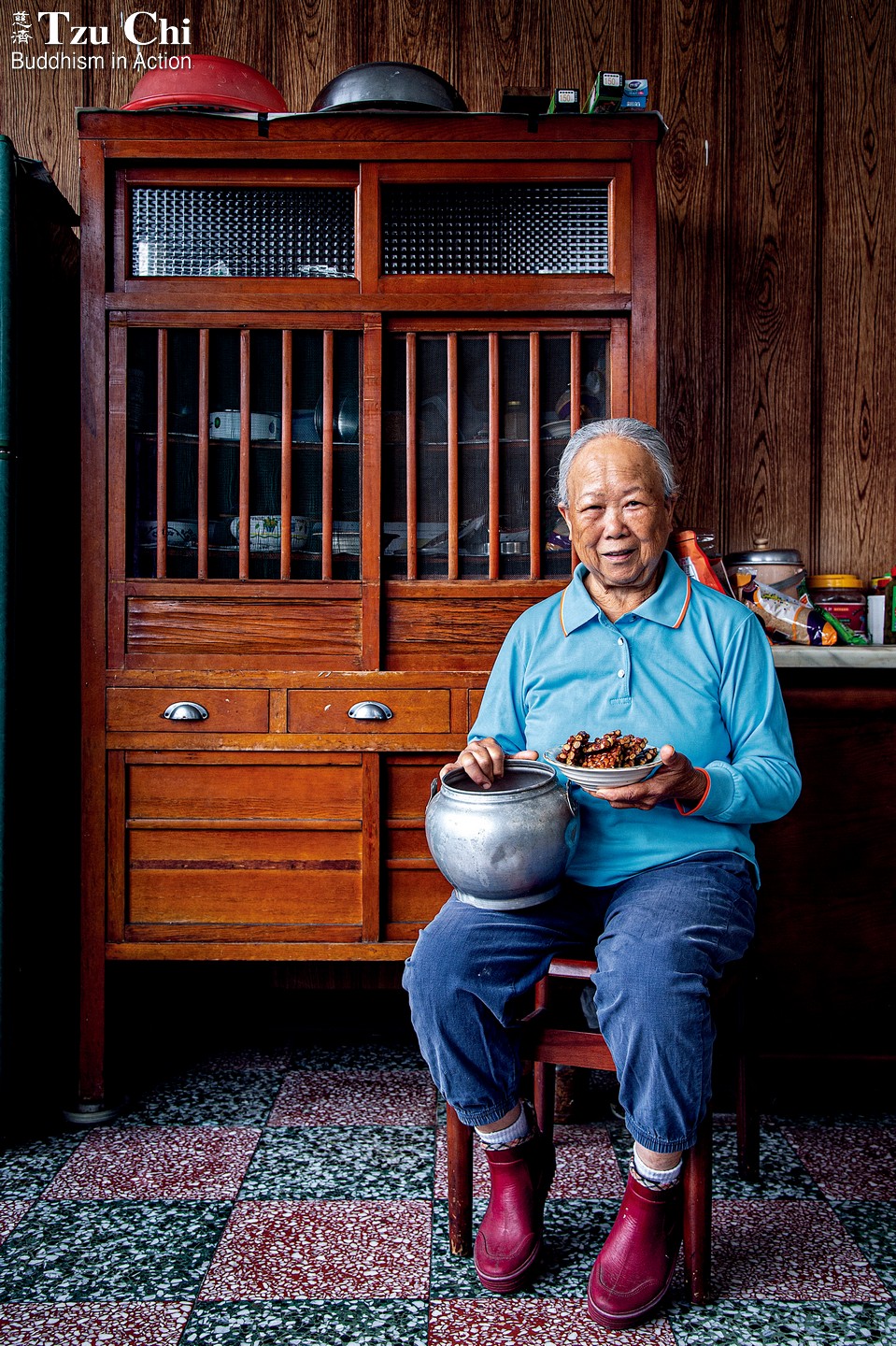 Yang Su (楊素), 82, always wears her gray hair in a ponytail. Despite a petite stature that conveys an impression of delicacy and frailty, her kindness knows no bounds. The acts of goodwill she performs rival those of individuals much younger than she is. Sometimes, she ventures out with friends as early as just after three in the morning to pick sweet potato leaves, which she then delivers to an orphanage to supplement the meals for the children there. She has a warm-hearted nature, so whenever she learns of a family facing hardship, she promptly reports their situation to Tzu Chi for assessment and assistance. She is frequently seen cycling around her community, visiting her neighbors. In fact, she is such a well-known presence in her neighborhood that she has earned the honorary title of an unofficial community leader.
Everyone in Tzu Chi who knows her affectionately refers to her as "Ah Po" (Grandma). Despite her advanced age and illiteracy, whenever her team leader informs her about any tasks to do, she readily agrees to lend a hand. This may include activities such as cleaning Tzu Chi facilities, participating in recycling work, cooking for Tzu Chi events, or chanting the Buddha's name for the deceased.
Every Saturday morning, at around five o'clock, she arrives at the Tzu Chi Daya Recycling Station in Taichung, central Taiwan, to sort recycling. On the day I interviewed her for this article, she proudly showcased the clothes she was wearing, explaining that they were all obtained from the recycling station. Pointing to her sneakers, she exclaimed, "I found these shoes at the recycling station too, and they fit perfectly! I really like them." Taking out another pair of shoes, she added, "These ones are almost brand-new, and I treasure them too much to wear them. They are another precious find from the recycling station!"
The clothes worn by her twin grandchildren and the winter comforters they use are all recycled as well. "I mend discarded and worn-out comforters with needle and thread, then slip them into clean covers," she explained. "This way, my grandchildren have warm comforters to keep them cozy in the cold winter. They really appreciate the comforters I prepare for them."
Due to her age and the responsibility of raising her twin grandchildren, Yang Su often struggles to make ends meet. However, she politely declined when her fellow volunteers suggested applying for financial assistance from Tzu Chi on her behalf—she felt that there were other families in greater need. She wakes up early every day, with a heart filled with gratitude. "When I open my eyes and realize I am still breathing, I express my thanks to the bodhisattvas for granting me another day. I'm grateful for another day to give of myself and sow blessings."
Cherishing and sharing food
Yang serves as a cleaning volunteer two days a week at the Tzu Chi Daya office. On the days she does, she often treats everyone to sweet potato buns, a traditional delicacy she makes herself. She wisely avoids food waste by collecting unwanted sweet potatoes from the fields to make her buns. Her fellow volunteers contribute ingredients such as mushrooms, bamboo shoots, and tofu skin for the fillings. The delightful taste of her sweet potato buns captured the attention of her team members, who recommended her for an appearance on a cooking show that aired on Tzu Chi's Da Ai TV. Despite the recognition, Yang remained humble. "I'm more than happy to create delicious food. It brings joy to everyone and allows me to form good affinities with them," she said.
The octogenarian cherishes and values food, always doing her best to prevent any from going to waste. Once, a farmer planted daikon radishes during a fallow period of his paddy fields and generously donated the vegetables to Tzu Chi. Yang and a group of volunteers diligently harvested the radishes under the scorching sun, then meticulously prepared and sun-dried them, transforming them into dried radishes. She emphasized, "We must race against the sun to ensure that the 3,000 kilograms [6,615 pounds] of radishes do not spoil. It would be a shame to let them go to waste."
She has such a deep appreciation for food, she couldn't bear the thought when she learned that the remaining food from lunches at an elementary school was being discarded as kitchen waste. Approaching a director at the school, she made a plea, "Please save the leftovers for me!" With the school's approval, she began collecting leftovers at the school. She packages the leftovers into bags, and promptly delivers them to Tzu Chi care recipients in the community. "I'm not afraid of facing ridicule for asking for leftovers," she said. "My only wish is to prevent food from being wasted and to help more families avoid hunger."
Her fellow volunteers, aware of the difficult life she leads, always send leftover snacks from the Daya Recycling Station to her home. But instead of keeping the food solely for herself and her family, she divides it and delivers the majority of it to Tzu Chi care recipients in the neighborhood. When asked why she didn't keep more for her grandchildren, she replied, "Because I have endured hardship and poverty. Whenever I have the chance, I must practice giving and generosity."
"Walking to where the waters end, I sit and watch the rising clouds." This verse by Chinese poet Wang Wei (王維, 692-761) aptly describes how Yang approaches her life, with its ups and downs. In the face of challenging circumstances, when it appears that there is no way forward, she never loses hope but instead embraces whatever comes her way with a philosophical attitude.
Yang was born in 1941 into a farming family in Ruisui Township, Hualien, eastern Taiwan. She was one of ten children. From an early age, she worked alongside her family, tending to crops such as sweet potatoes, sugarcane, pineapples, and peanuts. Their livelihood as farmers was at the mercy of the unpredictable weather, making it challenging for them to have three meals a day. Basic necessities were always scarce. The family's strained finances meant that Yang never had the chance to pursue an education, nor did she ever dare to ask for such an opportunity. At the age of 20, she followed in her aunt's footsteps and became a mortuary beautician, facing the deceased every day. This particular experience granted her an understanding early on of the impermanent nature of life.
When she was 24, she made a career change and began learning dressmaking in a sewing shop. After she had worked there for some time, the shop owner, having taken a liking to her, arranged for her to marry her younger brother. (Such arranged marriages were common in Taiwan at that time.) Yang recalled, "Fifty years ago, brides were usually carried in palanquins to the families they were married into, but I rode an ox-drawn cart to my future husband's home!" She had never even met the man whom she married. He lived in a neighboring village and was six years her senior. Entering her new home, she discovered how simple and spare it was. Only then did she realize that she had married into a very poor family.
She grew vegetables, raised chickens, worked as a domestic helper, and chopped firewood in the mountains, all while caring for their three daughters and one son. Making a living in the remote region of Hualien was difficult, so five years after their marriage the couple took on jobs as longshoremen at Keelung Port in northern Taiwan. They took their son with them and entrusted their three daughters to the care of their grandmother. Working at the port, they managed to save some money over the course of several years. With their savings, they purchased land but eventually sold it to enter into a partnership with a relative to manufacture and export chopsticks. Later, they struck out on their own, but their business encountered limited success.
The couple's eldest daughter, Chen You-fang (陳優芳), born in 1965, reminisced about that time: "Our family was involved in manufacturing chopsticks for export when I was in elementary school, but we didn't make much profit from it. My father later switched to subcontracting the production of badminton racket components. The economy was good at the time, and Dad's business flourished, generating a significant income." She explained that her father even established a factory in Malaysia and had plans to relocate the entire family to that country. Unfortunately, he fell seriously ill before the plan could materialize.
When Yang's husband became sick, her illiteracy left her incapable of managing his business, which was eventually passed on to their 32-year-old son. Her son worked hard to keep the business afloat, but the unscrupulous closure of one of his suppliers' factories left him saddled with a massive debt. Following a divorce from his Malaysian wife, the weight of the debt became unbearable, prompting him to flee to escape the burden. His twin sons were just three years old at the time. The responsibility for raising them thus fell to Yang. Fortunately, her daughters considerately eased her burden by sharing the living expenses.
Lin Shu-zhen (林淑真) has known Yang for 33 years. She once worked at the couple's factory in Taiwan. She spoke warmly about Yang and her husband, saying, "The tremendous generosity and kindness they showed me are difficult to put into words. My family was facing financial struggles during my time at their factory, and I would often bring my three-year-old daughter to work with me. Aware of my situation, they not only paid me more than what was owed for my work, but also provided advance payments on my salary to help cover our daily expenses."
In 1991, Yang's husband suffered a stroke in Malaysia. The family arranged for a private plane to bring him back to Taiwan. He remained bedridden for ten years before eventually passing away. The day after his funeral, Lin Shu-zhen, who had begun volunteering for Tzu Chi by that time, approached Yang and extended an invitation, "Come! I'll take you to chant the Buddha's name at a funeral." (Tzu Chi volunteers offer this chanting service to bring peace to the souls of the departed and provide solace to the grieving families.) While Lin's intention was to help Yang through the grieving process, Yang felt taken aback and angry, seeing her invitation as insensitive to her emotional state.
When Yang attended the funeral, she experienced a surprising and profound realization during the chanting session, that everything in the world is impermanent and subject to change. She recognized that her husband's passing was a part of the natural order. Instead of immersing herself in sorrow, she resolved to transform her grief into blessings for her late husband and let go of her attachment to him. She reminded herself not to dwell on the past or shed excessive tears but to embrace life fully and make meaningful contributions.
After the funeral, she began wholeheartedly participating in Tzu Chi activities. She joined other volunteers in making and selling rice dumplings and cakes to support the foundation's disaster relief efforts. Additionally, she enthusiastically helped sell steamed buns to raise money for the construction of Taichung Tzu Chi Hospital in central Taiwan. Her dedication touched many people, inspiring them to make purchases. Almost every day, she had to deliver ordered buns to homes on her scooter.
Upon hearing Master Cheng Yen's call to donate blood and save lives, she was inspired to do so regularly. She continued this practice until the age of 65 when a nurse from the blood donation bus informed her, "You're too old to donate blood anymore." This news left her deeply disappointed.
In addition to being an active volunteer, Yang shared about Tzu Chi whenever she met someone. In 2007, volunteer Yan Su-pen (顏素盆) encouraged her to undergo training to become a certified volunteer. Yang took her suggestion and obtained her certification the following year.
Yang is known for being proactive in seeking out volunteer opportunities, finding joy in her service. If a few days pass without her receiving any volunteer service notifications, she phones her team leader, Liao Hui-qi (廖惠圻), and says, "Please don't disregard this old lady simply because of her age. Being a Tzu Chi volunteer brings me immense joy. Please don't leave me without work to do."
In fact, Yang is far from idle. Besides her volunteering, she supports her grandchildren by working as a cleaning lady in the morning and a dishwasher at a restaurant in the evening. She often finishes her shifts late at night and returns home exhausted, sometimes even dozing off with her head on the table. Her grandchildren deeply appreciate her dedication and express their gratitude, saying, "Grandma, we will definitely take good care of you in the future."
Yang said, "I'm not afraid of hard work. I'm willing to take on any job as long as it is legal and brings in income." She has found a spiritual home in Tzu Chi, and her grandsons are a source of strength for her. For her, every opportunity that arises, whether it be work or volunteer service, is a blessing that allows her to contribute and enrich her life journey. As she embraces the spirit of gratitude and giving, her remarkable journey of service and selflessness continues to inspire those around her.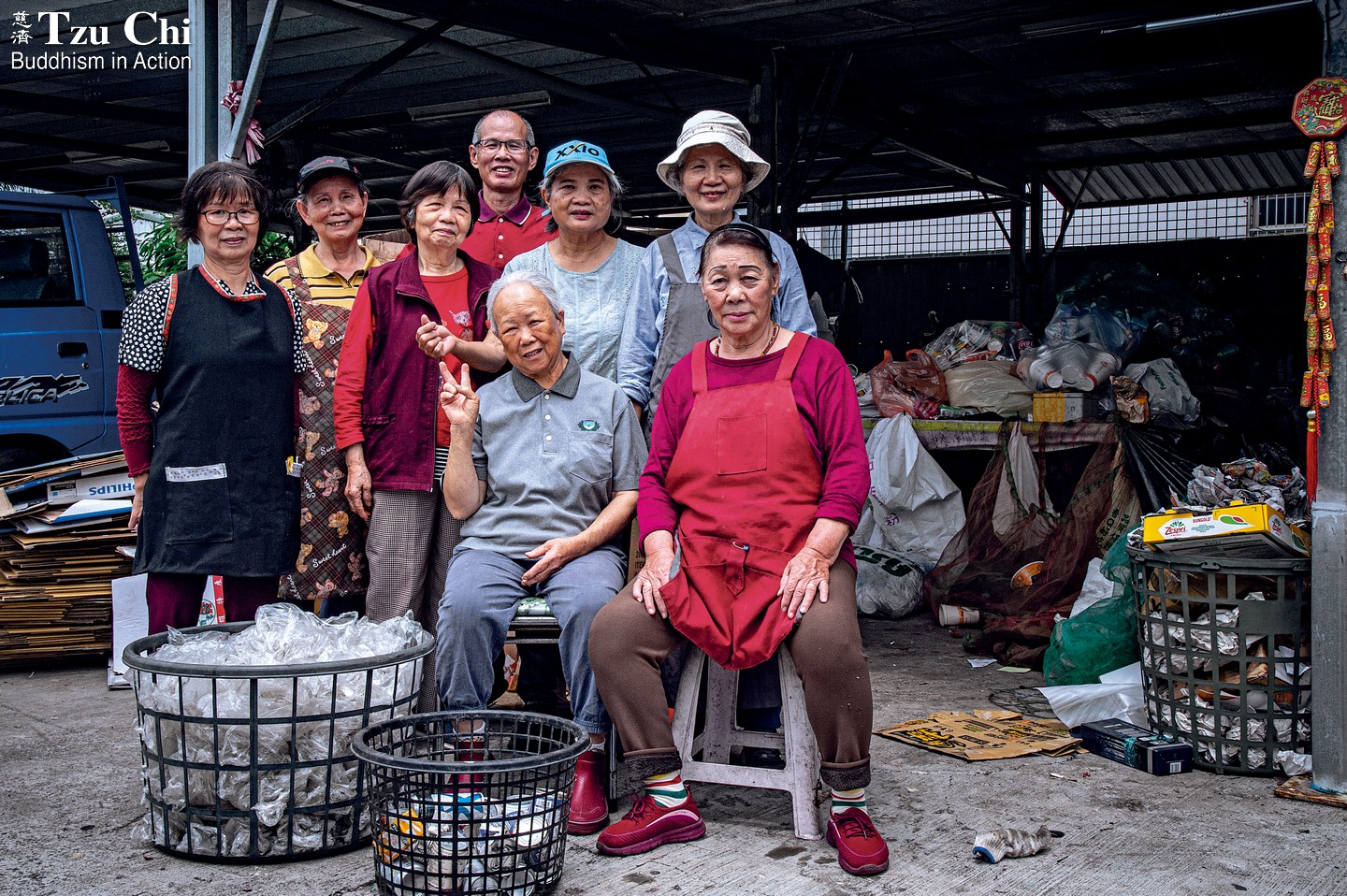 Everything Yang Su (seated on the left) wears in this photo is recycled, including her rain boots. When it comes to cherishing things, she is a role model for the volunteers at the Tzu Chi Daya Recycling Station in Taichung, central Taiwan.