By Wei Yu-xian, Li Hui-ling, and Lin Chun-xia
Translated by Syharn Shen
Photos by Yang Kai-cheng
A strong earthquake rocked eastern Taiwan on September 18, 2022. After repairing nearly 200 damaged homes, Tzu Chi built seven prefabricated steel houses for those whose homes were deemed unsafe for habitation.
It'd been three months since a strong earthquake had struck eastern Taiwan, in September 2022. Walking with a cane and accompanied by his septuagenarian son, 104-year-old Grandpa Lin arrived at the site where his quake-damaged home had been demolished and was being rebuilt. He saw the steel frames of his new house, being built in an inverted U-shape to look like a traditional three-section compound. The elderly man was overwhelmed with emotion, anticipating the day it would be completed, when he'd finally get to sit out on his covered patio and enjoy the sun.
After the earthquake, Lin and his son were forced to move out of their home and to rent a place to stay. "My son told me yesterday that he was taking me back 'home' to see the construction of our new house," said Lin. "I was so overjoyed I couldn't sleep!" Seeing the progress of construction at the site, it seemed too good to be true that he'd soon have a new house to live in. "It's been a journey from sadness and despair to hope. Tzu Chi has showered me with so much love that I have nothing more to ask for in this life!"
Volunteer Hong Wu-zheng (洪武正), who had been traveling back and forth between central and eastern Taiwan after the quake to help with Tzu Chi's repair and construction projects, was filled with joy after seeing the smile on Grandpa Lin's face. "What's most important is to provide our fellow men with safe places to live so they can settle down in peace," he said.
The seven prefabricated steel houses were built on the same sites where severely damaged houses had been demolished. Each new home has a different design and layout.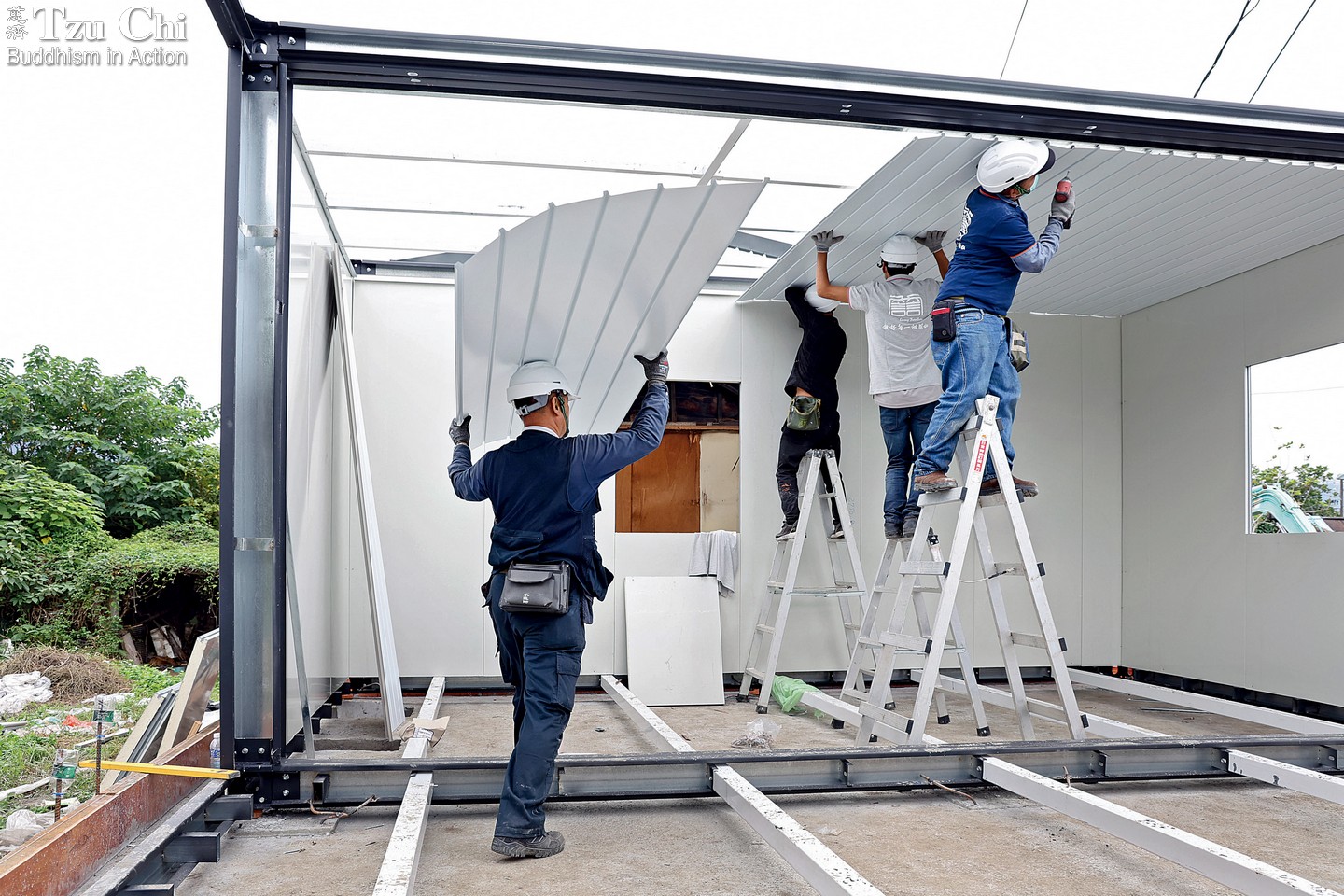 Construction workers install ceilings, made of lightweight, non-combustible materials.
The earthquake that rattled eastern Taiwan on the afternoon of September 18, 2022, was a big one, a 6.8 magnitude temblor. Its epicenter was located in the town of Chishang, Taitung County. At least 900 homes were damaged in Taitung County and its neighbor, Hualien County. The Tzu Chi Foundation surveyed over 350 of them before proceeding to repair nearly 200. Tzu Chi also helped demolish seven severely damaged homes and replaced them with prefabricated steel houses.
Despite the bitter cold of winter, construction workers and Tzu Chi's volunteer team worked hard to complete the seven prefabricated houses as soon as possible. Six were constructed in Yuli Township and one in Fuli Township, all within Hualien County. Because the building materials were prefabricated, the construction of the houses went quickly.
"The materials used for these prefabricated houses, including the steel frames, the exterior walls, and even the iron roofing sheets, are very different from what we used in the past," said Lin Min-chao (林敏朝), director of the Tzu Chi Foundation's Construction Department. Lin contrasted the materials used in these prefab structures with those of the temporary houses Tzu Chi built after the 1999 earthquake in Taiwan as an example. He said that the materials used to build those temporary houses were about the same as those used to build construction site offices. Though those structures were good enough for people to live in for three to five years, the prefabricated steel houses built after this quake are semi-permanent.
Because earthquakes are common in Yuli, quake-resistance and safety are the top priorities in building houses there. When evaluating the various options for the construction of the new houses this time, Lin and his team thought of the 25 COVID-19 screening stations that Tzu Chi had helped build in 11 counties and cities in Taiwan during the pandemic, and of how fast those structures had been put up. As a result, they decided to work with the same construction company.
Each of the seven prefabricated houses came with its own architectural drawing. A temporary building license was also obtained from the Hualien County government for each structure. The houses' exterior walls are made of non-combustible materials to meet Taiwan's construction regulations. The walls and roofs, supported by strong steel frames, are resistant to severe earthquakes. Natural lighting and ventilation were also taken into account, so the ceilings in the interior are at least 2.5 meters (8.2 feet) tall. The residents inside won't feel closed in.
In addition to being sturdy, the new homes were designed with pitched roofs for better rain drainage. Cotton insulation was placed under steel beams of the roof to reduce heat. "Even if it's pouring, residents inside the house won't hear the rain," said Lin Min-chao. "Nor will the heat be transmitted indoors, even when it is scorching hot outside." Comparing the outdoor and indoor temperatures from the previous day, Lin said that while the iron sheets of a house on the outside were as hot as 40°C (104°F), they were just 20°C (68°F) on the inside. He added, "The county government will issue usage permits, so the houses will be officially registered."
After the earthquake, Tzu Chi volunteers traveled from all over Taiwan in shifts to the island's eastern region to help repair houses with minor or moderate damage. The construction of the prefabricated steel houses began in December 2022. They were for families whose homes were too seriously damaged during the quake for them to reoccupy. By mid-December, Tzu Chi's Construction Department team had finished laying the foundation for each house, after which Tzu Chi volunteers from central Taiwan started arriving to help build the houses. Once the building materials arrived, the basic structure of the houses took shape quickly. For example, the steel framework of two houses located on Xinyi Road in Yuli took but half a day to erect, install, and weld together.
Volunteer Hong is the owner of a company that manufactures mechanical parts. When he saw the quality of the building materials for the prefab homes, he said to Director Lin, "These materials are tip-top!" Hong led the volunteer team that had come from central Taiwan to help. Though the team consisted of senior experts in construction, plumbing, and electricity, Hong asked everyone to regard themselves as "assistants" to the construction company staff on-site and respect their expertise.
Despite working as "assistants," the volunteers gave their very best. While male volunteers helped to build the houses, female volunteers offered their support to the residents and helped with chores at the construction sites. To speed up the building process, everyone worked together to move the sandwich panels that were being used to build the exterior walls. The panels had two external metal layers and insulation in the middle, making them heavy, each weighing nearly 20 kilograms (44 pounds).
Panels with wooden veneer were added to the houses' exterior walls. They make the houses look charming and can help insulate the dwellings from heat. Grandpa Lin's prefabricated steel house  is made up of three units arranged into an inverted U-shape to resemble a traditional three-section compound.
Each of the seven prefabricated houses is individually tailored to meet the needs of residents and to accommodate the number of people that will live there (below). Ye Yi-jia
Catering to the needs of the residents
"Dharma Master Cheng Yen said that a job is well done if the end results meet the needs and expectations of the user," Director Lin quoted. He pointed out that the seven prefabricated houses were individually tailored to meet the needs of each household. "In addition to considering the needs of the residents when we designed the houses, we also took into account the shape and other conditions of each piece of land. Thus, though each housing unit is 18 square meters [196 square feet], every single house is different."
Grandpa Lin's house is a great example. Since he lives with his son, his house was planned with three units from the beginning. After discussions with the father and son, it was decided that their new home would be built in an inverted U-shape to resemble a traditional three-section compound. A covered patio in front was added to allow Grandpa Lin to sit, enjoy the sun and fresh air, and chat with others, just like he used to.
Ms. Huang is another beneficiary of Tzu Chi's construction project. Her house, located diagonally opposite Grandpa Lin's house, was also severely damaged in the earthquake and received a red notice issued by the government. The new house that Tzu Chi planned for Ms. Huang and her family was three units arranged into a square, complete with two rooms, two bathrooms, a dining room, and a kitchen.
Ms. Huang took a day off from work to visit the site where her old house used to stand and where Tzu Chi was now building a new home for her. A volunteer explained to her in detail the layout and other aspects of her new house as they watched the construction company staff and Tzu Chi volunteers hard at work. Huang was very moved. "We had to rent a place to live after the quake," she said. "We felt so helpless, seeing how badly damaged our home was. We had no idea how we were going to rebuild it."
Huang lived with her three siblings before the disaster. Each was getting on in years and had their own health issues, so it was beyond their means to rebuild their own home. Huang was therefore very grateful for Tzu Chi's help. Since she and her siblings had to move out of their rented place before Chinese New Year, she hoped that the house Tzu Chi was building for them could be completed by that time. "Seeing so many people coming here to build our home, I'm deeply touched and feel hopeful now," she said. "I've seen on TV the efficiency of Tzu Chi volunteers as they carry out disaster relief work, but now I've been able to witness it with my very own eyes."
Because the weather had turned cold, Huang brought hot tea to the construction site the next morning before heading for work. She wanted to do something to help warm the bodies of the volunteers.
Mr. Jiang received a new home from Tzu Chi, too. He used to be a volunteer firefighter in Yuli Township, but he no longer worked on the front lines due to health conditions. His house collapsed during the earthquake, forcing him and his wife to stay temporarily in their undamaged barn. Needless to say, the living conditions there were primitive. There was no bathroom or kitchen, and the lighting was poor. Evenings grew dark early in the mountain area during winter, so Jiang took from his collapsed house light bulbs that were still serviceable to use for more lighting in the barn, as well as a search and rescue light he had obtained.
More than ten Tzu Chi volunteers arrived at Mr. Jiang's home a little after four on the afternoon of December 21. The steel frames and exterior walls had already been erected by that time, so the volunteers had come to take care of carpentry work and put up partitions in the bathroom. They worked into the night, and even though Mr. Jiang provided some illumination, visibility wasn't very good. The team decided to saw the calcium silicate boards they were installing by hand, as cutting the boards with electric saws would raise large clouds of dust, making it even more difficult for them to see clearly. Feng Shi-xiu (馮詩秀), an 80-year-old professional carpenter, was determined to finish the work they had set for themselves that day so that paint could be applied the next day. He wanted to complete the house as soon as possible so Mr. Jiang's mind could be at ease.
Building houses like their own
Huang Li-yun (黃麗雲), a Tzu Chi volunteer in Yuli, had been doing what she could to give her fellow locals support since the earthquake had struck three months earlier. Now, in late December, seeing people in her town slowly settling down again, she finally felt more at peace, the worry lines between her eyebrows easing. "In the beginning, my fellow townspeople didn't know where to turn for help and find resources," she said. "As a Tzu Chi volunteer from Yuli, I've truly felt the solid support Tzu Chi has given to people here."
Huang recalled an incident one rainy day after the earthquake. An elderly man arrived at the local Tzu Chi Jing Si Hall on a four-wheeled motor scooter. "I've come from Fuli Township," the man said. "My house was damaged in the quake. People told me to come to Tzu Chi in Yuli for help, so that's why I'm here. I really don't know who else to ask for help."
"The man looked like he was in his 80s," Huang said as she choked up. "He had tears in his eyes. He was so eager to find help that he didn't even take off his raincoat. His desperate look broke my heart. I remember it vividly to this day."
Mr. Li was another earthquake victim. He left his temporary dwelling provided by the government on October 8, 2022, about three weeks after the tremor, and returned to his quake-damaged home. A red notice from the government had been affixed on the outside. It'd been raining for several days in Yuli, and when he pushed the door to his house open, he was greeted with muddy rainwater that had seeped into his house via the cracks that had been created by the earthquake. He remembered what Tzu Chi volunteers had told him during a home visit after the quake: "If there is anything you can't handle and need help with, come to see us at the Jing Si Hall."
Later, he arrived at the Jing Si Hall in Yuli. He sat in his car for a while, mulling over whether he should go in or not. He finally decided to ask for help. The volunteers that received him comforted him and reassured him that Tzu Chi would help him. They also told him that if he didn't want to stay home alone, he could join them to help other locals. Li started by helping Tzu Chi prepare meals for volunteers who were in town to repair homes damaged in the quake. Then he began taking part in the repair project. One time, while helping rebuild a perimeter wall for a household, he was impressed to see four elderly volunteers, soaked to the bone, working hard in the rain. "That's the most amazing thing I've seen!" he exclaimed at the time.
The prefabricated house Tzu Chi built for Li has an indoor area of 18 square meters (one unit), enough for one person. It is also equipped with a bathroom. In the house, one doesn't feel the chilly wind blowing from the Lehe River down the hill. Li recalled he once chatted with some Tzu Chi volunteers, and told them that time, "Yuli is my home." "This is our home!" replied the volunteers, referring to Li's house. "Their reply went straight to my heart," Li said, pounding his chest. "In the volunteers' eyes, we are one and the same. I'm deeply moved!" In place of his 70-year-old house, the small prefabricated house standing on the hillside was built with collective efforts, with love and care, by people who had built it as if they were building their own homes. Such care was what had moved Li the most.
After the construction company erected the steel frames and partitions of the prefabricated houses, professional experts and a team of Tzu Chi volunteers specializing in carpentry, painting, plumbing, and electricity took over and completed the other parts of the houses. All seven houses were finished by Chinese New Year, complete with outdoor drainage and other facilities. A donation ceremony was held on January 17, 2023, to formally turn the houses over to their new residents, just in time for them to celebrate the New Year in their new homes.
Grandpa Lin and his son check on the building progress of their new home at the construction site. Their minds are finally at peace, knowing they'll be moving into their new home soon.