By Zhang Li-yun
Translated by Wu Hsiao-ting
Photos by Yang Kai-cheng
Even the tiniest sound would scare them after an earthquake toppled a wall at their home, but help from a group of strangers set their minds at ease.
After a strong earthquake rocked eastern Taiwan on September 18, Tzu Chi volunteers made home visits in Yuli, one of the hardest-hit areas, to extend care to affected residents. Volunteers presented them with gift bags or emergency cash, and determined if they needed further help. On September 27, the Tzu Chi Foundation signed a memorandum of understanding with the Hualien County government to help repair homes in the disaster areas, in conjunction with the TSMC Charity Foundation and other organizations. Tzu Chi decided to start the project by making repairs to homes with minor damage. A repair team of volunteers from various parts of Taiwan launched their work on October 1. The foundation's construction department aided their efforts by finding four businesses that sold building materials so that the volunteers could obtain what they needed to get on with their work.
On October 3, a group of volunteers arrived at the Taichang neighborhood in Yuli, accompanied by the neighborhood chief, Li Jia-liang (李家樑). They were there to visit 12 households that had just been added to the list of families who required help with repairs to their quake-damaged homes. The volunteers were checking what repairs would be needed for the families and what building materials they'd have to prepare. Mrs. Wang, 72, belonged to one of the 12 families.
"Are you from here?" Mrs. Wang asked one of the volunteers that had come to her home.
"No, we are from Taichung," the volunteer answered.
"What? You came all the way from Taichung [to help us]?!" exclaimed Mrs. Wang. Surprised and visibly moved, she gave the volunteer a sudden hug, leaving the latter happily flustered.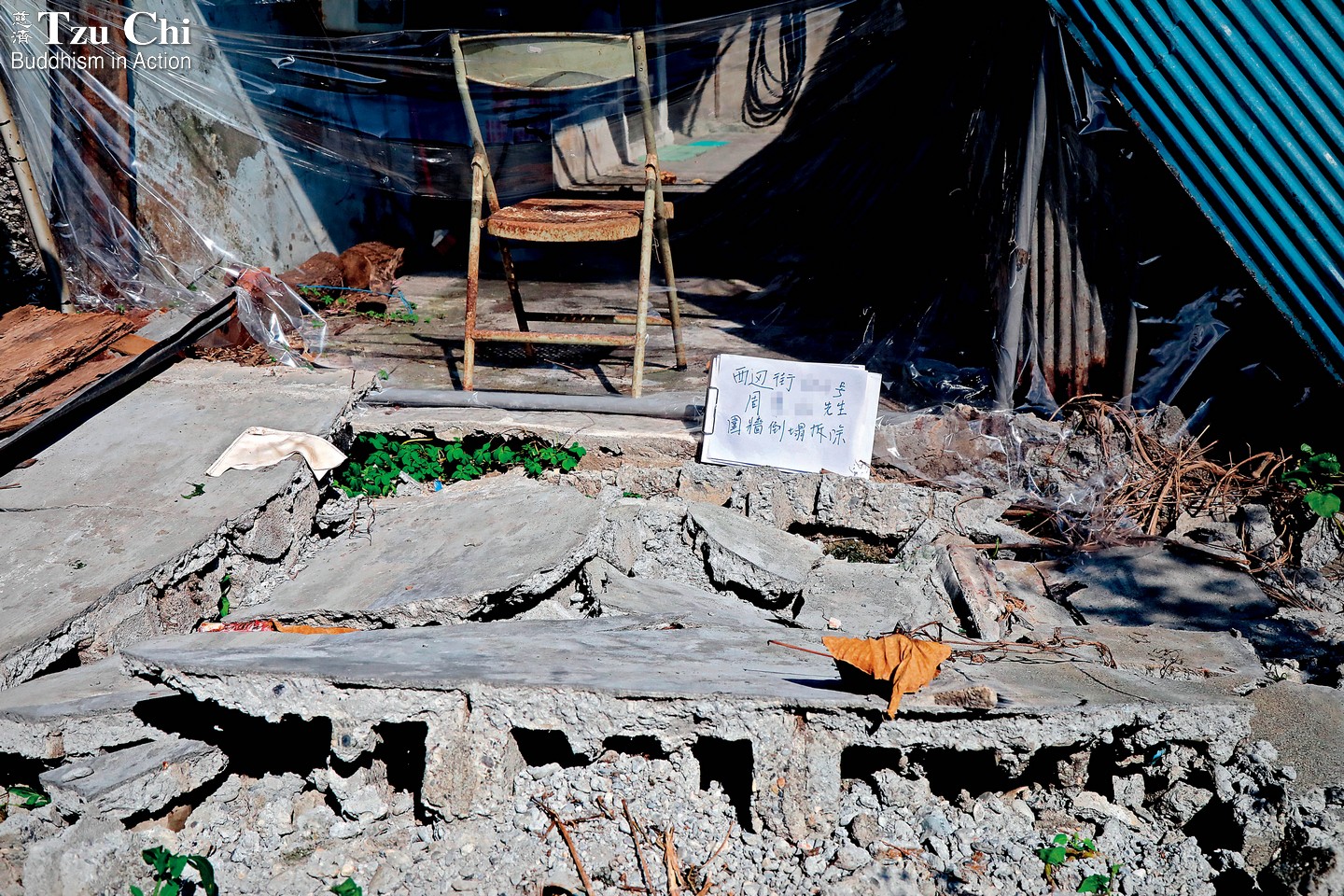 After Tzu Chi initiated the earthquake repair project, volunteers visited the households in need of repairs to assess their damage. They inventoried the items to be fixed so that the required building materials could be prepared.
Mrs. Wang lives with her daughter, Ms Wang, in a house behind the Yuli branch of Taipei Veterans General Hospital. Their house was built in the 1970s. It had weathered quite a few typhoons over the course of the years but was still in relatively good condition. Sadly, it had been damaged during the earthquake this time. The tremor had toppled their front yard wall, scattering the ground with debris and giving the mother and daughter a good scare. The quake left cracks in walls inside their house too.
Before the quake, the mother and daughter would fall soundly asleep at night listening to the rustling of leaves on an old camphor tree outside their front yard wall. After the quake, however—especially with the wall collapsed—any sound rattled their nerves and disturbed their sleep.
When Tzu Chi volunteers visited their home for the on-site checkup on October 3, volunteer Zhang Fu-jin (張富進), who works in construction, suggested to Ms Wang that they take down the remaining part of the toppled wall and replace it with one built of corrugated metal sheets and C-beams. Ms Wang said she was okay with any kind of wall, as long as there would be no space after the wall was completed to allow things like snakes to crawl into their home. She said that she and her mom once saw a large snake crawl past the entrance to their home in the night, frightening them out of their wits. Zhang assured her that once the wall was built, there would be no space or gaps to allow any snakes in.
Four volunteers arrived at the Wangs' home early the next morning to take down the remaining part of the wall. Zou Xian-liang (鄒顯亮) was the leader of the team. He had been diagnosed with coronary artery blockage about seven years ago, and had had two stents placed in his heart afterwards. He continued volunteering for Tzu Chi after he recovered. When asked about the condition of his health, he said that he exercised regularly and his recycling work kept him physically active too, so he was doing quite well. Speaking of the mission this time, he said, "We communicated with the owners of the houses before carrying out any repairs to their homes. We intend to give them five-star service. We hope they will be happy with our work."
Li Xue-lin (李學林), wearing a volunteer vest, picked up broken bricks from the dismantled wall and put them in garbage bags to be transported with a wheelbarrow to the entrance of the alley for disposal. A retired teacher, he had joined Tzu Chi's repair project at the invitation of his former colleague, Yang Yi-ming (楊易明), who is a Tzu Chi volunteer. The two men had worked together building temporary homes for a Tzu Chi project launched after the 9/21 earthquake 23 years ago. They hadn't been in contact for some time, but a photo from that time prompted Yang to reach out and invite his former coworker to join the current earthquake repair project.
More than two decades had passed since the 9/21 earthquake, and Yang was sad to see impermanence strike again, causing people to suffer. "Master Cheng Yen said it is a blessing to give," said Yang. "Since we're healthy and able, we must do our best to help so that the lives of the quake victims can return to normal as soon as possible."
The two retired teachers worked together to clean up after the other half of their team, and provided assistance as needed. All four men were in their 70s or 80s, but were still nimble. Volunteer Zhang Chen-jia (張宸嘉), the fourth member of the quartet, was a little hard of hearing. He had been doing a little farming after he retired to stay in shape. Speaking of his volunteer work, he said, "I consider it my duty as a Tzu Chi volunteer to do whatever work that comes my way. Besides, it helps me build up my physical strength."
Volunteers rebuild a wall for Mr. Zhou on October 6.
The same group of four men, joined by a fifth volunteer, 81-year-old Shi Jiao-yan (施教岩), arrived that afternoon at the home of another quake victim, Mr. Zhou, to dismantle another wall. The wall was located in an alley so narrow the volunteers' work was made more difficult. Further compounding the lack of space was that the surrounding area was overgrown with grass and cluttered with objects. Even so, the volunteers quickly set to work, dismantling the wall and cleaning up the masonry waste. Li Xue-lin, aided by Shi Jiao-yan, disposed of the debris with a wheelbarrow.
Mr. Zhou, in his 50s, felt a little uncomfortable seeing the group of older people, their hair gray and faces laced with wrinkles and speckled with age spots, doing the hard labor for him. He quickly retrieved a lawn mower from a storeroom and began to mow the grass near the wall to make it easier for the volunteers to work.
Volunteer Zou Xian-liang reminded everyone to be sure to tidy up everything when their work was done so that the area would look good afterwards. Hearing him, Mr. Zhou said politely, "There is no need. I'm grateful enough you came to take down the wall for me. To be honest, I'm surprised about this repair service by Tzu Chi."
Another team of volunteers arrived at Mr. Zhou's home early on the morning of October 6 to build a new wall. Upon their arrival, they found that he had already laid the first row of bricks. "I worked until after 11 last night," he said. "I wanted to save you some work." To ensure the quality of the finished wall—that it would not only be sturdy but also look good—the volunteers stretched a mason's line to aid their work. Mr. Zhou took out his cell phone and told the volunteers that his sister had sent him a text message telling him to be sure to thank Tzu Chi.
A volunteer repaints Ms Wang's home.
The corrugated metal sheets and C-beams needed to rebuild the wall at Ms Wang's home arrived at 2:30 on the afternoon of October 5. Seven volunteers who had just arrived in Yuli at noon that day immediately began installing the wall at the mother and daughter's place.
The seven volunteers often take part in Tzu Chi's emergency response work. Whenever a disaster strikes, they go wherever they are needed to help out. When they learned this time that the foundation was calling for volunteers to implement the repair project, they knew they had to come to give a hand.
To his dismay, volunteer Qiu Ming-wen (邱銘文) found the electric welding machine he was going to use refused to work when he turned it on. He suspected it was due to insufficient voltage. Just as he was beginning to worry what to do, neighborhood chief Li Jia-liang happened to drop by to check on the volunteers. He took Qiu to a neighboring home to see if they could borrow electricity from the neighbor.
Mr. Wang, the owner of the neighboring house, walked over to Ms Wang's home to better understand the situation. Qiu said to Mr. Wang, "I was thinking if nothing else worked out, I'd go buy some electrical cords and come back tomorrow to set things up so we could work." Mr. Wang told him he had a two-in-one generator and welding unit at home, and offered to have someone bring it over so the work could continue without delay. "You came all the way from Taichung to help us," said Mr. Wang. "How can I, a neighbor right next door, not do what I can to help?"
Time went by quickly. Soon it was five-thirty and dusk began to fall. "We'll work overtime today," the volunteers on-site said. "Get someone to bring us some boxed meals for dinner." As darkness fell, staffers from Tzu Chi's Da Ai TV quickly provided some illumination equipment they typically used in their filming work for the volunteers. With everyone's help, the wall was completed later that evening.
"Are you happy with our work?" a volunteer asked Mrs. Wang, who answered by giving the volunteer a hug. The older woman and her daughter had been watching the volunteers work in their yard. "I feel safer now with the wall rebuilt," Mrs. Wang said. "My daughter and I can sit in the yard again chatting under the camphor tree."
Her daughter was all smiles too. "I never expected Tzu Chi would send people to help us," she said. "I can rest easy now knowing no snakes can get in."
Another team of volunteers arrived the next morning to repaint the house, both inside and out. They were all in their 70s or 80s too, but this group was from Miaoli, northern Taiwan. They repainted the walls as well as the skirting boards. Volunteer Zhang Huan-qi (張煥奇) said, "Since we repainted the walls, we had to give the skirting boards a makeover too. They were too dark, so we repainted them fuchsia to match the color of the sofas better. It also looks more refreshing this way."
Mrs. Wang was looking a lot better on this day, no longer wearing the same scared look as she did before. Neighborhood chief Li said that many residents in his neighborhood felt helpless after the earthquake—they didn't know where to start to fix their homes. "Thankfully, our county magistrate asked for help from Tzu Chi," he said. "We also owe a big thanks to Master Cheng Yen, and to the volunteers who traveled such a long distance from central Taiwan to help us."
Mrs. Wang, 72, hugs a volunteer to thank her and her fellow volunteers for coming all the way from Taichung to rebuild a wall at her home.