Text and photos by Huang Xiao-zhe
Translated by Wu Hsiao-ting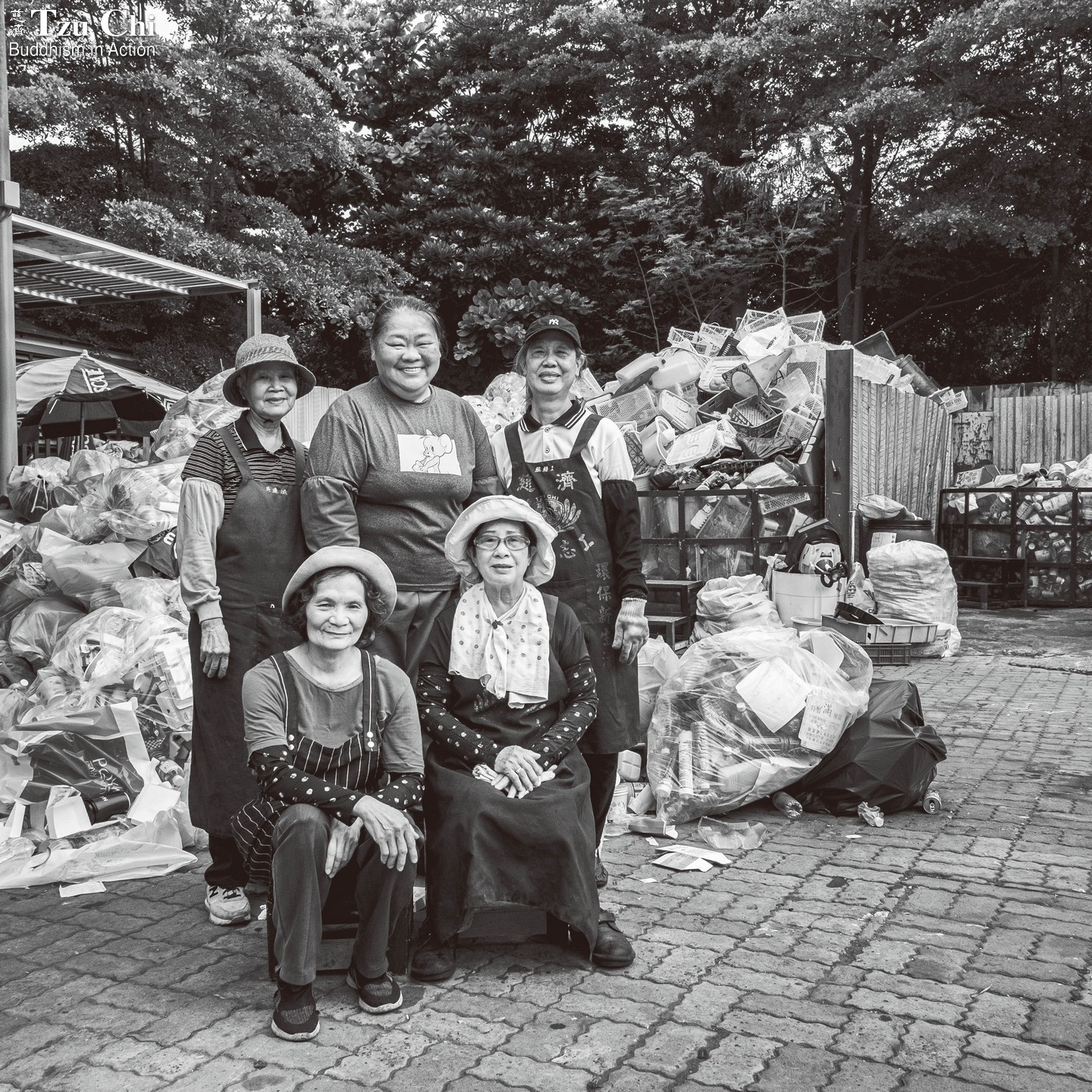 Team leader Wu Qiu-yan smiles brightly, surrounded by fellow volunteers (clockwise from top left) Cai Yu-mei (蔡玉梅), Cao Chen Ai-zhen, Li Yue-li (李月里), and Cai Zhang Zhen-e (蔡張真娥).
Leaving the city center of Tainan, southern Taiwan, I headed toward the southwestern coast of the island. My destination, the Tzu Chi Kunshen Recycling Station, is tucked away in a small countryside alley in the village of Sikunshen, Tainan. With a hint of salt in the air and sea breezes flowing, Sikunshen possesses a charm wholly distinct from that of a bustling city with lots of traffic and a cacophony of noise. The warm hospitality of the local people is especially unforgettable.
There aren't many volunteers at the Kunshen Recycling Station, but they work great together. Instead of being responsible for sorting just one kind of recyclables, they each fill in wherever they are needed. They are quick to step up to the plate with regards to the various types of work at the station.
Team leader Wu Qiu-yan (吳秋燕) broke into a bright smile when four other volunteers took their position next to her and posed for a group photo during my visit on May 9. The four encircled Wu, who beamed like the sun from the middle of the group. Seeing Wu's radiant smile, I recalled her telling me how they—the group of volunteers working there—had created this recycling station from scratch. They used to work in a crude open-sided structure, consisting of four posts supporting a black-net canopy. They had no access to running water or electricity, and it was especially hard when it rained or when the wind blew hard. After moving locations twice, they finally settled in the present location and built the station up. Wu is deeply grateful to the volunteers who have joined her in taking up recycling work for Tzu Chi at one time or another over the last 20-plus years. Together, they have made the Kunshen Recycling Station possible. Along the way, they have been there for each other like a close-knit family, keeping each other company on the worthy path of environmental protection.
Doing the Earth a Good Turn
The oldest volunteer at the recycling station is Zheng Chen Qing (鄭陳青), 86. I struck up a conversation with her and learned that she was born and raised locally and used to sell fish in a market. Now that she is older and no longer needs to work to make a living, she puts her time to good use by reclaiming reusable resources at the station. Though she is advanced in years, her eyes are still sharp. In fact, she shows a proficiency in her work that could easily exceed that of younger volunteers. When I approached her this day, she was deftly using a utility knife to remove plastic sheaths from electric cables to retrieve the copper wires inside. The cables came in various lengths and widths, but she tackled them all with just the same ease.
Cao Chen Ai-zhen (曹陳愛貞), who was folding and stacking old newspapers, was working in the same space. I stood aside and observed her for a while, impressed by the meticulous care with which she went about her work. She peeled one sheet after another of newspaper from an untidy pile, folded them neatly one by one, and then stacked them into neat piles. When she was done stacking a pile, she checked the edges and patted on them until everything was as even and aligned as possible. Only then would she tie the stack into a secure bundle and call it a job done. She applied such care to her work because neat piles of newspapers sell for a higher price.
Seeing how our recycling volunteers work patiently and tirelessly to reclaim reusable resources is always a touching experience. A cleaner, beautiful world requires everyone to work together. Our recycling volunteers surely are doing their best to help.
I made several trips to the recycling station in the spring of 2022. Back at home, my mind was immediately transported back to the station as I reviewed the photos I had taken. I remembered how one morning, carrying my camera, I had walked quietly towards the sorting area for PET bottles. My steps were slow and light; I didn't want to disturb what I was seeing in front of me. Every volunteer was so engrossed in their task that a tranquil quietness had descended on the area. There was no chatting at all. All I could hear were the birds from the trees nearby and the sound of PET bottles bouncing against each other as they were tossed on the pile.
It was spring, and the Madagascar almond trees at the station were beautiful, sporting luxuriant leaves of a lighter shade of green. According to volunteers at the station, the trees were planted 16 or 17 years ago. They have grown four meters (13 feet) tall by now. "We used to have to shelter from the sun under umbrellas while we were sorting recyclables here," said a volunteer. "Now with the shady trees and roofs built with aluminum materials provided by volunteer A-yu, we no longer have to worry about the hot sun."
With one heart, people at the station have created a warm, beautiful "home" where they can gather together for recycling work. They not only give of their time and strength to make work at the station possible, but have donated building materials to make the station better. I was touched by the power of everyone working together and pitching in with the same sense of purpose guiding them forward.
During one of my trips to the station, team leader Wu Qiu-yan suddenly asked me a question: "Do you know the most distinctive feature of our recycling station?" Before I could think of a response, she answered her own question: "It's 'unity.'" Unity has always been Dharma Master Cheng Yen's expectation for her disciples. The volunteers at the Kunshen Recycling Station have lived up to that expectation. They join efforts with other like-minded volunteers and give in unison for the good of the Earth.
Serving at the station, you often get to snack on team leader Wu's signature stewed dried tofu. Volunteers are often served sliced fruit or other food to replenish their energy, too. Some volunteers work here every day from early morning until late afternoon, bringing their own packed lunch so that they can get more work done. They remind each other to check their blood pressure, looking out for each other's health.
There are more than ten male volunteers sharing the responsibility of collecting recyclables by truck for the station. Some set out for their collection trips before four in the morning; others start at noon or in the evening. Some collect on the weekends or even during holidays. Though the volunteers all have to work and attend to their own families, they still make time to volunteer. Wu is touched by their spirit of service and is most thankful to them. "I'm very proud of this group of volunteers," she kept saying.
I felt again and again the strong bond between the volunteers there during my time at the station. In them I see the power of cohesion, of unity and synergy. They are a happy, close family, bonded not by blood, but a shared sense of mission.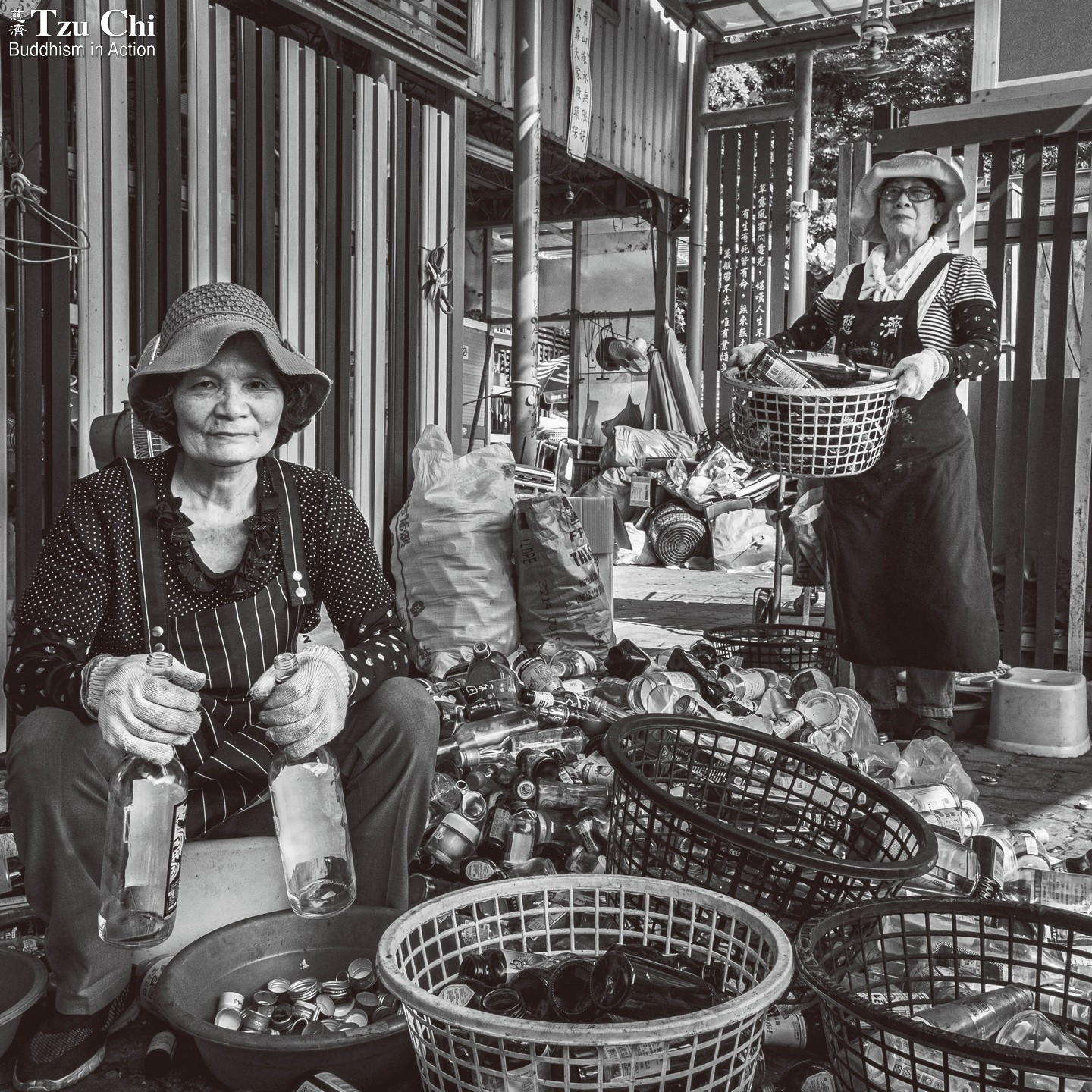 Volunteers Cai Zhang Zhen-e (left) and Li Yue-li work perfectly together in the glass bottle sorting area.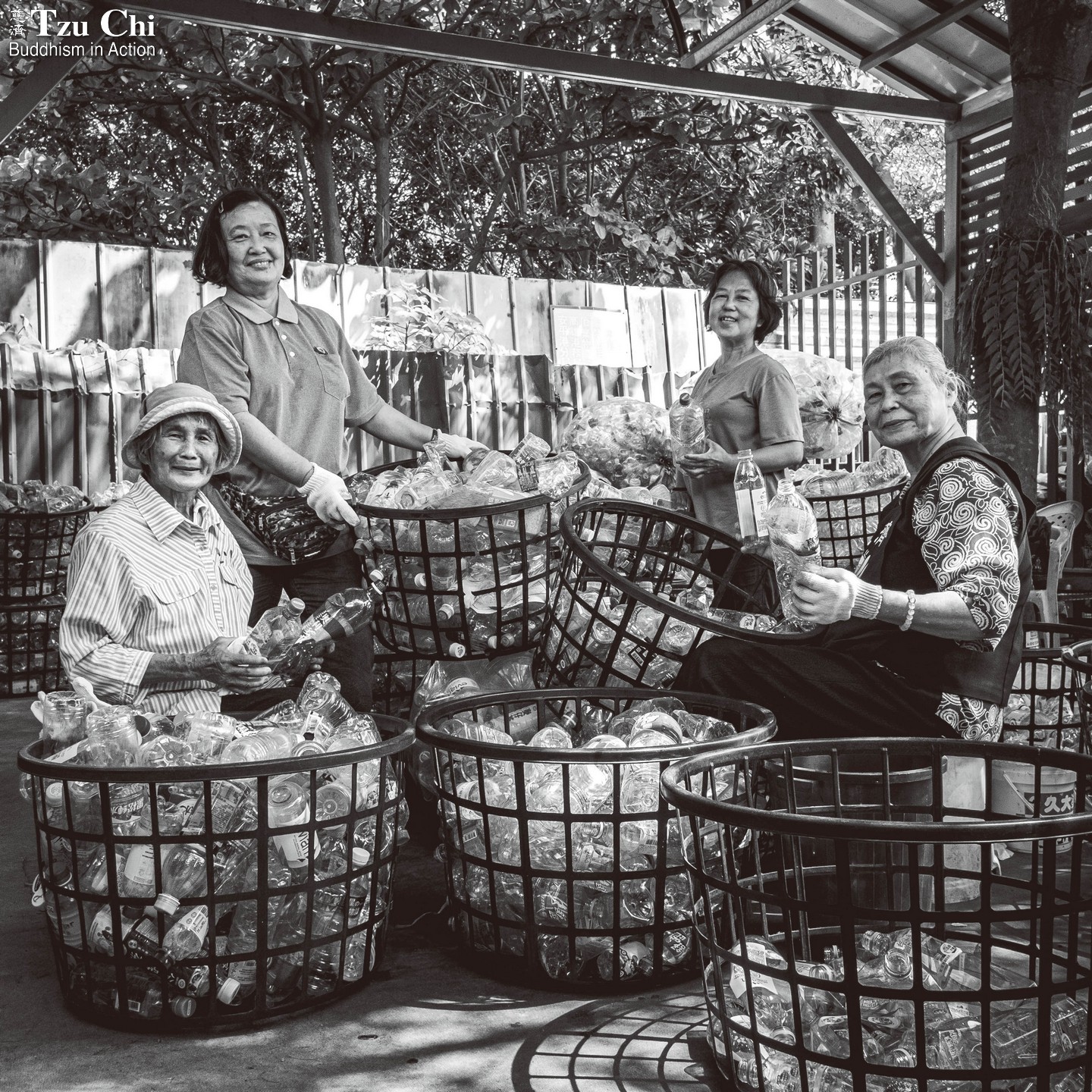 Volunteers in the PET bottle sorting area. From left: Zhang Jin-zhi (張金治), Wei Bao-cun (魏寶村), Yang Jin-hui (楊金惠), and Ye Xiu-qin (葉秀琴)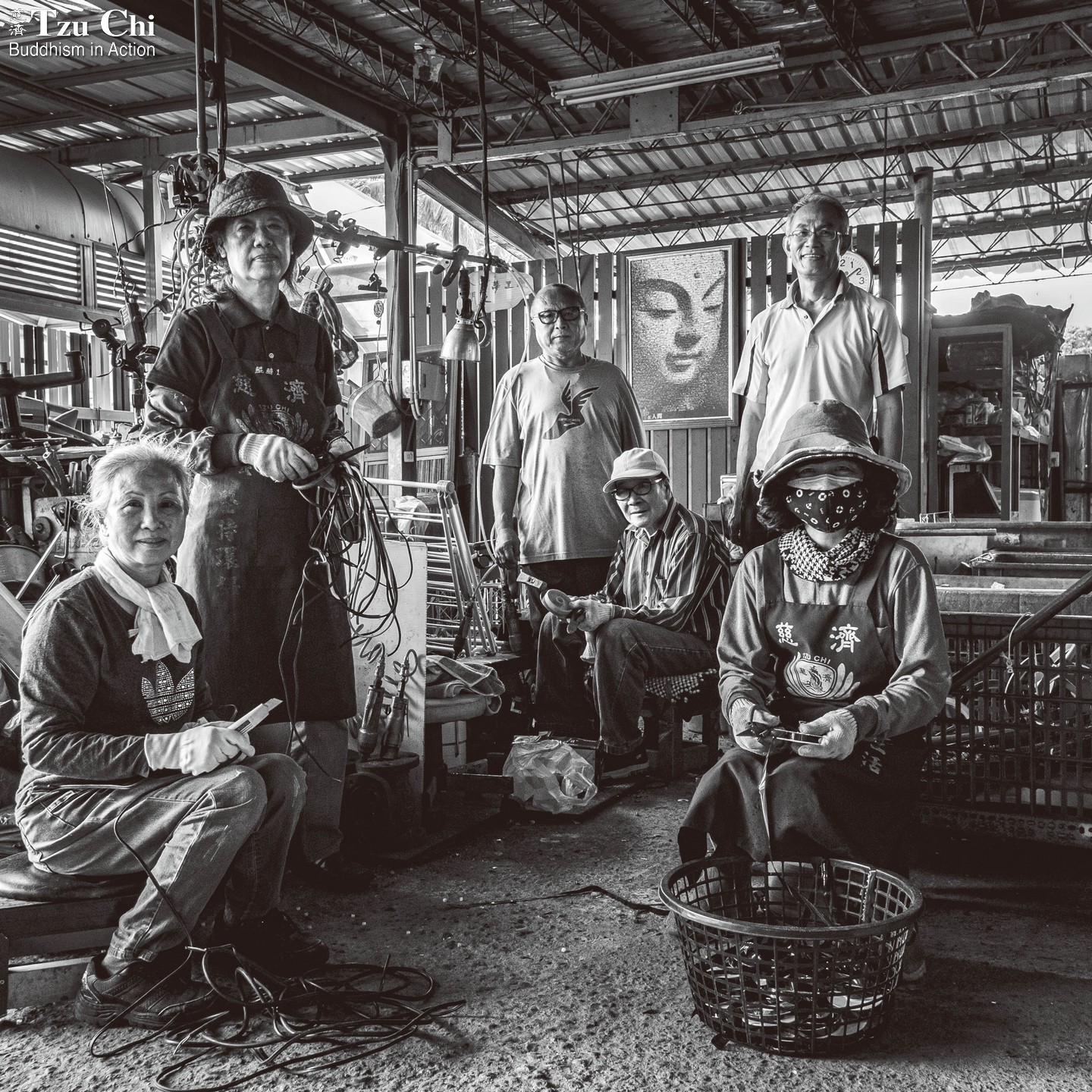 From left: Xue Yue-zhu (薛月珠), Cao Chen Ai-zhen, Ye Yang-ming (葉揚名), Luo Chao-rong (羅朝榮), Cai Jin-mu (蔡金木), and A-mei (pseudonym)