By Chen Yi-lin and Li Ming-mu
Translated by Wu Hsiao-ting
Photos by Li Ming-mu
He fixes and delivers second-hand assistive equipment to families with functionally impaired members. The volunteer work keeps him busy, but he has come to realize that it's never tiring when you do things you love.
"Your hospital bed and wheelchair are broken? No problem. I'll come over and take a look after work today," Zeng Qing-an (曾慶安) said into his phone. He noted the address, and made the visit after he got off work that day, just as he had promised.
"The headboard is broken, and the remote control isn't working," Zeng said while checking the bed for the family. Next, he found that the wheelchair brake had become loose too. "I'll deliver another bed and high-back wheelchair to you tomorrow morning."
The next morning, a Saturday, Zeng arrived again driving a small delivery truck. The household was located in a small alley off Guangfu Road in Taoyuan City, northern Taiwan. The narrowness of the alley made it difficult for him to get there with his truck. "Fortunately I drive pretty well," Zeng said with a smile to his company's factory director, Qiu Da-hao (邱大豪), who had accompanied him on the trip.
Mr. Wang, 68, is the master of the household Zeng was visiting. He had, with the help of a case manager at a hospital, applied to Tzu Chi's assistive device program for a hospital bed, an air mattress, and a wheelchair on behalf of his wife. That was four months ago, and now something had gone wrong with the bed and wheelchair. Mr. Wang contacted Zeng again with the help of the case manager.
Zeng went into Mrs. Wang's bedroom. Lying in her bed with her eyes wide open, she could see the visitors but was unable to speak. There were protective gloves on her hands to prevent her from pulling out her nasogastric tube. "She has colorectal cancer and cerebral edema," explained Mr. Wang. "She fell ill just eight months ago and became like this in that short time."
Zeng prepared to move Mrs. Wang from her bed to a regular bed so that the new hospital bed could be put in. Before he began, he told her what he was doing so that her muscles wouldn't tense up out of nervousness. Mr. Wang helped him move her to the regular bed. The two worked well together. "You did a good job," he praised the husband. When Mrs. Wang was settled on the regular bed, Zeng carefully placed a pillow under her head and a bed cover over her body.
Zeng was mindful of every detail in the process. Experience had taught him it took more than brute force when moving a patient. You need to put the patient at ease and guide the family helping you by your side. Paying attention to those aspects ensures that the job can be done more easily.
After moving the broken bed away and replacing it with the new one, Zeng asked Mr. Wang to test out the space by the bed to see if it was large enough for him to move around and work there. Then he taught him how to use the remote control for the bed and at the same time double-checked if the bed was working properly. When everything was in order and confirmed to be working well, they moved Mrs. Wang onto the new bed.
Mr. Wang was as grateful as could be. He said the assistive equipment provided by Tzu Chi had made it a lot easier for him to take care of his wife. "You sent over the equipment as soon as we applied. Because of your service, we don't have to fork out extra money to buy the needed equipment. I'm so thankful to Tzu Chi for reducing our financial burden."
The broken bed wouldn't go into the trash. Instead, it'd be checked and repaired for further use. Zeng explained that the equipment provided by Tzu Chi's assistive device program is all second-hand and it's natural that things sometimes break. For example, the buttons on a remote control might refuse to respond when pressed, or a motor might cease to function. When things like that happen, they repair the devices or replace parts to try to make them work again.
Zeng is the owner of a metal machining company. He is also a Tzu Chi volunteer. When a service outlet for the foundation's assistive device program was set up at the Bade Jing Si Hall in Taoyuan City in 2020, he began serving as the contact person. He also helps deliver equipment. He is dedicated to his work for the program and is always ready to help when his assistance is needed.
Zeng Qing-an serves as the contact person for a service outlet of Tzu Chi's assistive device program. The outlet is located at the Bade Jing Si Hall in Taoyuan City, northern Taiwan. He also repairs and delivers equipment. Hsiao Yiu-hwa
Zeng was born in Yunlin County, central-western Taiwan, in 1963. He has an older brother and a younger sister. When he was seven, he moved with his parents to northern Taiwan, where his parents worked at a brick kiln. When the young Zeng saw how hard his parents had to work to earn a living—12 hours a day all year around—he decided to stop going to school when he graduated from junior high school and to start working to ease his parents' financial burden.
At his uncle's invitation, he became an apprentice at a factory that produced rattan chairs. While he was working there, three high school graduates were hired to work part-time. They happened to bring with them some textbooks to study during their free time to prepare for the joint college entrance exam. During a lunch break one day, Zeng chatted with them. He said, "I've never been to high school. Can I take a look at your textbooks?" As he was browsing the textbooks, one of the graduates asked him, "Do you understand what you are reading?" "Sure," Zeng answered. "This is easy." The three graduates didn't believe him and began throwing random questions from the textbooks at him. Zeng answered almost every one correctly. The graduates said afterwards to Zeng's uncle, who was a team leader at the factory, "You must let your nephew go to school. It's a waste of his talent working here."
Later, Zeng tested into the night school of Taoyuan Agricultural and Industrial Senior High School with a high score. He studied in the department of mechanics. That led to his involvement with computer numerical control lathes, and eventually his own business. He currently has 16 employees. Because he is the boss, he is freer to arrange his work schedule to accommodate his volunteer work.
In early 2013, Zeng's father, who suffered from black lung disease due to his work, was diagnosed with heart and lung failure, resulting in frequent visits to an emergency room and an intensive care unit. Zeng arranged for his parents to move in with him so that he could help care for his father.
Zeng Qing-an (left) and a fellow volunteer check and repair a piece of assistive equipment at the Bade Jing Si Hall.
Don't say things that vex people
Zeng joined Tzu Chi after seeing the relief work carried out by the foundation after the 9/21 earthquake in 1999 and Typhoon Toraji in 2001. Both times, he went to the disaster areas to help victims and was able to witness firsthand the work of Tzu Chi volunteers. He recalls helping clear sewers in a village in Lugu Township, Nantou County, that had been hit by landslides after the 9/21 earthquake. As he was going about his work, he saw many gravel trucks bearing Tzu Chi flags hauling away waste soil and other debris to help local residents. Impressed by Tzu Chi's quick and efficient action, he decided to train to become a certified Tzu Chi volunteer. He received his certification as a Tzu Cheng Faith Corps member in 2003 and as a Tzu Chi commissioner in 2018.
He has worked as a team leader in Tzu Chi for 16 years. He's changed a lot during that time. He often has to find people to undertake certain tasks, and as a result he has become more gentle, patient, and flexible when it comes to dealing with people.
"I used to snap at people in my company," Zeng said. "Even when I knew that something I said would vex others, I still said it." But he said that he is now better at putting himself in others' shoes. He gave an example of a foreign migrant worker employed by his company. Though the employee was new at the company, he often took time off work without apparent good reason. What's more, he continued to do so despite repeated exhortations. One day people at the company told Zeng the foreign worker was taking time off work again, for itchy skin due to an allergy. Zeng said, "Okay. Let him." He even purchased lotions, handmade soap, and probiotics out-of-pocket for the employee.
Zeng believes in showing care for others instead of being critical of them. When employees don't perform well, he hopes to patiently move or inspire them to do better instead of being harsh to them. He wisely said, "When you hire a good employee and he performs well under your guidance, it doesn't say much about your leadership skills. But it's another matter when you hire a bad employee and he performs well under your guidance. You learn and grow as well in the process."
Zeng has another employee with a bad temper, and who often takes time off work too. One time the employee's father, who lived in southern Taiwan, was badly injured at a construction site. Zeng told the employee to take more days off work so that he could spend more time with his father and help care for him. He also said to him, "If your father needs assistive devices when he is discharged from the hospital, let me know. I'll ask my fellow Tzu Chi volunteers in the south to deliver the equipment to him."
Scratching his head, Zeng said a little shyly, "Try as much as possible not to say things to others that we wouldn't want to hear ourselves, because it wouldn't go down well. Say things that people like to hear and that will do them good—this is a better way of dealing with others."
Zeng (right) talks to Mr. Li, who is the principal caregiver of his bedridden brother. Zeng made five trips to the family to deliver assistive equipment, doing his best to help them.
Looking out for others' needs
Zeng has greatly enjoyed his volunteer work for the assistive device service outlet at the Bade Jing Si Hall. "I often think of myself when I visit a family to deliver equipment," he said. "I remember how I brought a hospital bed, wheelchair, and four-wheeled walker home for my dad to use a few months before he passed away. Because my family once needed such assistive equipment, I feel especially deeply for the families we serve."
In fact, he doesn't just deliver equipment. Every time he visits a family, he discreetly looks around and asks the family questions to discover if they might need help beyond the equipment he has delivered. For example, sometimes he learns that a family needs more assistive devices than what they've applied for. When that happens, he makes another trip—sometimes more—to deliver the items to them. "If their needs extend beyond what our assistive device program can offer—for example, if they need help cleaning their homes or financial aid—I refer them to our volunteers who visit and care for needy families for assessment and assistance. In other words, we don't just deliver equipment; we try to find out people's other needs and then address them."
Zeng shared about a family he has recently helped. The Li family consists of two brothers. The older brother, in his 70s, cares for his bedridden younger brother, in his 60s. The older brother has no other family member to help him. The first time Zeng visited them, he delivered a wheelchair to them, which was followed by another trip to deliver an electric bed and an air mattress. When talking to the older brother during his second visit, Zeng asked, "Your brother sleeps on the first floor. Where do you sleep?" The elder Li said that he slept on the second floor but was planning to move down and sleep on the floor beside his brother's bed so that it'd be easier for him to tend to his needs during the night. That led Zeng to make a third trip to the Li home—to deliver a sleeping cot—so that the older brother wouldn't have to sleep on the hard floor.
But that wasn't the end of the story. On the fourth trip, Zeng delivered a wedge pillow, an overbed table, a transfer belt, and diapers. The wedge pillow was to help keep the younger brother's body in position when the older Li was turning him over, changing his diapers, or sponge-bathing him.
The older brother mentioned that his brother's wheelchair belt couldn't keep his body in place and that his head wobbled too much when he sat in his wheelchair, so Zeng delivered a high-backed wheelchair to them the next day. The older brother told Zeng that his brother's legs were getting stronger, and that with the help of a home care provider, he could already move slowly in a wheelchair, so a high-backed wheelchair was exactly what they needed most at the moment. He couldn't stop thanking Zeng for doing his best to help them; he said that society needed more people like him.
"In those five visits, I served not only the younger brother's needs but also the older brother's," Zeng said with joy written all over his face. "I was so happy I sang my way home after the fifth visit."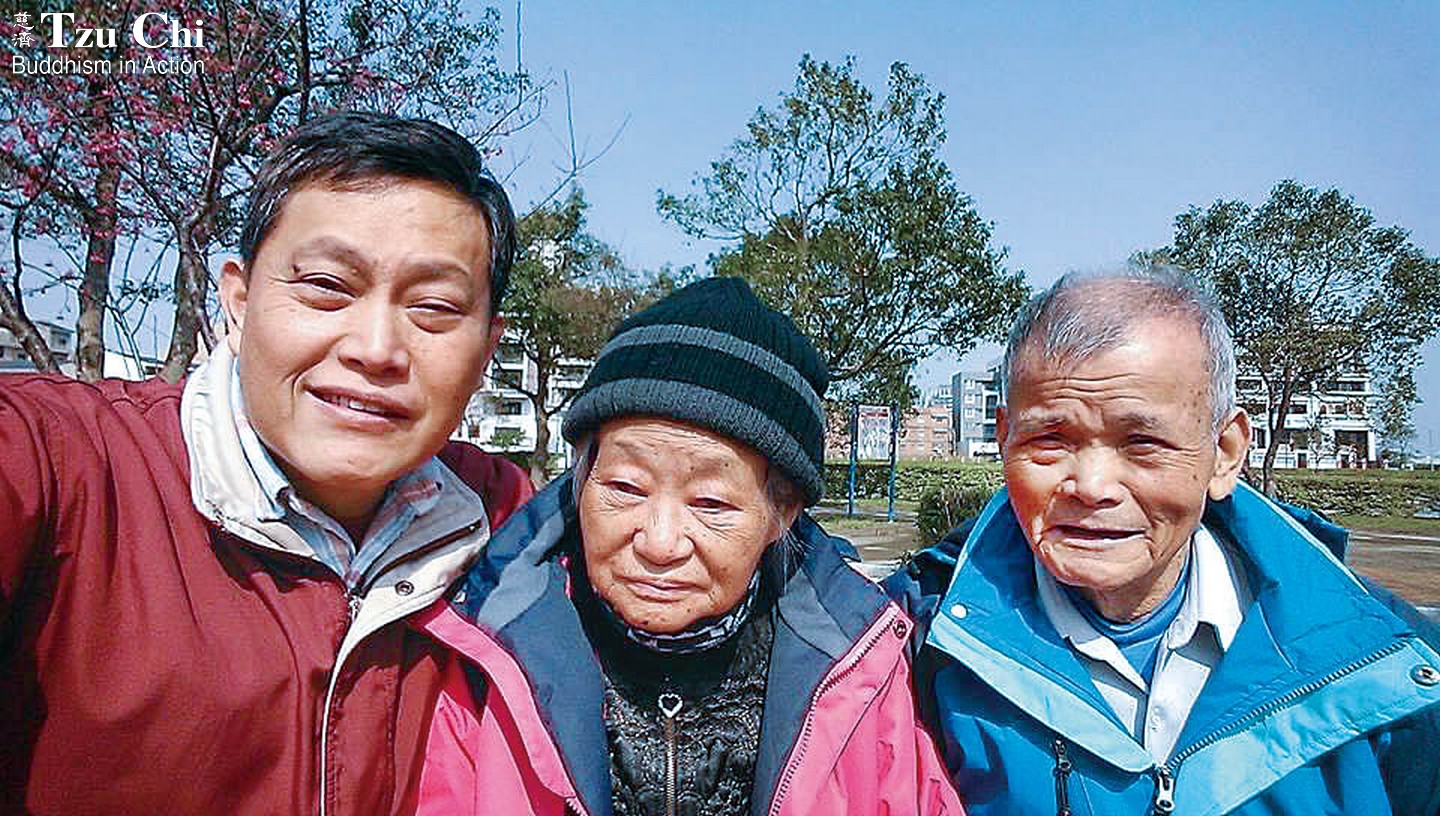 Zeng (left) poses with his parents. His father taught him to reach out when he sees people in need. Courtesy of Zeng Qing-an
I've done what my dad told me to
Zeng said that Tzu Chi has been receiving more and more applications for assistive devices from people living in Taoyuan City. In the wintertime, they receive an average of seven to nine applications every day. In the Bade District alone, volunteers deliver assistive devices to three families every week on average. Coupled with the trips volunteers make to take back the equipment no longer needed, they may end up serving five to six families every week. "Most of the families we serve are underprivileged families," Zeng explained. "There are also households with single-parent families or older people taking care of other older people."
Zeng's grandfather fell ill many years ago, which resulted in his family's poverty. When he passed away, the family was so destitute they couldn't have afforded to bury the body if it hadn't been for the help of a kind-hearted person who donated a coffin. "I always remember what my dad once said to me," Zeng recalled, "that when I see people in need, I must reach out to help them."
Zeng likes delivering assistive devices because it allows him to help others. "I'm thankful to the families who apply to our program for giving us the opportunity to help them. I'm also thankful to them for teaching us life's impermanence via their illness." He continued, with tears welling up in his eyes: "I believe I've done what my dad told me to."