Narrated by Hanna Mankus
Compiled by Tu Jun-ye and Yeh Tzu-hao
Translated by Wu Hsiao-ting
We cry together, laugh together, and discuss how to help our fellow Ukrainians. Though we are not from Poland, we've found a home here.
My name is Hanna. I come from Zaporizhzhia, a city in a Russian-speaking area in southeastern Ukraine—a city that has now become known the world over.
I was an English teacher before the war broke out. I lived in the tallest building in an urban area. I have two sons and an adopted daughter. My career and life apart from work were perfect for me. But I'll never forget my birthday in 2022.
That morning, I noticed a lot of calls I had missed on my phone. I thought my friends had tried calling to wish me a happy birthday. But when my phone rang again and I answered, I heard this urgent message: "Run for your life! The war has started!" I looked out the window and saw military planes flying toward us, followed by the sounds of explosions. I immediately took my children and escaped to a friend's small basement, where we hid for nine days.
We didn't want to leave our hometown, but when the Russian army surrounded the Zaporizhzhia nuclear power plant, the biggest in Europe, I knew we had to leave. We had only an hour to pack before we rushed to the train station to take a train—any train—that could take us away. The station was crammed with people. As soon as one pulled in, everyone scrambled to get on it.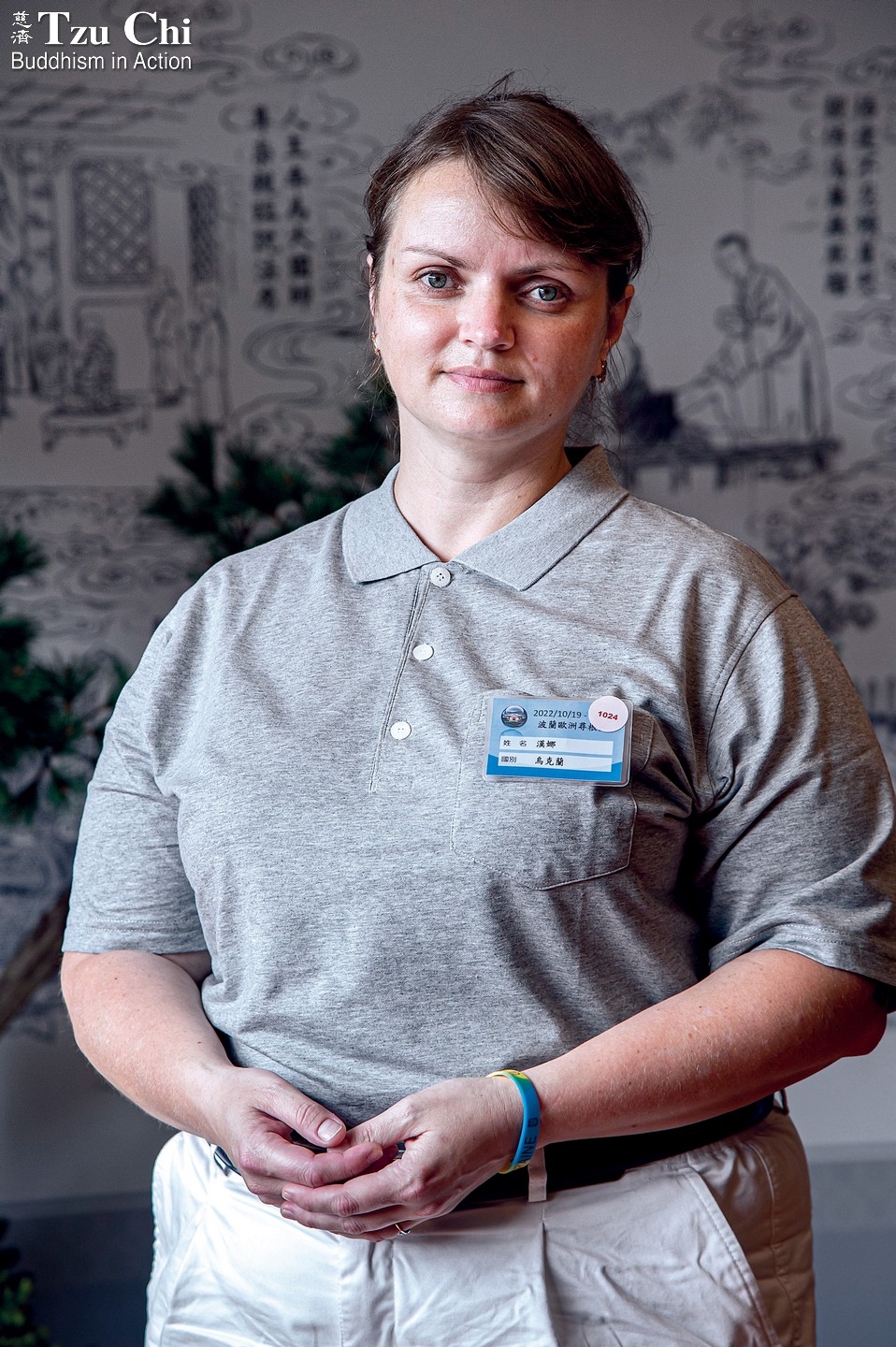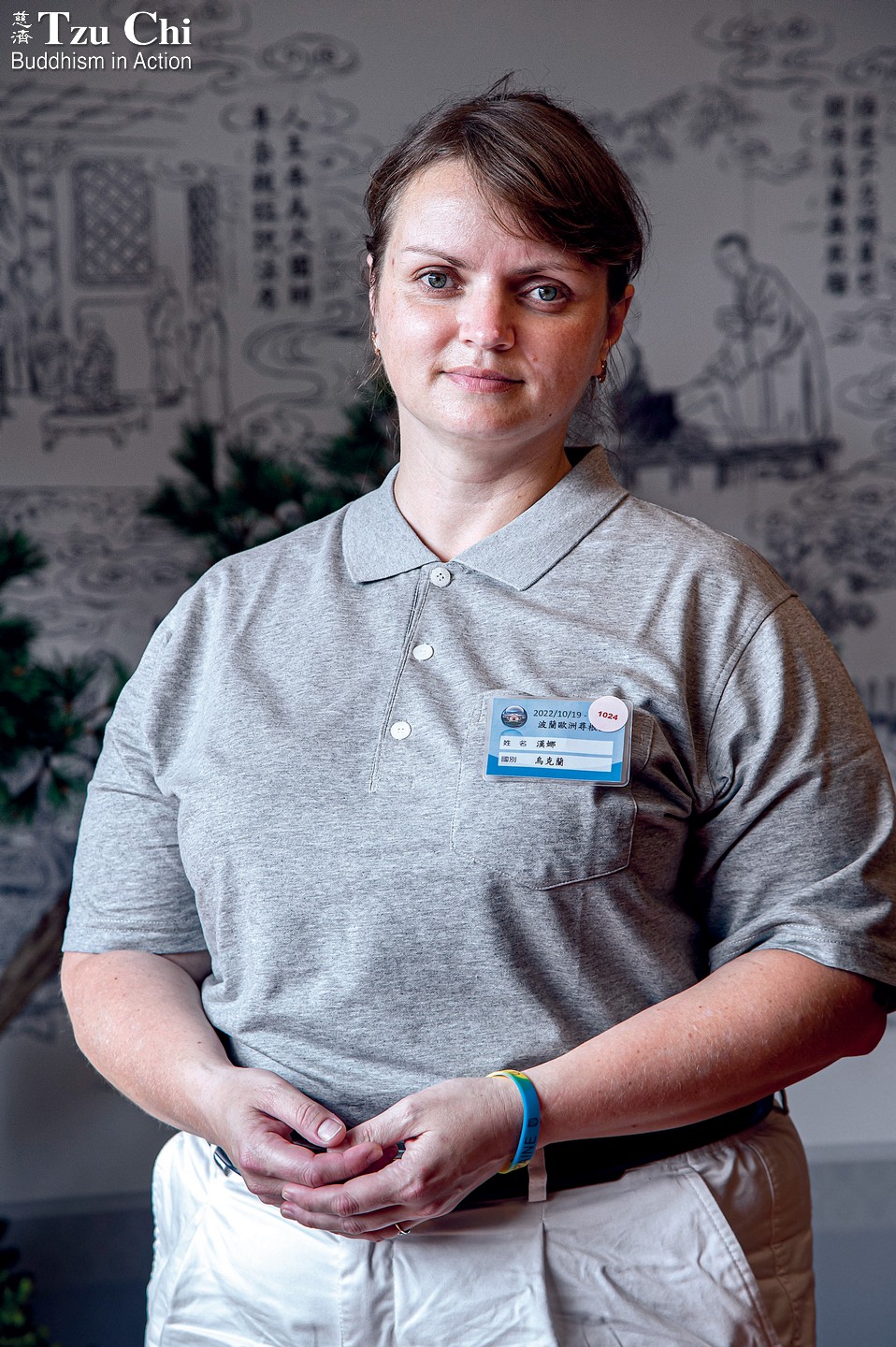 Hanna Mankus, originally an English teacher in Ukraine, has joined Tzu Chi in helping her fellow compatriots in Warsaw, Poland. Huang Xiao-zhe
I was separated from my youngest son for a few minutes in the shoving crowd. Those were the longest and most scary minutes in my life. We eventually found each other and boarded the train. It was packed. We didn't even know where it was headed. We could only trust the driver to take us to somewhere safer. It became pitch-dark when night fell. Our train was stopped when we passed through a battle zone; we were told to sit on the floor and wrap our hands around our heads. When I looked out the train window, I saw the night sky in the distance illuminated by shellfire. The only thing I could do was hold my children tightly in my arms.
The most heartrending scene during our journey unfolded as our train was decelerating and pulling into a station. Before we could even stop, air sirens began blaring, prompting our train to accelerate again and speed away from the station. I saw people waiting on the platform drop their luggage and start to run after our train. Some children on the train didn't realize what was happening and waved to the desperate people through the window.
Our train eventually arrived at Lviv, a thousand kilometers (620 miles) away. From there we trekked an additional 400 kilometers (250 miles) to Warsaw, the capital of Poland. All along the way I asked myself, "Is leaving Ukraine the best decision?" But my mind was finally put at ease on the first night we arrived in Poland. When I saw my children going to sleep wearing their pajamas instead of their heavy coats, when I saw them ready to go to sleep instead of ready at any instant to run for our lives, I knew I had made the right decision.
We all thought the war would end in a couple of months. When it didn't, we had to accept the possibility of a prolonged stay in Poland. That was when I started looking for work on social media platforms and found that Tzu Chi was enlisting English-speaking Ukrainians to participate in their work relief programs. I called to apply. That turned out to be a life-changing phone call for me.
I have been with Tzu Chi since then. There are at present seven Ukrainians serving at the Tzu Chi office in Warsaw. We all come from different backgrounds and had different jobs: a nurse, a tour guide, a physician, a preschool teacher, or a reporter. But no matter where we've come from, we now see ourselves as a part of Tzu Chi's big family. At the office, we laugh together, cry together, and hold meetings together to discuss the charity cases we are handling. We work together to help needy Ukrainian families. We also design character education curricula for Ukrainian children to help them cultivate positive qualities and virtues.
Tzu Chi's Ukrainian helpers organize dumpling-making gatherings for older Ukrainians in Poland to help lead them out of their isolated lives in a foreign land.Courtesy of Tzu Chi volunteers in Poland
This past July, the Camillian Mission for Social Assistance referred a family from western Ukraine to us for help. The family consisted of an Orthodox Christian pastor, his wife, and their five children. With so many kids, they were experiencing difficulty getting by. One of their children, two-year-old Daniil, suffers from a congenital disease.
During our first home visit to the family, we discovered that Daniil couldn't sit up without the help of assistive devices. He couldn't hold things or talk. His mother told us he needed physical therapy, but they hadn't found a place in Poland yet where they could take him, nor did they have the money for it. In response, Tzu Chi decided to help the family by financing the youngster's physiotherapy.
Whenever we visited their home after that first visit, we'd see from a distance the family's children already waiting on the balcony for our arrival. Physiotherapy is a painful process, and Daniil used to cry during it. But with our company, he has grown more cheerful. With the help of the therapy program, his hands have grown stronger, and he can now sit up on his own. He can speak vocabulary words and is learning to walk. I'm very grateful; it's thanks to Tzu Chi we can provide support for this hard-working family.
During our home visits we often met elderly people who were helpless and at a loss in a foreign land. They led isolated lives in Poland. When we saw them like that, we asked ourselves, "How can we help lead them out of their isolated lives?" It then occurred to us we could hold gatherings for them in which we could make Ukrainian dumplings. We could promote vegetarianism through such events and allow the older people to get together and interact with each other. So we started doing that. We donate 20 percent of the dumplings made in the gatherings to needy families, and sell the others so that the older people can have a little income and get a sense of achievement.
I used to feel I was without a home in Poland. But that changed after I started helping Tzu Chi distribute relief supplies and gift cards to other displaced Ukrainians. I'd notice the smiles on my fellow compatriots' faces during such distributions and be so touched. Poland might not be our original home, but we have found a home here.