By Zhang Li-yun and Shi Jin-yu
Translated by Tang Yau-yang
Tzu Chi launched its first-ever large-scale repair project to fix damaged homes after the strong 9/18 earthquake in eastern Taiwan, helping affected families face the winter in peace.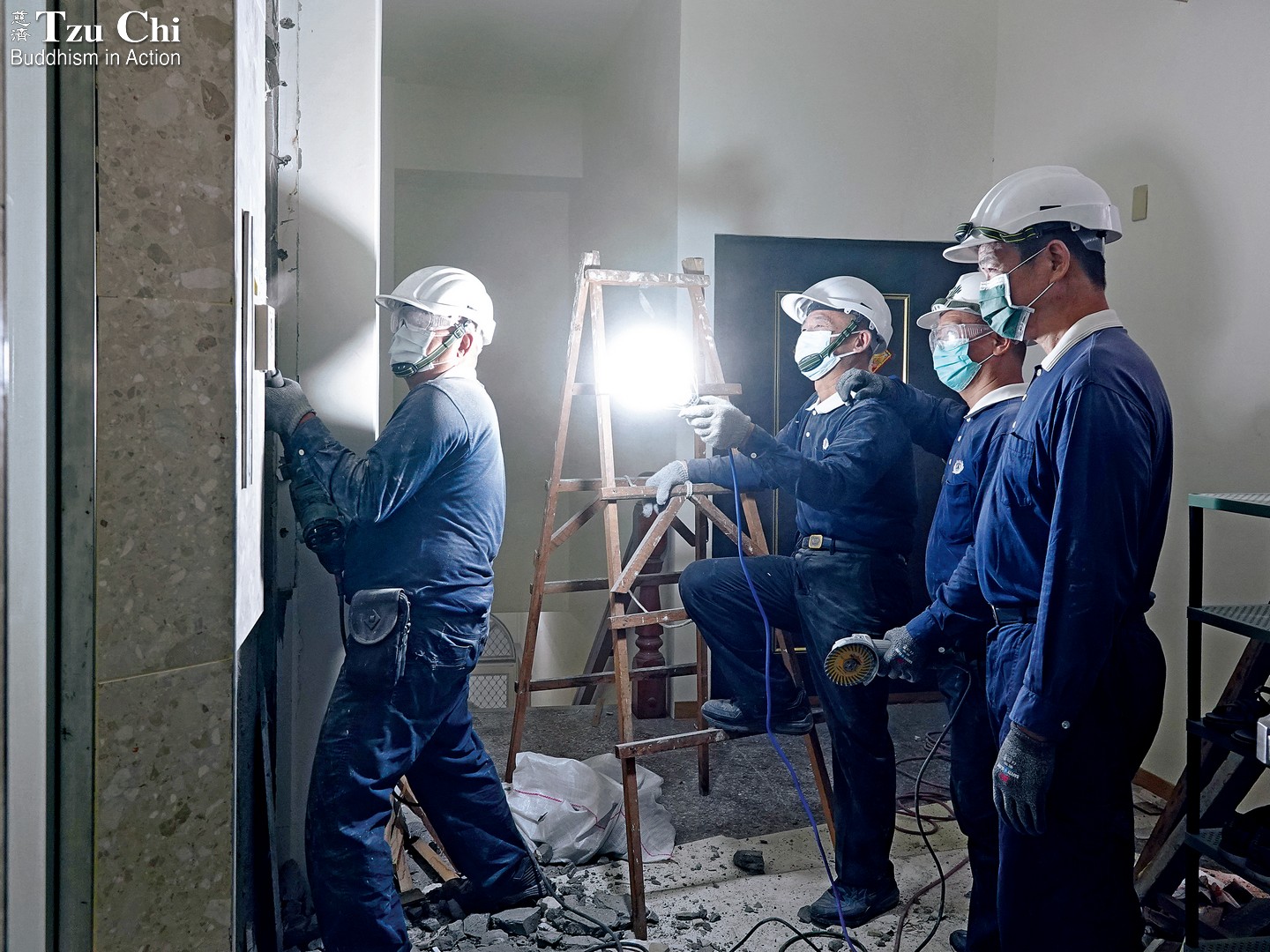 A volunteer uses a power tool to remove cracked granite tiles on the wall of a home damaged in the 9/18 earthquake in Taiwan.
Li Hong-wen
Vacationing tourists flock to the East Rift Valley, in eastern Taiwan, to soak up its natural beauty, the sea, and the boundless Pacific blue skies. In particular, the popular Chike Mountain Orange Daylily Festival in Yuli, Hualien, attracts large throngs of tourists in August and September, inviting them to slow down and enjoy the beautiful scenery in this rural town.
But that leisurely country lifestyle was disrupted in 2022, when a 6.8 magnitude earthquake hit eastern Taiwan on September 18. Aftershocks continued to rock the region, leaving residents in fear. Though there were no major casualties, some houses in Yuli and Fuli Townships were severely damaged. Fuli is right next to Chishang, the epicenter; Yuli is about 40 kilometers (25 miles) away.
In the aftermath of the quake, many neighborhood chiefs received complaints from local residents about how the tremor had left their homes with cracks, collapsed perimeter walls, blocked gutters, leaks, and fallen water tanks. According to statistics from the Hualien County government, 660 households in the county reported damage to their homes. After inspection, 81 of those households were determined to be seriously damaged, 105 were moderately damaged, and 486 were slightly damaged.
A building was determined to be seriously damaged if its main structures, such as columns, beams, outer walls, floors, or foundation, suffered damage, or if the building was tilted to a certain extent. Such buildings were marked on the outside with a red notice. A building received a yellow notice if it was moderately damaged, that is, if its ceilings, indoor partition walls, or other components apart from the main structures were damaged, or if adjacent buildings were tilted to a certain extent. A slightly damaged building was one that showed minor damage, such as cracks in the walls or floors. Tzu Chi volunteers also visited affected homes after the quake and learned that many damaged houses were quite old.
In Yuli Township alone, more than 300 families reported damage to their homes. This created a sudden and rapid uptick in demand for repairmen. Li Jia-liang (李家樑), chief of the Taichang neighborhood, visited every household in his neighborhood and learned that some older people hadn't the slightest idea about where to find a repairman. Even people with the ways and means to get a repairman faced competition for their now-scarce services. Many people waited days for appointments with repairmen to no avail.
Yuli has a population of more than 20,000, so the number of skilled construction workers, plasterers, plumbers, and electricians is limited. A shortage of building materials also ensued after the earthquake. With cracks and leaky water pipes in the house—and the possibility of a typhoon in late autumn—the residents were understandably worried. Seeing the need, Tzu Chi called on volunteers from all over Taiwan, particularly those with professional expertise, to help repair damaged homes in the disaster area. The project started on October 1.
"We're really thankful we have Tzu Chi and the TSMC Charity Foundation to help us!" said neighborhood chief Li Jia-liang. "Many Tzu Chi volunteers who pitched in to help are themselves professionals in construction or related fields. We knew we were in good hands when we saw them. What's more, Tzu Chi even supplied the materials. They added nothing to our burdens at all."
Putting residents at ease
Tzu Chi started the repair project by first attending to homes with minor or moderate damage, then moved to those that were more seriously damaged. In late October, a repair team of volunteers from central Taiwan visited Hualien again to work on those homes needing more extensive repair. Zhang Fu-jin (張富進) reminded the whole team that though their target homes this time would be those posted with red notices, they would be responsible for fixes that didn't involve major structural damage, such as repairing cracks in the walls or floors. (Work that involved major structural damage would be taken care of later by Tzu Chi's construction department.) Even so, Zhang said with emphasis, "You must wear a hard hat, pay attention to safety, and see clearly before acting."
"The sight of so many helpers coming today makes me teary," said Ms. Zhang, 70, who lives alone in a hillside house in Yuli. She choked up and continued, "I was so frightened when the earthquake hit. I wanted to rush out the door when it started. After a few shakes, I finally decided to hurry out." The earthquake left her house tilting to one side, seriously damaged her front porch, and created cracks in the walls and floor. Her house was so severely damaged it had received a red notice. When a typhoon brought abundant rain in mid-October, she ended up with a pool of water in her house.
Right next to her house was a storage shed that stood beside a stream. A perimeter wall next to the storage shed had been split up during the quake. Some concrete pieces had fallen off into the stream below and a large cement block was hanging precariously off the wall, making beholders tremble with fear. Volunteer Gan Qing-wen (甘清文) worried that the concrete pieces that had fallen into the stream might block the water flow, so he took a ladder and went down into the stream to tie the pieces with rope, one at a time, so other volunteers could pull them up and out of the stream.
Other volunteers removed the hanging cement block, then went on to repair the perimeter wall. Still others filled cracks in the walls in the house, or loosened and removed cracked and bulging floor tiles. They also worked on the damaged front porch, including repaving the ground with cement.
When the volunteers were done with their repairs, they would hand the house over to the professional team from Tzu Chi's construction department to repair major structural damage.
Not to be outdone by the male volunteers, Lin Wen-xiu (林文秀) and Yang Li-hua (楊麗華) loaded the concrete and brick pieces from the damaged perimeter wall onto a wheelbarrow and pushed them to the front door for disposal. They also moved some wood pieces out of the storage shed and piled them up neatly for the homeowner to use for cooking. Lin Wen-xiu said, "I grew up in the countryside. When I saw a big traditional stove in the house, I knew she used wood as fuel."
Ms. Zhang's children are all married and live out of town. Yu Yu-hua (俞玉華), acting chief of the Dongfeng neighborhood, where Zhang's home is, thanked the Tzu Chi volunteers for extending a warm helping hand to Zhang when she needed it the most. Yu said, "I'm really touched to see the volunteers rolling up their sleeves, doing the masonry work, and even cleaning up the surroundings. They got all sweaty. I'm happy and grateful for our residents that they can have Tzu Chi volunteers' help."
It took the volunteers just two days to finish the repairs to Ms. Zhang's home, a project originally estimated to require four days. Zhang was moved beyond words when she saw how the damaged floor and ground were now level and smooth, the perimeter wall next to the storage shed was completely fixed, the weeds in the front yard had been eradicated, and even a stone bench that had once been covered by vines reappeared in front of her eyes. She could hardly hold back her tears. "I was worried that I would not be able to continue living here. I am very grateful to the Tzu Chi brothers and sisters for making it possible for me to continue to live here!" she exclaimed.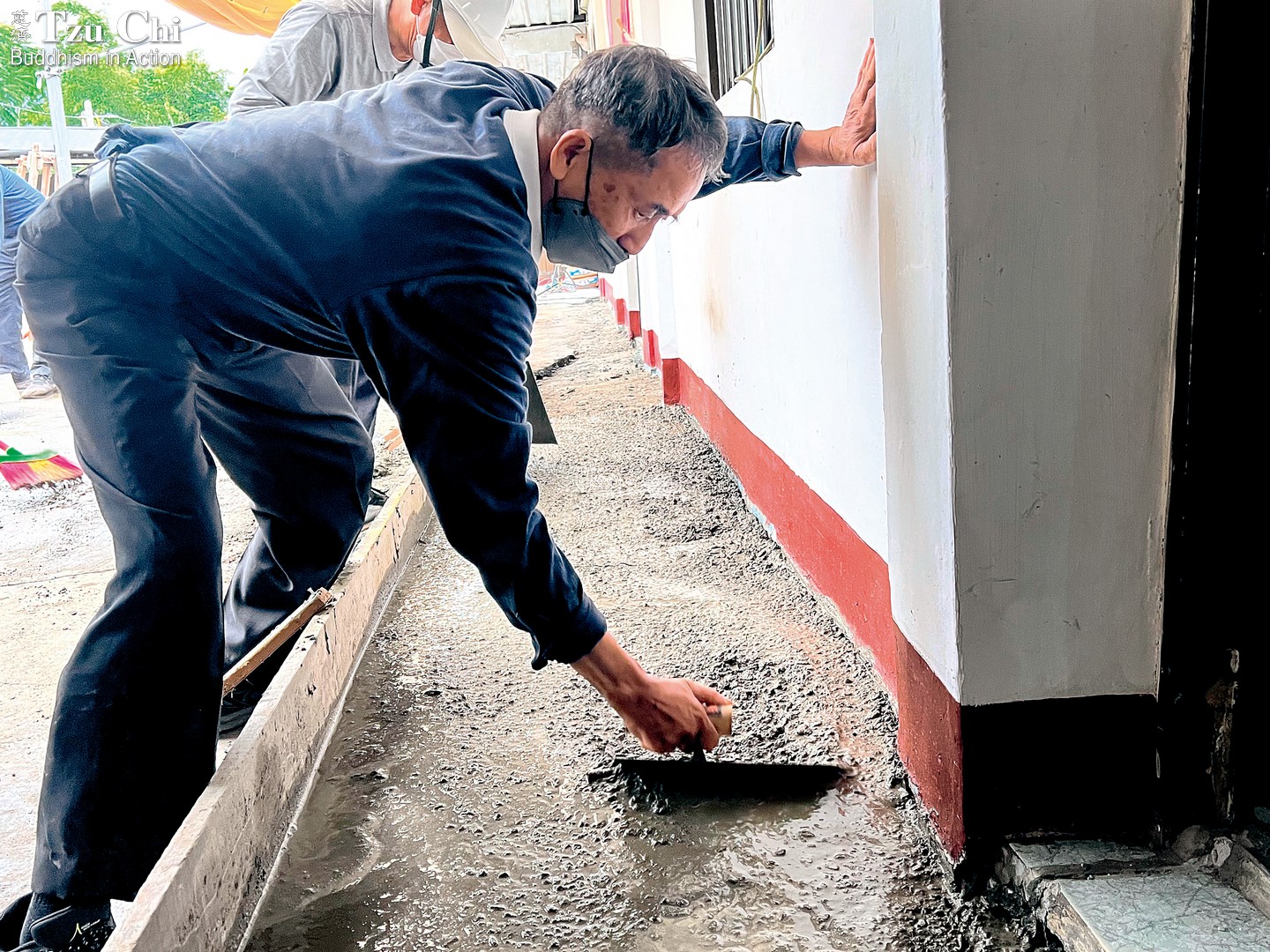 Lin Jin-zan (林金讚), 75, a seasoned plasterer, repaves the front porch of a damaged house in Yuli, eastern Taiwan, with cement.
Zhang Li-yun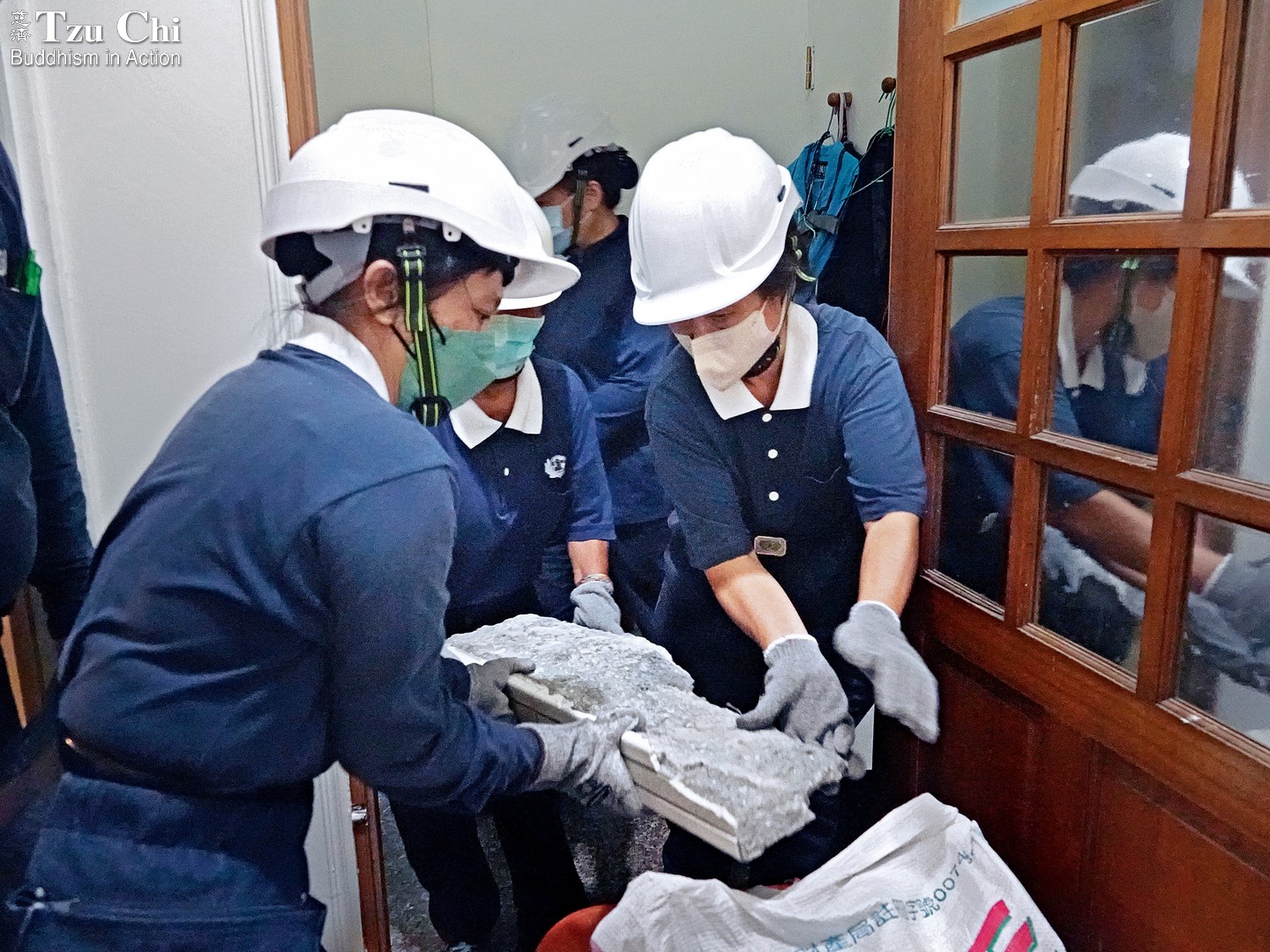 Female volunteers clear away masonry waste while male volunteers use power tools to remove damaged tiles, do masonry work, or restore plumbing and electricity.
Li Hong-wen
Boss volunteers working overtime
On the afternoon of October 25, another group of volunteers went to Ms. Zeng's home, in the Guowu neighborhood in Yuli. "The earthquake gave you a big scare, didn't it?" the volunteers asked Zeng. She responded to their concern with the comment that though earthquakes were commonplace in Hualien, and that she had long been accustomed to them, the tremor that hit on September 18 had really shaken her up. The shaking was so severe, she couldn't remain standing. But even more terrifying was the noise that accompanied the shaking—she said it sounded like the house was being torn apart. Furniture was knocked down, glass was broken, and ornaments fell to the floor. She was so frightened that she had burst out crying.
Zeng's children had just left Hualien on a train, returning to work in Taipei, when the earthquake struck. They immediately called home to check on their mother. When they learned how bad things were, they turned right around to go back. When they arrived at home, they were shocked to see the havoc created by the quake. They picked up the furniture, put fallen objects back to where they had been, and swept up the broken glass. The next day, Zeng's son had to return to work in Taipei, but her daughter stayed. One of Zeng's older sisters also went to her home to keep her company. Although her daughter and sister were with her, Zeng was worried and restless because of the severe cracks in the house and, because so many homes in Yuli were damaged by the earthquake, she couldn't find any repairmen to fix her home.
"Thanks to you Tzu Chi volunteers for coming to help me," Zeng said, choked with emotion. "I can finally feel more at peace now."
Some of the tiles on Zeng's walls were cracked or broken. Several volunteers took turns to remove them, while others held a light for them so they could see better. Volunteer Qiu Ming-wen (邱銘文), who was quite burly, wore goggles and firmly held a power tool to loosen some granite tiles on a wall. His work created clouds of dust that covered him from head to toe like flour.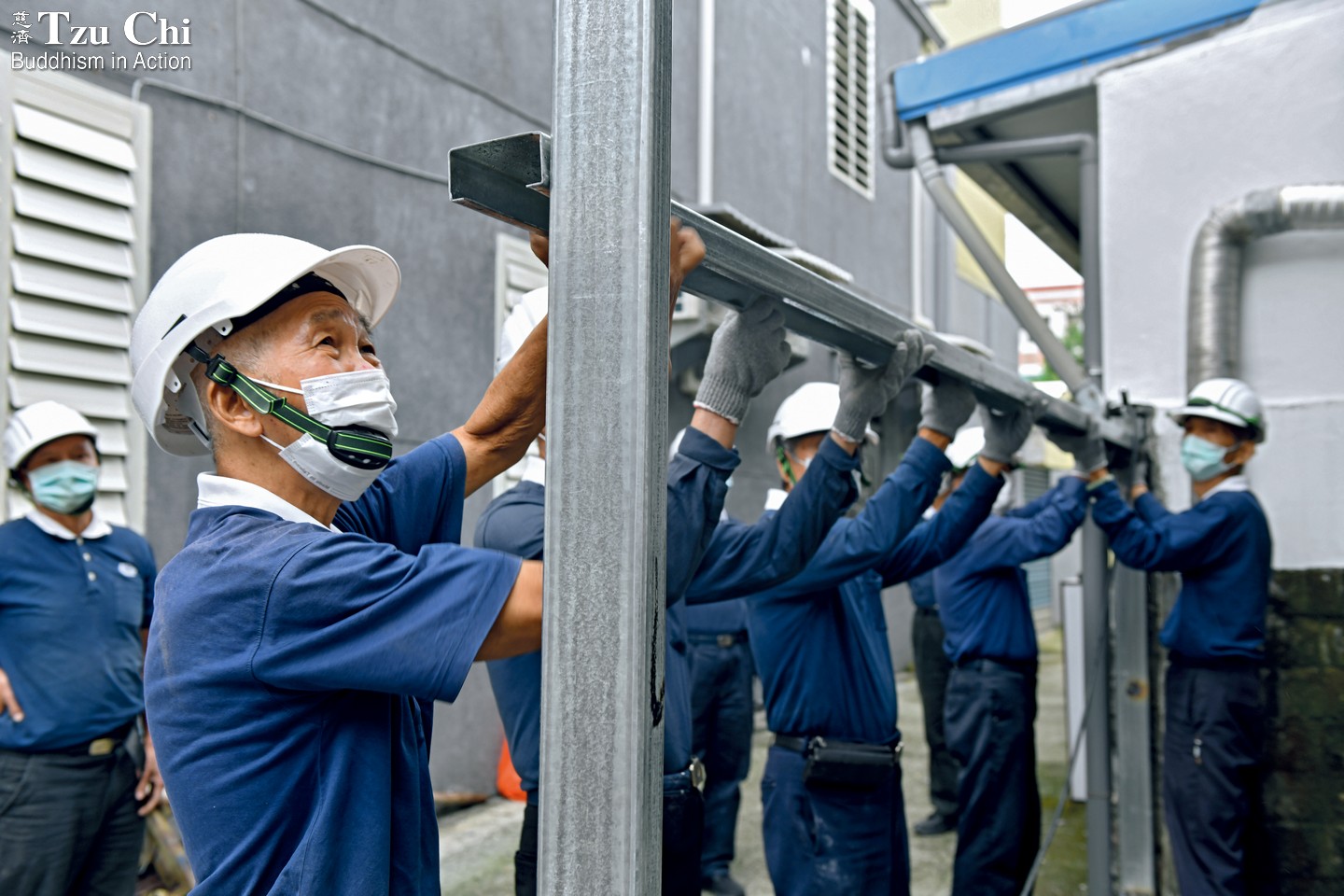 Volunteers rebuild a perimeter wall for a household in Yuli.
Lin Jia-ru
This was Qiu's second trip to Yuli to help with Tzu Chi's repair project. The owner of a molding business, he said, "I came because there was a need for more workers. At 65, I no longer need to work hard for my business. I work hard for Tzu Chi now." He had also invited more than ten fellow volunteers to come with him. These volunteers had previously participated in the foundation's relief work for survivors of Typhoon Haiyan that hit the Philippines in 2013.
This was also a second trip to Yuli for master plasterer Wu Jin-ding (吳金定). He had put business on hold and brought his son, Wu Bo-hao (吳博皓), to volunteer for the repair project for the second time. With 46 years of professional experience under his belt, Wu Jin-ding was the go-to man when major tile-laying work was being done. No wonder he was always sweaty.
Watching Wu Jin-ding work, Ms. Zeng's sister said with admiration, "I can tell that he is an experienced professional just by looking at how he works. He shows such a proficiency in his work and is so meticulous. Even if we hired someone to do it, they may not have been able to fit the tiles so closely and neatly together. He's really awesome." Chatting with volunteers on-site, she was surprised to learn that several of the volunteers working on her sister's home were themselves owners of companies or factories. "They are all bosses, and that makes it so much more precious that they are willing to volunteer for Tzu Chi and do whatever work the foundation needs help with," she said.
With each person doing their part, the volunteers completed the repairs in three days. Personnel from the foundation's construction department would take over and repair the longer, deeper cracks and other more serious damage. Zeng cried when she saw that many of the damaged places had been restored to their original state. She hugged the volunteers in tears and thanked them. Knowing that she had been a Tzu Chi donating member for many years, the volunteers said, "You're welcome to join Tzu Chi as a volunteer. We'll be waiting for you!"
More than a month after the earthquake, many buildings in Yuli were still undergoing repairs. Tzu Chi had negotiated and joined forces with local stores selling construction materials in Yuli. They came to an agreement by which Tzu Chi volunteers could pick up at a participating store the materials they needed for the repair project.
Many volunteers drove halfway around Taiwan to arrive in the disaster area to help. "Taichung and Hualien are very close as the crow flies, but the actual driving distance is very long," said volunteer Hong Wu-zheng (洪武正). He pointed out that almost 200 volunteers from the Taichung area had taken part in the repair project, collectively driving more than 37,000 kilometers (23,000 miles) for the undertaking.
Participating volunteers hoped they could complete all the repairs before Chinese New Year so that quake survivors could celebrate the New Year in their duly repaired homes. This hope pushed everyone to work hard to speed up the project. Professionals from all over Taiwan took turns to serve in the disaster area. They set out from the Yuli Jing Si Hall early in the morning each day to get to work, and kept at it until after five in the evening. If they didn't finish their work according to schedule, they worked overtime so that they could move on to other work the following day.
Mr. Li, whose home was damaged in the quake, went to the Jing Si Hall to help prepare meals for repair volunteers. When he heard that many of them had driven six or seven hours to Yuli to work for the repair project for free, he said gratefully, "Only Tzu Chi volunteers would do something like this!"
By mid-November 2022, Tzu Chi had finished repairing more than 160 homes. The outpouring of love after the quake is helping survivors emerge from the dark shadows of the disaster and is bringing peace to their hearts.
Volunteers from Taichung visited Yuli again in late October to help repair homes that had sustained more serious damage in the quake.
Zhang Li-yun