Volunteers delivered daily necessities to a shelter for quake survivors in Ciherang, Pacet, Cianjur, on November 22, 2022.
Muhammad Dayer
On November 21, 2022, a shallow 5.6-magnitude earthquake rocked Cianjur in West Java, Indonesia. At least 334 people died and more than 7,700 were injured. It was the deadliest tremor to hit Indonesia since the 2018 Sulawesi earthquake.
Tzu Chi volunteers in Jakarta, Bandung, and Cianjur quickly got in touch with each other and coordinated their efforts for the quake. By November 22, they had prepared 1,080 aid packages and other necessities, had them delivered to the disaster area, and launched distributions.
On November 23, the second batch of goods, including 700 aid packages, 1,000 sleep mats, 200 mosquito nets, seven generators, 200 tarpaulins, and 30 boxes of bottled water were sent to the disaster area. On that same day, volunteers from Jakarta set out to Cianjur to help conduct more distributions and other relief work.
A distribution was subsequently held on November 24 in Talaga, Cugenang, Cianjur. Many quake survivors were taking temporary shelter in tents. The quake had turned their lives upside down. As soon as the relief goods provided by the foundation were unloaded, volunteers quickly distributed them to the needy, hoping to ease their suffering a little. Volunteers continued to hold more distributions in the disaster area on November 25 and 26.
On November 24, 74 medical professionals from the Tzu Chi International Medical Association and 57 support volunteers held a free clinic at Prawatasari Park in Cianjur. They were aided by a medical team from Indonesia's Ministry of Defense. A total of 877 people benefited from the free clinic. Some patients had sustained injuries during the quake, while others were seeking relief from coughs or colds.
Endang was one of the people seeking help at the free clinic. When the quake hit, he was buried under the debris of a building. He eventually managed to get himself out, but because he was covered all over with blood, everyone was scared at the sight of him. Fortunately, a man was brave enough to take him to a local health center for treatment. Due to his serious injuries, he was transferred to a hospital, where he had his injuries cleaned and dressed.
When Endang came to the November 24 free clinic, a doctor checked and dressed his lesions, instructed him to protect them from water, and gave him some vitamins. He also received a five-kilogram (11-pound) bag of rice and ten face masks from Tzu Chi. He was one of 782 quake survivors who benefited from the distribution of rice and face masks. "Thank Allah," said Endang. "I have nothing now. I badly needed the help you gave me."
In addition to distributing aid and providing free medical services, Tzu Chi volunteers also launched a hot meal service in the disaster area. By November 25, 980 hot meals had been provided.
Due to an unrelenting series of aftershocks, many survivors were still living in temporary shelters or tents the second week after the earthquake. The wide differences between daytime and nighttime temperatures caused many to contract colds or other diseases. Tzu Chi's medical volunteers responded by holding more free clinics in the disaster area. On December 3 alone, they served 146 patients in Ciherang, Pacet, Cianjur.
A volunteer cuts the ribbon during a ceremony to mark the inauguration of a water well drilled by Tzu Chi for SMPN 3 Kota Besi, a junior high school in Telawang, East Kotawaringin Regency, Indonesia.
Courtesy of Tzu Chi Indonesia
In September 2022, Tzu Chi Indonesia drilled a well for a junior high school in Telawang, East Kotawaringin Regency, Central Kalimantan, solving a water shortage problem that had lasted for nearly 30 years.
SMPN 3 Kota Besi is a junior high school with 19 teachers and more than 200 students. The school had suffered from a lack of clean water due to its location on a plateau since its foundation in 1993.
"To meet our needs for water," said school principal Alpen Yasko, "we collected rainwater for use during the rainy season. When the dry season arrived, we had no choice but to buy water, which, at 70,000 rupiah [US$4.50] per tank, wasn't cheap. Even with those measures, we still ran short of water." Water was in such short supply that students who lived near the school often had to go home when they needed to use the restroom.
Tzu Chi volunteers in Central Kalimantan visited the school when the problem was brought to their attention. After the visit, they decided to drill a well for the school. It turned out to be a difficult operation, because the school was located on an area with rocky soil, and also because it took some time to locate a water source. "We tried three spots before finally succeeding in finding a water source," said volunteer Erwin Sitepu. "We hit it at a depth of 110 meters, and the water was very clean."
An inauguration ceremony for the new well was held on September 27, 2022. Rusdianae, an official from the East Kotawaringin Regency education office, thanked Tzu Chi for helping the school solve a long-standing problem. "We're deeply touched by the foundation's assistance," she said. "Drilling wells is very expensive. The water from the well will benefit not just the school but also local residents. Once again, we thank you."
Meysia Safhanie, a student at the school, recited a poem entitled "Water," which she had written to thank Tzu Chi: "Water, the mother of life, has finally descended on our school. We no longer have to worry about a lack of clean water." Volunteers hope that the well will provide an endless supply of water for the school and local residents. "Thanks to the school for giving us this chance to give," said volunteer Erwin Sitepu.
A handover ceremony for 12 houses Tzu Chi built for victims of Hurricane Idai in Mozambique was held on December 7, 2022. The picture shows volunteers moving housewarming gifts from Tzu Chi into one of the new homes.
Courtesy of Tzu Chi Mozambique
After Hurricane Idai pummeled Mozambique in March 2019, Tzu Chi launched emergency relief work and followed up with mid- and long-term aid plans. The plans included building four villages with more than 3,000 housing units. Construction for the Ndeja Tzu Chi Great Love Village, in Tica, Nhamatanda District, Sofala Province, started in April 2022. Four hundred eighty houses were planned for the village, with 50 of them scheduled to be completed by the end of 2022. However, progress on the construction moved slower than expected. Mozambique had entered the rainy season by the time the first 12 houses were completed, so the foundation decided to let beneficiary families move into those houses first.
A handover ceremony for the 12 houses was held on December 7. To celebrate the happy occasion, volunteers prepared housewarming gifts for each family, which included two Tzu Chi blankets, two Tzu Chi folding beds, a folding table with attached seats, and cleaning utensils.
The houses built by Tzu Chi come in two sizes: 460 and 320 square feet, for larger and smaller families. Built of bricks and cement, each home is equipped with an outdoor toilet building and a 1,500-liter rainwater collection tank to save residents trips to fetch water.
Adamo Abdula Ossumane, administrator of Nhamatanda District, and Dr. Joshua Pedro Mangue, chief of Tica village, attended the handover ceremony to give their best wishes to the families. Ossumane said that the selfless giving of Dharma Master Cheng Yen and Tzu Chi volunteers has taught everyone that love isn't just a word—it's something to put into action. He thanked the foundation for their humanitarian aid and encouraged the residents to cherish the blessings from Tzu Chi.
Upon entering her new house, Madofa Canivete said: "I'm very grateful. I'm asking God for at least ten more years of life so that I can enjoy the blessing I have received. I never imagined that I would live in such a beautiful house!"
Tzu Chi volunteer Dino Foi explained that those who received the new houses were people who were particularly hard pressed to get by. "We will try to finish the other houses as soon as we can so that everyone can move into their new homes as soon as possible."
Separately, another handover ceremony—for 17 houses in the Kura Tzu Chi Great Love Village in the village of Nhamatanda, Nhamatanda District—was held on December 12, enabling an additional 17 families to greet the new year in the comfort of their new homes.
The We Care Foundation helped distribute relief supplies from Tzu Chi to flood victims in Thatta, Sindh, Pakistan, in late October 2022.
Courtesy of Tzu Chi Foundation
Pakistan was hit by severe flooding in 2022, from June to October. Over a thousand people were killed and millions of others left homeless. The nation declared a state of emergency and appealed for international help in late August.
Tzu Chi has no branch offices in Pakistan. After learning about this catastrophic disaster, the foundation contacted other organizations with which they could cooperate to allow aid from Tzu Chi to reach people affected by the floods. Tzu Chi worked with six organizations to deliver their aid: Camillian Disaster Service International, Médecins du Monde (Doctors of the World), the We Care Foundation, Islamic Relief, Shirkat Gah-Women's Resource Centre, and the Al-Madinah Islamic Research Center. Tzu Chi provided dozens of kinds of mediations, more than 30,000 blankets made from recycled plastic bottles, a variety of food, and hygiene items to be distributed to flood victims or used in medical events.
The We Care Foundation had worked with Tzu Chi when Pakistan was devastated by another flood disaster in 2010. After receiving Tzu Chi's aid items for the 2022 flooding, We Care completed 12 distributions in two weeks. "We haven't received any aid from the government or other sources yet," said a flood victim in the province of Sindh. "You are the first organizations to reach out to us." He thanked Tzu Chi and We Care for their timely help.
Another partner organization, Shirkat Gah, is a women's rights organization in Pakistan. Volunteers from Shirkat Gah visited many villages in the province of Balochistan and other areas to assess damage and distribute aid. Many women were touched by the help given by the organization and Tzu Chi. They said that people from other organizations had visited their areas, but that they hadn't received any assistance from them yet. Tzu Chi and Shirkat Gah were the very first to help them.
Tzu Chi's aid packages contained food, such as flour, rice, chickpeas, and sugar, as well as water purification pills, mosquito repellent, and other items. The foundation planned to aid about 30,000 affected families.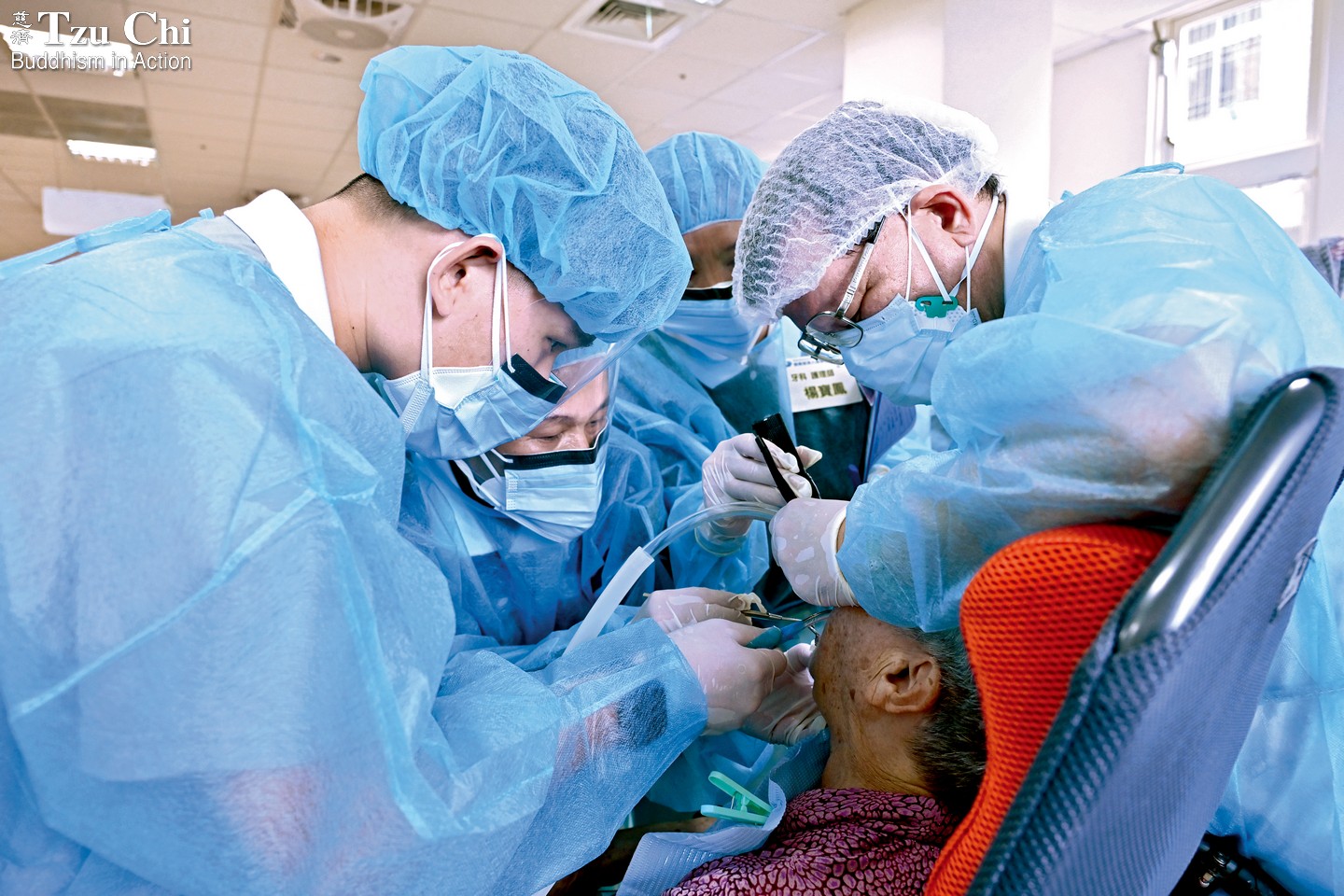 TIMA dentist Su Guo-you (蘇國祐) treats a patient at a free clinic at the Taitung Ren'ai Senior Citizens' Home in Taitung, southeastern Taiwan.
Lin Jia-ru
On November 19 and 20, 2022, members of the Tzu Chi International Medical Association (TIMA) held free dental clinics at three institutions in Taitung, serving needy seniors, patients in vegetative states, and people with physical or mental disabilities. The three venues were the Taitung Ren'ai Senior Citizens' Home, the Shenxiu Nursing Center (affiliated with the Malan Veterans Home), and a care facility run by the Genesis Social Welfare Foundation (GSWF).
TIMA volunteers had been providing free dental treatment at the three institutions twice a year, but those services were suspended due to the COVID-19 pandemic. The events in November marked the first time in more than two years that TIMA had been able to help residents at the institutions with their teeth.
Early on the morning of November 19, 160 medical professionals and support volunteers set out from across Taiwan. They converged at the Taitung Tzu Chi office later in the day, then broke into two teams, one going to the Taitung Ren'ai Senior Citizens' Home and the other to the GSWF nursing facility.
The Taitung Ren'ai Senior Citizens' Home is a facility for low-income or disabled elderly people. A group of social workers was already waiting at its entrance for the visitors when the vehicles carrying one of the medical teams arrived. Before welcoming the team into the institution, the social workers took the volunteers' temperatures and sanitized their hands with disinfectant alcohol as precautions against COVID.
Wu Shu-ping (吳叔平), who leads the team of social workers at the senior citizens' home, first thanked Tzu Chi for providing personal protective equipment and Jing Si Herbal Tea to their facility during the pandemic to help the staff and residents there fight COVID. (Jing Si Herbal Tea is a health drink developed in response to the coronavirus and contains an effective mixture of herbal medicines.) He also thanked TIMA for reinstating the dental service as soon as the pandemic situation allowed.
This was the first time dentist Li Jin-xun (李勁勳) had participated in the twice-a-year dental event at the senior citizens' home. He said he realized how much their service was needed there: "I cleaned eight people's teeth today, and each of them had very bad plaque buildup. I'm thankful to Tzu Chi for this opportunity to serve. It allowed us to understand that many people really need our help."
Dentist Zhou Yan (周研) was also a first timer. His back began to ache during the event because the equipment being used wasn't as adequate as that typically used in a hospital or a regular clinic. "Despite my physical fatigue," he said, "I felt an inner joy for being able to help."
The team that went to the GSWF nursing facility was likewise happy to help the residents there. The GSWF is mainly dedicated to the care of people in persistent vegetative states. Its operation relies mostly on donations from the public. TIMA volunteer Dr. Xie Jin-long (謝金龍) said: "When the head of the nursing facility saw us, she said in tears, 'Thank you for still remembering us after all this time.'" The dentist was touched to be able to help the facility care for their residents.
Another free clinic was held at the Shenxiu Nursing Center the next day. The events over the two days benefited more than 300 people.