By Li Wei-huang
Compiled and translated by Wu Hsiao-ting
The Tzu Chi Humanitarian Center, the headquarters of Tzu Chi's cultural mission, is moving into a new home in 2023. By working with its neighbors, it hopes to imbue new energy into the local community.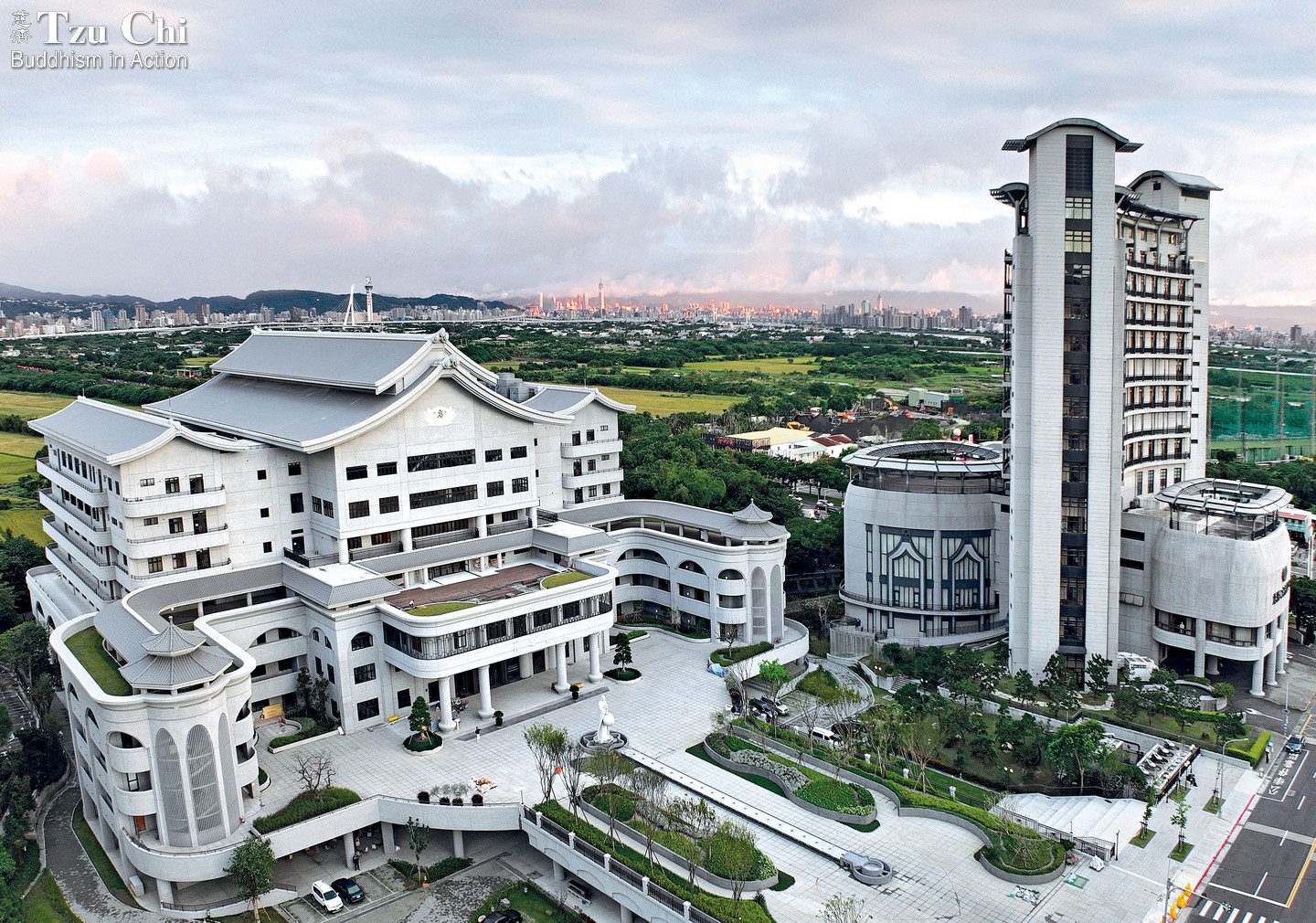 Tzu Chi's media, including Da Ai TV and Chinese and foreign language publications, are moving from their original building (right) to a newly completed building right next to it in 2023.
Xu Jun-ji
The Tzu Chi Guandu Jing Si Hall in Guandu, Taipei City, inaugurated on January 1, 2023, is going to become the new home of the Tzu Chi Humanitarian Center (TCHC) in early 2023. The TCHC opened in 2005 and is the headquarters of Tzu Chi's cultural mission. It brought together all of Tzu Chi's media divisions in one building, including Da Ai TV, Da Ai e-Radio, Chinese and foreign language publications, Rhythms Monthly, and Jing Si Publications. Its new home, the brand-new Guandu Jing Si Hall, is located on the Guandu Plain. It sits close to large swathes of paddy fields, with views of Mount Guanyin and Tamsui River in the distance. In its vicinity are world-class companies, including ASUSTek Computer Inc. and Pegatron Corporation, as well as the Koo Foundation Sun Yat-Sen Cancer Center and the Taipei Blood Center. After moving to its new home in the Jing Si Hall, which is adjacent to its original building, the Humanitarian Center hopes to work with its neighbors and imbue new energy into the local community. It aims to become a gathering place for local residents and office workers, as well as a location for continuing education. Courses on a rich variety of subjects will be offered beginning in April 2023.
To mark this new chapter in its life, the TCHC joined hands with its neighbors to launch the Guandu Cultural and Artistic Week at the end of 2022. Renowned performance troupes such as the Cloud Gate Dance Theater and the Ju Percussion Group were invited to perform. There were also a vegetarian fair and other activities to bring neighbors together.
Eric Yao (姚仁祿), who manages Tzu Chi's media, said that the TCHC hopes to be not only the headquarters of Tzu Chi's media, but also a promoter of beauty, goodness, and lifestyle aesthetics in the community. He expressed hope that the Guandu Cultural and Artistic Week would become a yearly event and that there would be activities such as vegetarian fairs and documentary festivals every season.
Besides being a manager of Tzu Chi's media, Yao is a renowned interior designer in Taiwan and is known for his creative ideas. He admits to a hope he has embraced for years: "Taiwan needs a sense of beauty." His concept of a sense of beauty is not limited to the ability to appreciate beautiful things in life, but more of a lifestyle.
For example, a sense of beauty in life can manifest itself as a compassionate heart, one that pushes you to change your dietary habits through the love you have for all living creatures and a concern for the environment. It will also show in how you wisely use food and other resources, cherish flowers and other plants you see in your daily life, or care for and love other people. All of this arises from a heart of gratitude towards everything you see, encounter, or use in life.
To promote such a lifestyle, a vegetarian convenience store has already opened at the Guandu Jing Si Hall, and a vegetarian restaurant is slated to open soon. There is also a Jing Si Books and Café, run more like a library, in which people can access materials to nourish their hearts and souls.
As soon as you enter the grounds of the Guandu Jing Si Hall, you will see a herbal garden. Herbs may be small and look delicate but they have potent therapeutic powers when made into medicine. Similarly, Tzu Chi's media have therapeutic powers too. They can bring solace to audiences and readers around the world when they feel sad or lost, or they can inspire vitality or joy when people need encouragement to keep going.
A statue of the Buddha stands in front of the Jing Si Hall. Installed in December 2022, the 5.5-meter-tall statue is in plain sight for everyone who passes by the hall to see. The sculpture possesses aesthetic beauty and embodies the spirit of Buddhism.
As an exponent of humanized Buddhism, Tzu Chi has always emphasized the importance of practicing the Buddha's teachings in daily life and of living out the spirit of the bodhisattvas. Dharma Master Cheng Yen's preferred version of a statue of the Buddha is one that will endear people, is easily accessible, and is not removed from a sense of reality. She emphasizes that such a statue is not for people to worship. It should be a representation of the inner state of the Buddha, a concrete manifestation of his love for the world and his mission to relieve suffering, an image that can inspire people to put their compassion into action.
Based on this line of thinking, the statue of the Buddha that stands in the square in front of the Guandu Jing Si Hall holds in his left hand a bowl that symbolically contains pure water, which represents wisdom; his right hand gently touches the Earth, signifying his compassion and love for all living creatures. The Buddha's teachings came from his awakening to the truths and universal laws that govern life. Everyone is capable of the same awakening as the Buddha. The Master hopes that in practicing Buddhism, one should seek to cultivate wisdom and compassion like the Buddha's, instead of focusing on praying to the Enlightened One for blessings.
The Tzu Chi Guandu Jing Si Hall, the new home of Tzu Chi's various forms of media
 Hsiao Yiu-hwa
The aim of Tzu Chi's cultural mission is to promote wholesome values in society. The various forms of media it encompasses are dedicated to spreading the ideals of goodness, truth, and beauty. The cultural mission also includes local events and activities which seek to nurture a healthier, better, and more cohesive community. After moving into its new home, the Tzu Chi Humanitarian Center will continue to uphold its mission to celebrate all that is good and positive and help effect positive change in people's lives.