By Nataliia Starovoitova
Compiled by Wu Hsiao-ting
We decided to flee the war in Ukraine when it was no longer safe to stay there. We never ever imagined that one day we'd need to start a new life in Poland, nor did we ever expect that we'd become part of a big family here.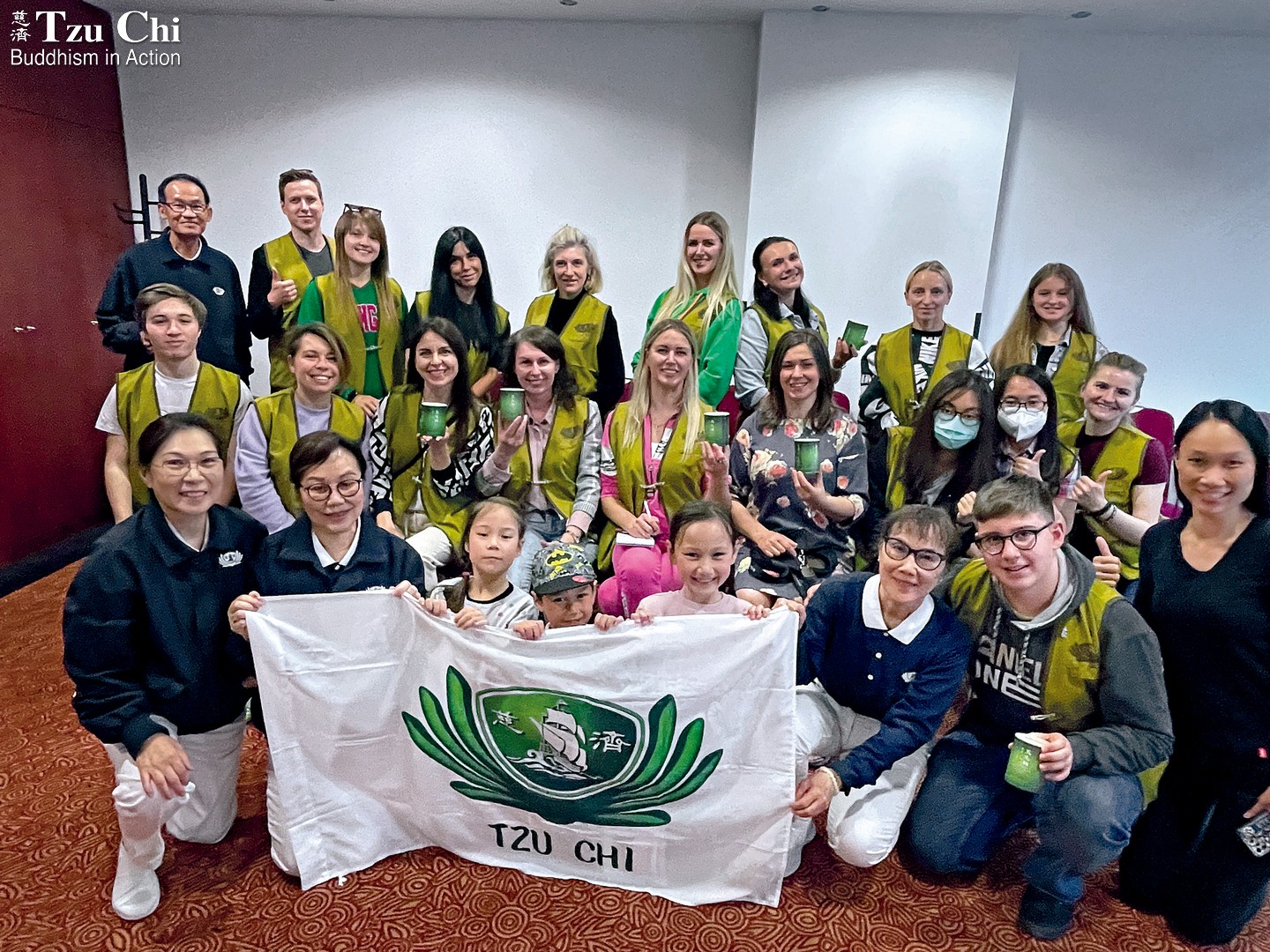 In early June 2022, a Tzu Chi team in Poznań conducted training for the Ukrainians taking part in a Tzu Chi work relief program to prepare for the upcoming large-scale distributions for displaced Ukrainians. Courtesy of Monica Chang
My name is Nataliia Starovoitova. I am 35 years old. I arrived in Poland from Kyiv, the capital of Ukraine, on March 9, 2022.
When the war began on February 24, 2022, I immediately left home with my 11-year-old daughter, Alexandra. In despair and fear, we left without anything—no clothes, nor any other belongings. Having left everything behind, we spent the first ten days with relatives in Zhytomyr, 120 kilometers (75 miles) from Kyiv, close to the Belarusian border. Just a few days after we arrived, that city became unsafe as well. We had to spend almost all our time in a frosty basement. Endless air alarms and explosions haunted us. It was almost impossible to sleep. We lived in constant fear.
After a rocket hit the school right next to our relatives' place, we decided to seek a safer place. That was on March 4. The journey to Poland took us 49 hours. Sleep-deprived and exhausted, we arrived in Poznań, in western Poland, on March 9.
When I was back in Kyiv, I worked as a top manager in a company that helped outfit hotels, restaurants, and other businesses in the hospitality industry with professional equipment and other products. I was in that job for more than 12 years. My daughter was a fourth grader when we left Ukraine. She was fond of rhythmic gymnastics and learning English. We loved to spend time together: going to the cinema, taking walks, traveling, playing sports. We lived a happy life, without the faintest idea that February 2022 would bring such drastic changes to our lives.
In April, already here in Poland, I found out that the Tzu Chi Foundation was enlisting help for their aid mission for my fellow compatriots. I gladly joined them to help. That's how I met Łukasz and Monica, two Tzu Chi volunteers who live in Poznań. I was impressed by their sincerity and kind hearts.
I have been with the Tzu Chi team in Poznań since then. Together we've carried out distributions of gift cards and blankets, and conducted home visits to our fellow Ukrainians. There are more than 60 Ukrainians helping Tzu Chi carry out its work now. Participating in the foundation's work has become a major part of my new life. Every time after a distribution, I returned home exhausted, but was glad that we were doing a great job helping to support our compatriots, who, like me, were forced to seek security in Poland.
Though some Ukrainians who fled the war to Poznań have since returned to our home country, many still remain in the city. We visit them at the hotels, churches, shelters, or private homes where they are staying to find out how they are getting on and whether the gift cards or cash cards distributed by Tzu Chi have helped  improve their lives.
One family we visited left a deep impression on me. Nataliia and her husband were raising 14 children when they were in Ukraine. Ten of those children were adopted; only four were their own biological children. When the war first broke out, Nataliia and her children hid in a basement for more than three weeks, during which time they had no running water, electricity, or heating. In March, Nataliia decided they had to leave or else their lives would be in grave danger—they had heard sounds of Russian military planes firing machine guns into their neighborhood.
According to Ukrainian law, her three grown-up sons were required to stay in Ukraine to defend their home country. Sad but having no other choice, Nataliia left Ukraine with her other children. After a journey of three days and nights, they finally arrived in Poland. Nataliia thought she could finally breathe a little easier, but then the tragic news came that her second son had been killed in battle.
Now Nataliia and her family live with more than 20 other Ukrainians in a place provided by a church. The gift cards distributed by Tzu Chi have helped them have an easier time financially. However, they know that they can't rely on aid forever; they'll have to find some way to sustain themselves if they are to continue staying in Poland. That is easier said than done though. The language barrier is one of the problems facing them.
Nataliia and her family are not the only Ukrainians in Poland in that predicament. Tens of thousands of Ukrainian families in the country have lost their homes to the war. They have nowhere to go, no jobs, and don't know what tomorrow will bring. There is, for example, a Ukrainian family in Poland with five members who are practicing lawyers. Despite their qualifications, they can't make good use of their abilities in Poland due to the linguistic and legal differences between the two countries. Seeing the predicament these people are in, Tzu Chi is providing Polish language courses in Poznań to help Ukrainians who want to learn the language.
We will continue to make home visits, record our visits, and do what we can to help our fellow Ukrainians. I am very grateful to Tzu Chi for providing support to my compatriots in this difficult time. I've found real friends in Tzu Chi. Łukasz, Monica, and all my fellow Ukrainians who are helping Tzu Chi carry out its work in Poznań are now like a big family. We have one thing in common: we want to help others. I am very happy my daughter, Alexandra, has also became a member of our team. Each of us might have limited strength, but together we can make a marked difference.