By Wen Bao-qin
Translated by Wu Hsiao-ting
Photos by Huang Xiao-zhe
Octogenarian Yu Jin-rong believes that taking good care of herself frees her children from having to worry about her, allowing them to concentrate on what they need to do in their lives. "When I'm good, everyone is good," she says.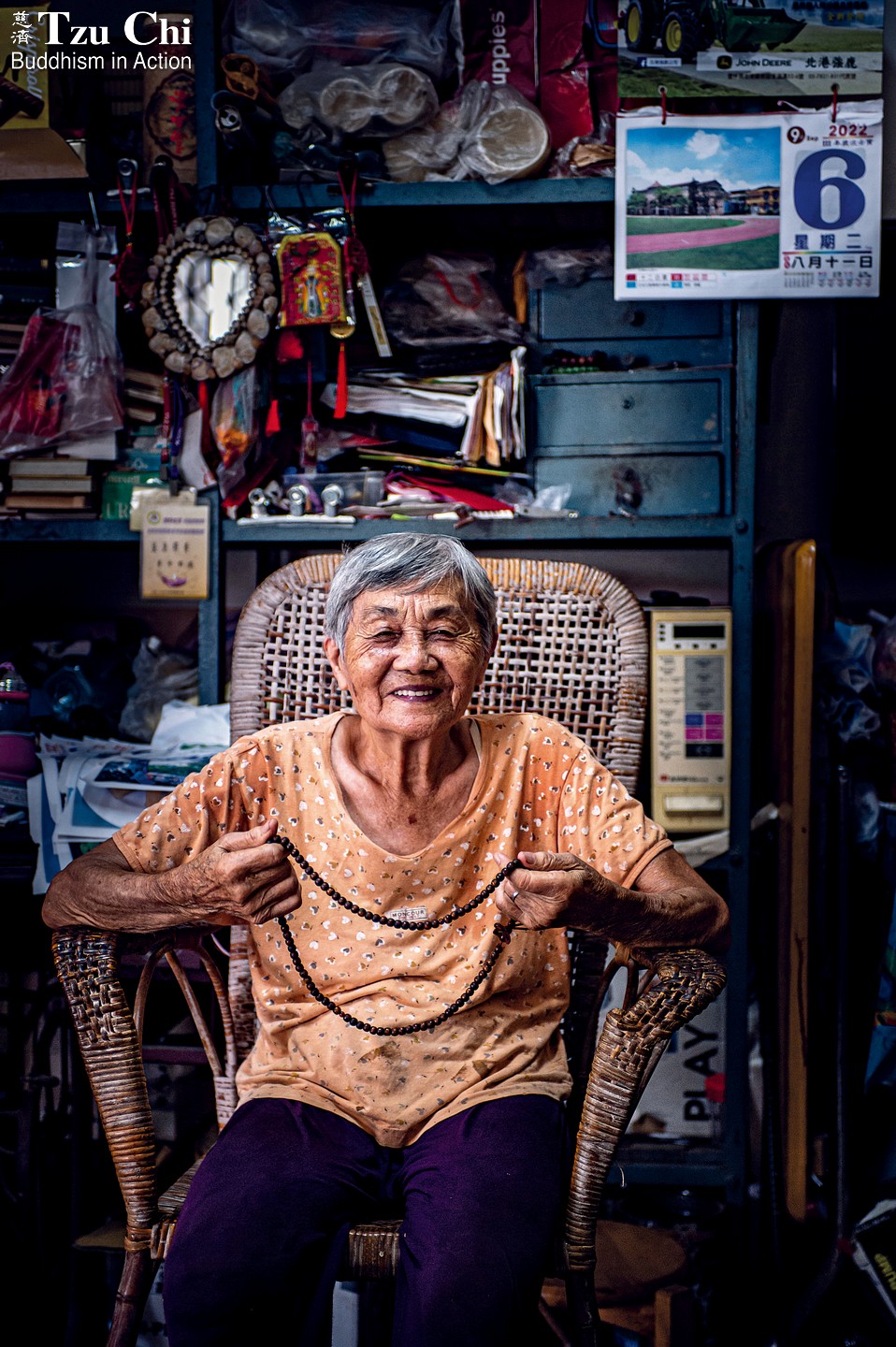 Donning a bamboo hat, an apron, and rain boots, Yu Jin-rong (余錦絨), 87, gets on her bicycle and leaves for the Tzu Chi Yanshui Recycling Station in Tainan, southern Taiwan. It takes her about eight minutes to get there from her home. Unless it is raining, she bikes to the station every day to volunteer.
Yu never turns down any task, but instead does whatever needs to be done at the recycling station. She pitches in wherever help is needed and does whatever work Su Xiu-xiang (蘇秀香), the head of the station, assigns her. "I try to learn everything," Yu says. "If I don't know how to do something, I ask others to show me how to do it, or watch how others do it, to learn the ropes. In this way, I interact with others, make friends, pick up new skills, and keep my brain active. It's pretty nice." Learning new things and making friends—these are among the things that make her happy to volunteer.
Her siblings suggested she volunteer for Tzu Chi's recycling work more than 20 years ago, and she's been doing it ever since. For the past ten years, she's also been serving twice a week as a cleaning volunteer at the Mazu Temple near her home. Despite her advanced age, she lives a full life of service.
Yu was born in 1935, the second child in a family of eight. Her father was a civil servant and put a premium on his children's education. However, when Yu finished her elementary education, she decided to stop going to school. She sacrificed her chance to study and stayed at home to help her mother with farming so that her siblings could go to school. Her sacrifice paid off: her siblings ended up successful in life. Her older brother, for example, obtained a PhD degree abroad and had a good career. He is now 90 and lives in Canada.
Yu married Li Rong-kun (李榮坤), a native of Yanshui, when she was 24. They had four sons together. Sadly, Li passed away at 48 due to illness, just after their eldest son had completed his compulsory military service and was beginning to teach at a junior high school in Yanshui. Yu brought up her younger children with the help of her parents, who assisted her with farming. Her siblings also gave her a lot of encouragement and support.
After her children had become independent and started their own families, Yu began following her sister-in-law to the Kaiyuan Temple in Xuejia, about 25 minutes by car from Yanshui, to listen to Dharma talks and chant sutras. "I'm thankful to my sister-in-law for leading me to the path of Buddhism and allowing me to learn that everything in life is due to karmic affinities," Yu said.
Yu is very devout. Every day for more than 30 years, she has diligently performed her morning and evening Buddhist rituals. "I typically recite the Surangama Sutra, the Diamond Sutra, the Medicine Buddha Sutra, and the Amitabha Sutra during my daily morning ritual. It takes over an hour to recite the scriptures." She isn't praying for anything by chanting the sutras; she doesn't even want longevity, which many people long for. Knowing that life is full of suffering, she just hopes for a good end of life, one in which she doesn't suffer too much before passing on.
"We come into this world with the karma we have accumulated," she says. "Any Buddhist knows that once we have paid off our karmic debts, we have completed our lessons for this life. We are not here in this world for pleasures, but to cultivate ourselves. I hope that when I finish my spiritual cultivation in this life, I can move on to the Western Pure Land so that I need not continue to suffer."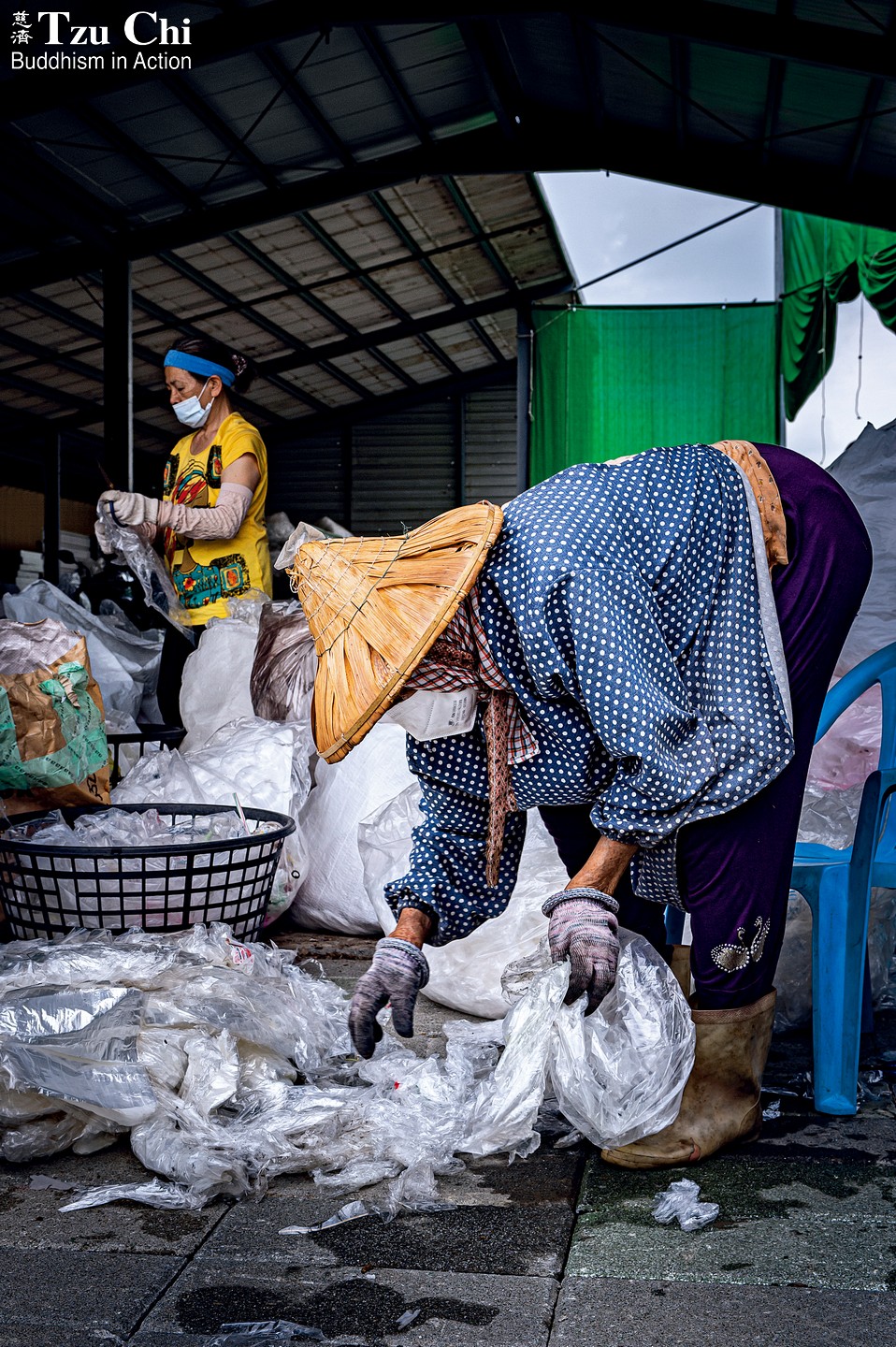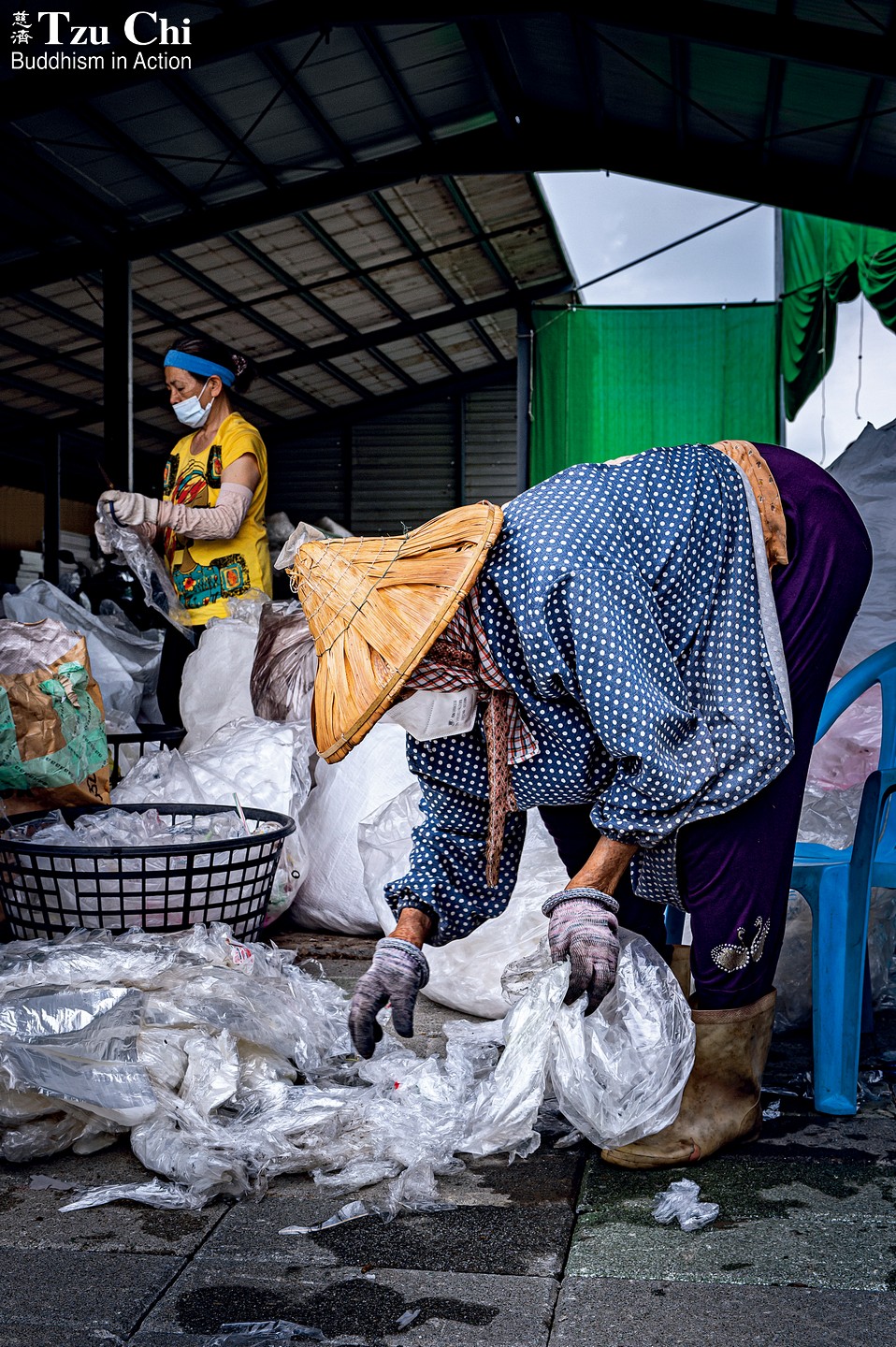 Yu volunteers at a Tzu Chi recycling station every day. It helps her stay active and socially connected.
Living out old age in a positive spirit
Yu's three children live in Taipei, northern Taiwan. They are all near retirement age, and often visit her on the weekends. Her third son died early, but his wife, who also lives in Taipei, visits her often too. "She is a very good daughter-in-law," Yu says of her third son's wife. "She is an after-school childcare teacher. She became a widow at 35. Thanks to her parents, who gave her a lot of help, my grandson got a very good upbringing. He graduated from medical school and is now working as a physician."
Unlike many elderly people in Taiwan, Yu lives alone instead of with her children. She is very independent and doesn't like to rely on others. "I take good care of myself so that I won't become a burden to others, and so that my children can concentrate on what they need to do in their lives and don't have to worry about me. When I'm good, everyone is good."
Yu's siblings are scattered across Taiwan and abroad. They are all getting on in years, but keep in close touch. They talk to each other on the phone every month, expressing care for each other and maintaining their close ties. In a way, even though Yu lives alone, she is never alone in this world.
Besides volunteering at the recycling station and the temple near her home, she attends Tzu Chi study group sessions every Monday morning. Before the COVID-19 pandemic, she joined other Tzu Chi volunteers every Wednesday for taiko drumming. That weekly drum event was changed to once a month due to COVID.
When asked why she takes part in so many things, she said, "Older people are people too; we can learn anything and try out everything. Our brains are more likely to stay in good shape that way." She often encourages other older people to step out of their homes and interact with other people: "Don't shut yourself up at home. When you shun contact with others, you'll grow isolated, and your body and mind will deteriorate more easily."
That's why she didn't suspend her recycling work during the pandemic. "I take precautions, such as wearing a mask, and when the government notified us to get our COVID vaccination, I did. I've already had my fourth shot. Since I'm well protected, I'm not afraid. Besides, being afraid doesn't do me—or anyone—any good."
She said that her eldest son suggested she stop going to the recycling station for a while, but she promised him she'd take good care of herself. "I believe I must go out to serve. Staying active helps me stay nimble. My children remind me not to get too tired volunteering. I won't."
People might envy Yu for being able to lead such an active life at the advanced age of 87, but she's not without health issues. About seven years ago, she started to experience occasional dizziness and chest tightness. The doctor told her that her blood pressure was a little on the high side, so Yu started taking medicine for it. "Illness is inevitable in life. We shouldn't dwell on it and let it bother us too much."
Two years ago, she started to experience weakness and pain in her knees. The doctor diagnosed her with degenerative knees. Now she receives hyaluronic acid injections periodically for treatment. Talking about her knees, she said with her usual philosophical attitude: "I'm old. Just like a machine wearing out due to wear and tear, we humans do too. But we shouldn't allow our aches and pains to confine us and prevent us from moving around and giving of ourselves." She believes that the pain she has had to endure is part of her karmic debt to repay, so she accepts it willingly and continues to do her best to serve. She does as Dharma Master Cheng Yen teaches and seizes every chance to do good.
Yu's volunteer work for Tzu Chi has led her to lead a regular working life, like that of an office worker's. She reports to the Yanshui Recycling Station every morning at eight. At eleven, she returns home on her bicycle with a boxed lunch, courtesy of the station. "It's really wonderful the recycling station allows me to volunteer," she said. "I'm very grateful."
The smile that crinkles her eyes indicates a grateful, contented heart. She is optimistic and takes everything that comes her way in a positive spirit. She volunteers at the Mazu Temple as a way to show her appreciation to the sea goddess of Mazu and Guan Yin Bodhisattva for blessing her community. She is thankful she can serve as a recycling volunteer because it allows her to stay active and be around people. She uses her time in a fulfilling way, so it never hangs heavy on her hands. She's a perfect example of how we can live out our old age in peace and at ease.